States free to provide job from own budget
Centre denies plans of increasing days of work under NREGA scheme
Minister of state for rural development Niranjan Jyoti said that the states were free to provide additional working days from their own budget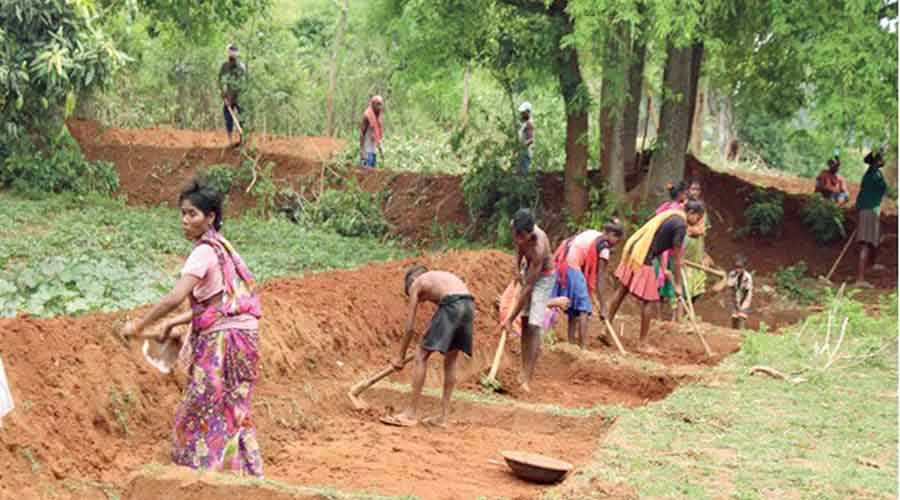 Kaushalya Hembram of Jharkhand has no work these days other than collecting firewood from the jungle to support herself and her elderly mother
File picture
---
New Delhi
|
Published 28.07.21, 01:14 AM
|
---
Kaushalya Hembram of Jharkhand has no work these days other than collecting firewood from the jungle to support herself and her elderly mother.
Last month, Hembram, a resident of Podhaat village under Sonua block in West Singhbhum district, had got 10 days' work under the Mahatma Gandhi National Rural Employment Guarantee Act (MGNREGA), which provides up to 100 days' of unskilled work to every rural household a year.
She had been eagerly waiting for work at the project to lay an earthen road from Jhingamarcha to Gotusahi. However, the project was stalled after complaints that a section of the local panchayat was using a JCB machine instead of hiring labourers. The alleged plan was to usurp the wages meant for labourers by falsely showing that they had been engaged. JCB machines are not allowed under the NREGA.
"The MGNREGA is the only source of livelihood for me. Otherwise my earnings get reduced to Rs 50 a day by selling firewood and other forest produce. The permissible days of work under the MGNREGA should be increased to 200 per year and every family should be gainfully employed under it," Hembram said.
Under the MGNREGA, a job card holder has to approach the local gram panchayat, which will provide work within 15 days. The worker will receive unemployment allowance for the period that he or she does not receive work after the expiry of the deadline.
A worker is to be paid wage within 15 days of completion of the first phase of work.Because of the pandemic and the economic slowdown, usual private work like construction of houses has come down drastically. Other alternative sources of income have also dried up with farmers preferring to do all the agricultural work themselves rather than engaging labourers to save during the hard times.
"Last year, I got work for all 100 days under the MGNREGA. Had more work been allowed, I would have taken that up," Hembram said.
Economists and social activists have written to the central government to amend the law to provide for additional 50 to 100 days of work per family in a year. Such a step will ensure that people get to earn more, thereby stabilising consumption demand that has taken a beating due to Covid and the economic mess.
However, the government does not appear keen. On Tuesday, Lok Sabha MP S. Venkatesan of the CPM asked in the House whether the Centre planned to increase the days of work under the MGNREGA. Minister of state for rural development Niranjan Jyoti replied in the negative but said the states were free to provide additional days of work from their own budget.
"The Mahatma Gandhi NREGA Act, 2005, is to provide at least 100 days of wage employment in a financial year to every rural household whose adult member volunteers to do unskilled manual work. The states can provide additional man-days of work over and above the 100 days (of labour) from their own resources," Jyoti said.
"An additional 50 days of wage employment is provided over and above 100 days in notified drought-affected areas or areas affected by natural calamities on the recommendation of the ministry of agriculture and farmers' welfare. At present, there is no plan to increase days of work under the Mahatma Gandhi NREGA," she added.
Work provided under the national rural job scheme has witnessed an increase in the current financial year, the minister said. During 2020-21, more than 389.23 crore person-days of work had been generated. Till July 23 of the current financial year (from April 1), more than 130.9 crore person-days have already been generated, Jyoti said in reply to another question.
The NREGA Sangharsh Morcha, a civil society group, had last month demanded additional 50 days of work per person under the rural job scheme.