Celebration of the indefensible
Pre-dawn and hush-hush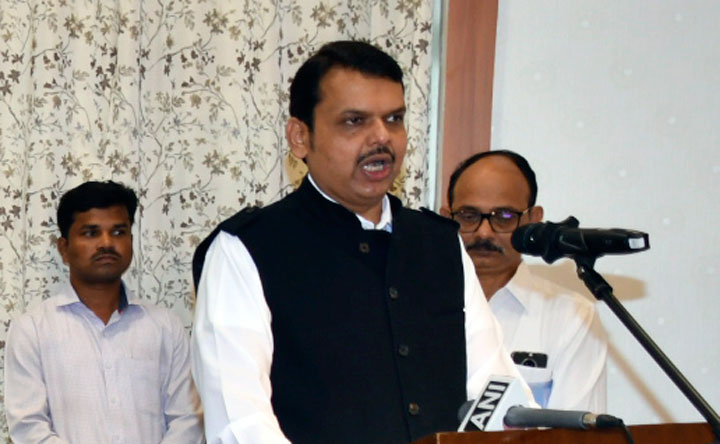 ---
---
A pre-dawn proclamation by the President. A 5.47am notification by the Union home secretary. The invocation of special powers, usually reserved for "extreme urgency or unforeseen contingency", by the Prime Minister. An eleventh-hour cancellation of a trip by the governor.
A series of unexpected events unfolded between Friday evening and Saturday dawn to revoke President's rule in Maharashtra and allow Devendra Fadnavis to return as chief minister, with Nationalist Congress Party leader Ajit Pawar as his deputy.
Sources in the Amit Shah-headed Union home ministry said home secretary Ajay Kumar Bhalla has issued the gazette notification announcing the revocation of the 11-day-old central rule at 5.47am. This was 37 minutes before dawn and 63 minutes before sunrise in Delhi.
By then, President Ram Nath Kovind had issued the necessary proclamation.
"In exercise of the powers conferred by Clause (2) of Article 356 of the Constitution, I, Ram Nath Kovind, President of India, hereby revoke the proclamation issued by me under the said article on the 12th day of November 2019, in relation to the state of Maharashtra with effect from the 23rd day of November 2019," Kovind's proclamation said.
Normally, a presidential proclamation revoking central rule requires a recommendation from the Union cabinet, but a home ministry official told The Telegraph the Union cabinet had held no such meeting.
He, however, said the Prime Minister can clear such a decision without a cabinet meeting in cases of "extreme urgency or unforeseen contingency".
The bureaucrat said the Centre had invoked the Government of India (Transaction of Business) Rules 12, which says: "Departure from Rules — The Prime Minister may, in any case or classes of cases, permit or condone a departure from these rules, to the extent he deems necessary."
The official could not explain what extreme urgency or unforeseen contingency had provoked the pre-dawn, cloak-and-dagger moves.
"Only the government and the Prime Minister can explain this," he said.
Union home ministry sources said Maharashtra governor Bhagat Singh Koshyari had on Friday evening cancelled his scheduled trip to Delhi at the last minute. He was to attend a three-day governors' conference chaired by President Kovind in Delhi.
"Apparently, he cancelled the trip because of the impending developments in Maharashtra. It seems he was tipped off," a ministry official said.
"No wonder Koshyari stayed put in the Raj Bhavan to administer the oath of office to Fadnavis and Pawar early on Saturday morning."
An IPS officer said home minister Shah had monitored all the developments from his home since Friday evening.
A retired Union home secretary said the Centre and the Maharashtra governor should answer the various questions being raised.
"Many things are shrouded in secrecy, including the details of how the governor's recommendation for revocation of central rule was communicated to the President. Was it done orally, over the telephone or through the fax machine?" he asked.
He said the Raj Bhavan should make it public exactly when Fadnavis had staked claim to form the government. "Unless the Raj Bhavan clarifies matters, the governor's role will be questioned."