Central agency raids 40 locations in J&K Delhi
CBI arms licence racket lens on feted senior IAS officer
At least eight former deputy commissioners who have served in J&K are under the scanner for allegedly issuing over two lakh illegal gun licences from 2012 to 2016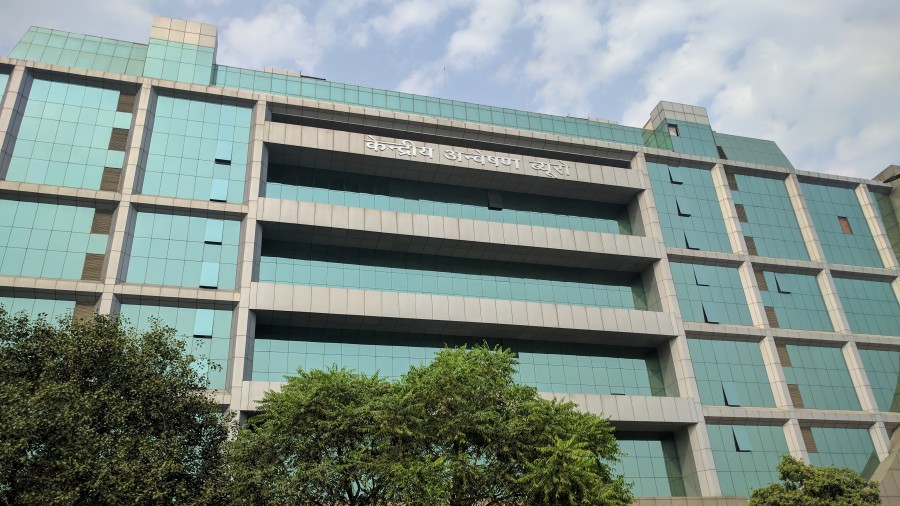 A CBI spokesman said on Saturday that around 40 locations were raided.
File picture
---
Srinagar
|
Published 25.07.21, 01:52 AM
|
---
A senior IAS officer who played a key role in enforcing the Centre's writ in the wake of the scrapping of Jammu and Kashmir's special status in 2019 and was twice honoured by Prime Minister Narendra Modi woke up on Saturday to CBI searches for alleged involvement in a multi-crore "arms licence racket".
The CBI raided around 40 locations in Jammu and Kashmir and Delhi linked to former and serving officers, including the residence of 2009-batch IAS officer Shahid Iqbal Choudhary, who has served as the deputy commissioner of Srinagar, Kathua, Udhampur and Reasi and is presently posted as secretary, tribal affairs, and chief executive officer of the J&K Youth Mission.
The CBI has not named the bureaucrats subjected to searches.
At least eight former deputy commissioners who have served in Jammu and Kashmir are under the CBI scanner for allegedly issuing over two lakh illegal gun licences from 2012 to 2016, suspected to be one of the biggest such rackets in the country.
Even after the allegations against Choudhary had surfaced, he was posted as DC Srinagar in February 2019. In 2018, as deputy commissioner of Rajouri, he had received a national award for women's empowerment from Modi. Three years earlier, he had been honoured with the Prime Minister's Award for Excellence in Public Administration.
In a tweet on Saturday, Choudhary confirmed the CBI "searches" at his residence but claimed the sleuths found "nothing incriminating in the ongoing arms licence probe". He said he had issued the lowest — "0.38 per cent" — of all arms licences in Jammu and Kashmir during the four years under the scanner. "I am fully answerable to CBI for my tenure," he said.
He had angered many during his tenure as deputy commissioner of Srinagar, which coincided with the August 5, 2019, dilution of Article 370. Choudhary had led the clampdown in the capital, booking several top politicians including former chief ministers Farooq Abdullah, Mehbooba Mufti and Omar Abdullah under the stringent Public Safety Act.
The grounds for detaining Omar had sounded bizarre to many. "The capacity of the subject (Omar) to influence people for any cause can be gauged from the fact that he was able to convince his electorate to come out and vote in huge numbers even during the peak of militancy and poll boycotts," the dossier issued by Choudhary had read.
Some politicians had publicly accused Choudhary of ill treatment. Two MPs — Hasnain Masoodi and Mohammad Akbar Lone — had issued a statement in September 2019 accusing the IAS officer of not even responding to their phone calls when they had tried to approach him to meet the incarcerated leadership.
Last year, Choudhary had publicly backed a police officer who had been frequently booking people for online posts, saying he was behind the "purification of social media".
A CBI spokesman said on Saturday that around 40 locations were raided in Jammu, Srinagar, Udhampur, Rajouri, Anantnag, Baramulla and Delhi. These were the official and residential premises of public servants "including IAS, KAS (Kashmir Administrative Service) officers, then DM, then ADM, etc, and around 20 gun houses and dealers in an ongoing investigation of a case related to the arms licence racket."
"The CBI had registered two cases on the request of the J&K government and further notification from the government of India, and taken over the investigation of two FIRs — No. 18 of 2018 dated 17.05.2018 earlier registered at Police Station Vigilance Organisation Kashmir (VOK) and FIR No. 11 of 2018 dated 17.05.2018 of Police Station Vigilance Organisation Jammu (VOJ) — on the allegations of bulk issuance of arms licences in the erstwhile state… during the period 2012 to 2016," the spokesman said in a statement. "It was alleged that more than 2.78 lakh arms licences were issued to non-entitled persons."
The CBI also collected documents pertaining to the issuance of the said armed licences allegedly spread over 22 districts of J&K."
The spokesman said the investigations had revealed that several district magistrates had allegedly issued illegal arms licences to ineligible persons.
"It was also alleged that the persons who got these licences were not residents of the places from where the said arms licences were issued," the spokesperson said. 
No officer was named in the statement.
In 2020, two IAS officers, including Rajiv Ranjan, had been arrested by the CBI for allegedly issuing gun licences against payments to thousands of people.
The scam was first discovered by Rajasthan's anti-terror squad in 2017 when they arrested Ranjan's brother and others working as conduits for gun dealers.
The then PDP-BJP government of Jammu and Kashmir, it is believed, had been going slow on the matter but then governor N.N. Vohra handed the case over to the CBI.