'Capitulation' cry in Kashmir
Omar said this was the first time after 1996 that Assembly elections could not be held in the state on time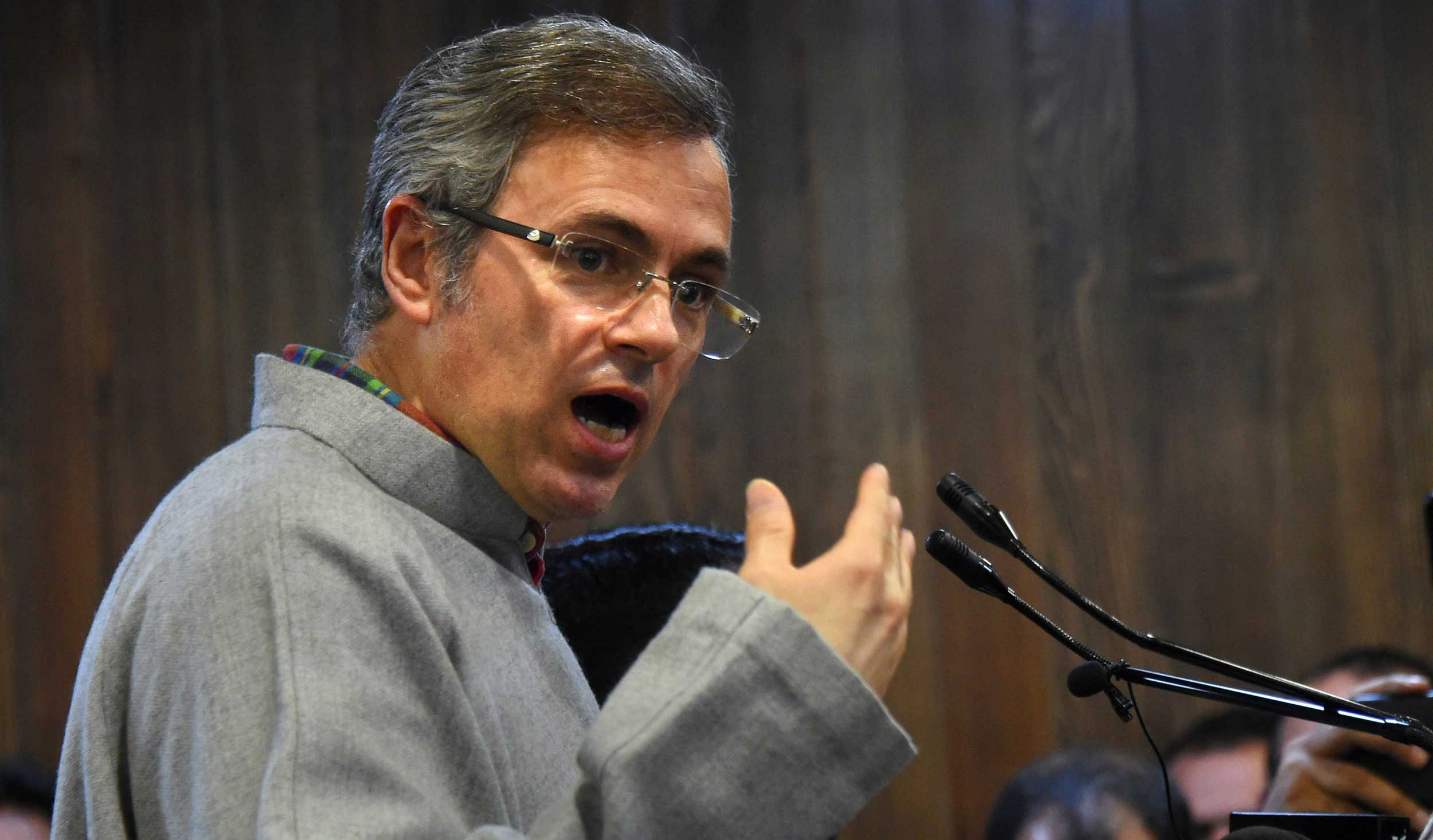 National Conference vice-president Omar Abdullah addresses a party function in Srinagar on Thursday.
PTI
---
Srinagar
|
Published 10.03.19, 09:46 PM
|
---
The Election Commission's decision not to hold Assembly elections in Jammu and Kashmir along with the Lok Sabha polls triggered dismay in the state, with former chief minister Omar Abdullah describing it as Prime Minister Narendra Modi's "surrender" to Pakistan, militants and the Hurriyat.
Chief election commissioner Sunil Arora on Sunday suggested that security considerations had prompted the decision to delay the Assembly polls, but Valley-based political parties attributed the move to political calculations.
Omar, the National Conference vice-president, called the decision a "failure" on Modi's part.
"In light of the failure to conduct assembly elections on time in J&K I'm retweeting my tweets from a few days ago. PM Modi has surrendered
to Pakistan, to the militants & to the hurriyat. Well done Modi Sahib. 56 inch chest failed. #slowclap," he tweeted.
Omar said this was the first time after 1996 that Assembly elections could not be held in the state on time. No elections were held in Jammu and Kashmir for nearly seven years after Omar's father Farooq Abdullah resigned as chief minister in early 1990 in protest against Jagmohan's appointment as governor.
Since then, successive governments at the Centre had ensured timely Assembly elections in Jammu and Kashmir.
"First time since 1996 Assembly elections in J&K are not being held on time. Remember this the next time you are praising PM Modi for his strong leadership," Omar tweeted. He said the Lok Sabha and Assembly elections were held on schedule in end-2014 even after the devastating floods that year and that this "shows how badly the BJP & earlier the BJP-PDP mishandled J&K".
All pro-India political parties in the state, including the National Conference, People's Democratic Party, Congress and the BJP, had told Arora the polls should be held simultaneously.
But it appears that the National Conference and the Congress were more eager than the rest, since there is strong anti-incumbency against PDP-BJP rule, which ended last June.
After a six-month spell of governor's rule, the state has been under President's rule since December. The Valley-based parties are openly opposing governor Satya Pal Malik's administration, complaining he is implementing the RSS agenda.
National Conference general secretary Ali Mohammad Sagar alleged the poll panel had delayed the Assembly polls at the Centre's behest.
PDP spokesperson Firdous Tak said the commission had used the security situation as an alibi to defer the state polls, and alleged that this amounted to defeating democracy.
"The recent visit by the Election Commission (was) a waste of time, energy and resources. Otherwise all political parties made it clear that they were ready for elections," he said.
Arora said the commission would have to conduct polls in the Anantnag parliamentary constituency in three phases. "So you can imagine how complicated it is," he said.
Omar flagged Union home minister Rajnath Singh's recent assurance to Parliament and an all-party meeting in Delhi that necessary forces would be made available for simultaneous polls.
"With the amount of international attention (that) elections in J&K attract I never thought PM Modi would be willing to confess his failure on a global stage but we all make mistakes & that was mine," he tweeted.