Campaign funds curb on Thakur, Verma
Remove minister, MP from party list of star campaigners, says election commission citing their incendiary statements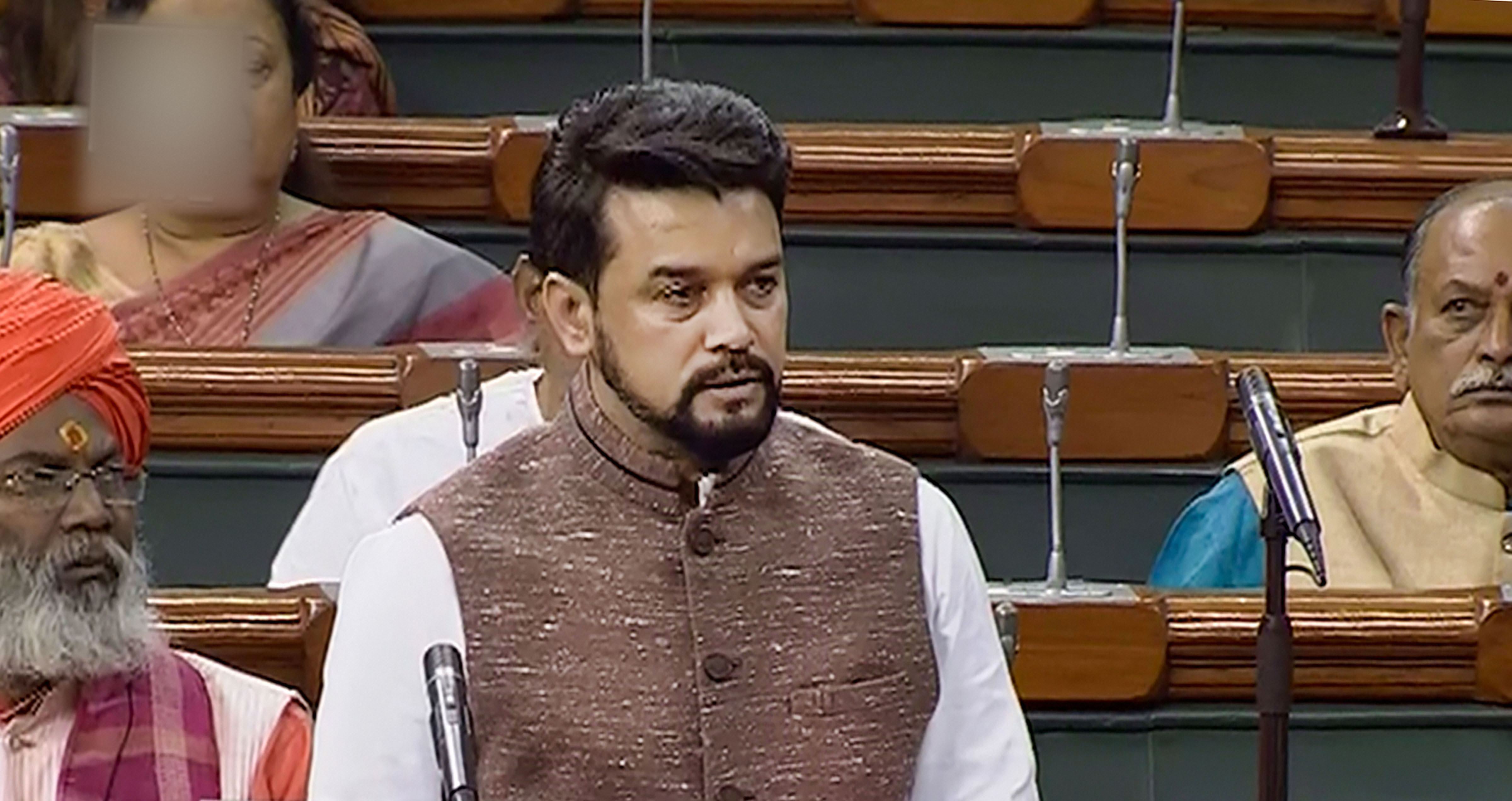 ---
---
The Election Commission has ordered that BJP leaders Anurag Thakur and Parvesh Verma, who are under watch for making incendiary speeches while canvassing for votes, be removed from the party's list of star campaigners whose expenses are borne by the party.
Wednesday's poll panel order, which comes into effect immediately, does not, however, ban them from campaigning for the Delhi elections scheduled for February 8.
An election commission spokesman explained that BJP could no longer bear their campaign expenses. But Thakur and Verma can continue to campaign with the candidates bearing their own expenses.
"They've been served a notice and given time until Thursday, January 30 to give their response. Further action will be considered after getting the response, " commission spokesperson Sheyphali Sharan told Telegraph Online.
Thakur, the Union minister of state for finance and corporate affairs, was caught on camera on January 27 provoking the crowd at a BJP campaign rally in Delhi's Rithala.
Standing on stage, Thakur led with the chant: "Desh ke gaddaaron ko…" while encouraging the crowd to complete the slogan "…goli maro s*** ko" (shoot traitors)."
Verma, who is the son of former Delhi chief minister Saheb Singh Verma, is the BJP MP from West Delhi. He issued inflammatory statements while campaigning on Tuesday.
At Vikaspuri, he had said that if his government came to power in Delhi he would remove all mosques built on government land in his constituency.
"…give me just a month after the 11th, I won't leave even one mosque built on a government land in my constituency. Saari masjid hata dunga (I'll remove all the mosques)," said Verma in his speech.
In another statement earlier, he alluded to Shaheen Bagh protesters as rapists and murderers without naming the venue.
In its notice, the Election Commission cited a Twitter post by ANI, the news agency which broadcast the BJP MP's statement in which he referred to those protesting against the amended citizenship Act as rapists.
The notice quoted Verma as saying, "…wahan laakhon log jama hote hain... Yeh Dilliwalon ko soch samajh ke faisla lena hoga. Yeh log aapke gharon me ghusenge, aapki behen betiyon ko uthayenge, unko rape karenge, unko marenge (there people have gathered in lakhs. People of Delhi should think and decide… They will enter your houses, rape your sisters and daughters, and kill them)."
Opposition leaders were quick to castigate the two BJP leaders, saying they had shunned "civilised political discourse" in the face of defeat in the Delhi elections.
But BJP leaders have been relentless in their attack on Shaheen Bagh protesters. Some have also defended Thakur and Verma.
In Karnataka, BJP leader and state culture and tourism minister C.T. Ravi tweeted in support of Thakur. "Anti-nationals should get Bullet not Biryani," he said on Tuesday. He said that those opposing Thakur were those who opposed the hanging of Ajmal Kasab and Yakub Memon and spread lies against the Citizenship (Amendment) Act.
On January 26, Union home minister Amit Shah asked supporters at a BJP rally to "press the (voting) button with such anger that the current is felt at Shaheen Bagh."
Delhi BJP chief Manoj Tiwari told a news channel that Shaheen Bagh had "terrorised the whole of Delhi".
In a series of tweets, Congress leader P. Chidambaram said that "faced with imminent defeat in the Delhi elections, BJP leaders have bid goodbye to civilised political discourse." He also questioned the silence of the BJP president and the Prime Minister on their leaders' statements.
Congress leader Kapil Sibal also condemned the statements of Thakur and Verma, saying a case should be registered against them as they were in violation of various sections of Indian Penal Code."