BSP and Samajwadi part ways for Uttar Pradesh bypolls
Mayawati says Samajwadi Party could not protect its Yadav votes, keeps door ajar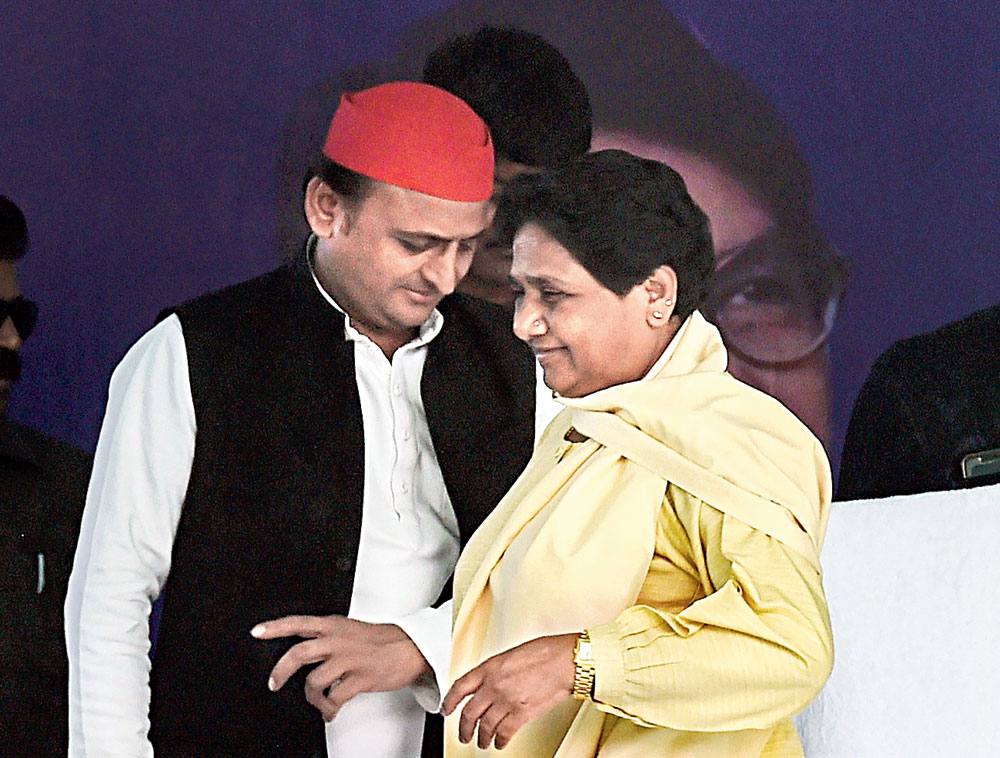 ---
|
Lucknow
|
Published 05.06.19, 01:04 AM
---
Bahujan Samaj Party chief Mayawati on Tuesday said Yadav voters in Uttar Pradesh had internally damaged the Samajwadi Party, her ally in the just-concluded parliamentary elections, forcing her to decide that her BSP would contest a slew of upcoming Assembly bypolls on its own.
Mayawati has not officially said she is ending her five-month alliance with Akhilesh Yadav's party but it was the clearest statement yet from the former chief minister that the partnership is over for all practical purposes.
"We cannot ignore the political compulsions completely. I am sorry to say that the base vote of the SP, particularly the Yadav voters, didn't stand by the SP candidates even in those seats where they were in the majority. They ditched the SP and internally damaged it," Mayawati told BSP leaders at a meeting in Delhi.
"The defeat of Dimple Yadav in Kannauj, Dharmendra Yadav in Badaun and Ram Gopal Yadav's son in Firozabad forced me to rethink about the alliance," she added in her statement, shared with the media through email.
Dimple is Akhilesh's wife and Dharmendra is the nephew of the SP chief's father and party patron Mulayam Singh Yadav. Both had won in 2014 along with Akshay Yadav, son of Akhilesh's uncle Ram Gopal Yadav. But all three lost this time.
"How can the SP voter support the BSP when they shifted from their own party in the important seats?" Mayawati said, stressing the need for reforms in Akhilesh's party.
"They need to work like the cadres of the BSP. The SP has lost a good opportunity to fight against the casteist, communal and anti-people BJP."
The comments came a day after Mayawati asked her party to be ready to contest all the 11 upcoming Assembly by-elections in the state. The polls are expected sometime later this summer.
On Tuesday, the BSP boss said Samajwadi workers "need to prepare themselves" for the fight against the BJP. "We can work together if the SP chief succeeds in infusing missionary zeal in his party men. But it would be better to go alone if he fails. Presently, we have decided to contest the (Assembly) bypolls alone."
Akhilesh was guarded in his response. "I welcome her decision to part ways and will contest the Assembly by-election alone after discussing the issue in our internal meeting. I will take decisions after taking all aspects into consideration," he said.
The BSP and the SP had together contested 38 and 37 of the 80 seats in the state, leaving three for the Rashtriya Lok Dal, a smaller ally, and two for the Congress, which fought in over 70.
The BSP won 10 seats and the SP five, while the RLD drew a blank. The Congress won one seat.
Mayawati sought to ensure a smooth parting, saying both Akhilesh and Dimple had given her respect. "Our relationship was not merely for political reasons, so it will always remain intact," she said.