'Breathless' in Varanasi? It's pollution, not Narendra Modi
Despite several assurances from Modi and the Uttar Pradesh chief minister, there has been no substantial improvement in Varanasi's air quality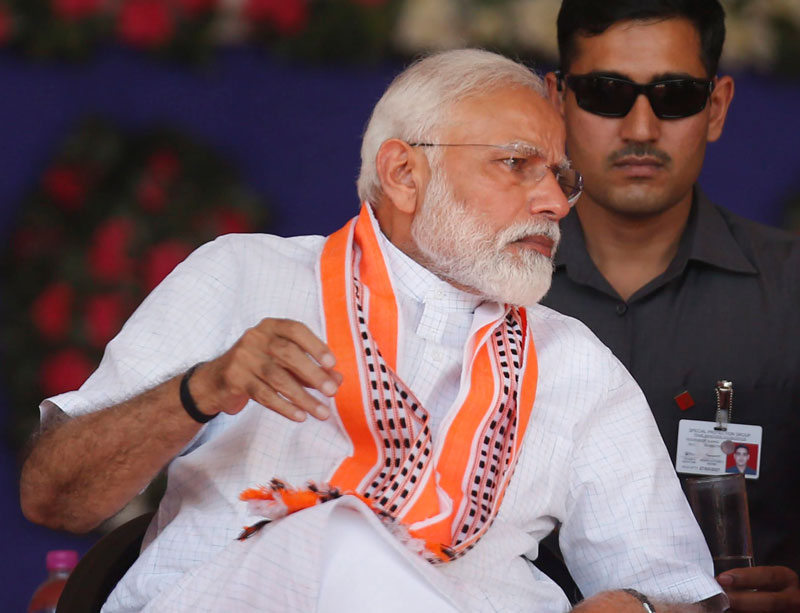 ---
Calcutta
|
Published 11.04.19, 12:02 AM
|
---
Prime Minister Narendra Modi may have received the top United Nations award on environment but his parliamentary constituency Varanasi, from where he is seeking re-election, has turned "breathless".
An environment report released recently says the Uttar Pradesh city has been choking with air pollution over the past five years, mainly because of a "lot of construction".
A copy of the report, by the India-based environment group Climate Trends, is with The Telegraph.
The report — Political Leaders Position & Action on Air Quality 2014-19 — prepared for Delhi and 13 cities in Uttar Pradesh, Bihar, Haryana and Kashmir has drawn on air pollution data from various international and national agencies as well as primary surveys in these cities.
This is what it has to say about Varanasi: "Timeless city becoming breathless; air quality in Varanasi has been deteriorating faster… largely due to lot of construction in the city."
"Doctors and residents are confirming the rise in allergies and respiratory diseases in the past few years with zero good quality air days" it further says.
The UN had last year recognised Modi for his bold environmental leadership on the global stage, his role in setting up international solar alliances and a pledge to eliminate all single-use plastics in the country by 2022.
The recent report points out that despite several assurances from Prime Minister Modi and chief minister Yogi Adityanath, there has been no substantial improvement in Varanasi's air quality.
"While a few knee-jerk actions have been taken by the state and local city government, the focus of the MP (read Prime Minister Modi) has been on beautification and infrastructure that do not fully address the primary causes of consistently poor air quality at the city and regional level," the report says.
The report explains that poor mobility is one of the major causes of pollution triggered by traffic congestion due to encroachment, lack of parking spaces, road width and condition, lack of pedestrian and cycling space — all responsible for the choking air pollution in the holy city, ranked the third-most polluted in the world by the World Health Organisation last year.
The high load of tourists — 30 lakh domestic travellers and two lakh international visitors — has also put pressure on the city's environment.
"Varanasi has no polluting industry around and it (the pollution) is because most of its roads have been dug up and drains are being constructed… there is heavy civil construction going on," said Anil Kumar Singh, the regional officer of the Uttar Pradesh state pollution control board who is in charge of Varanasi.
Earlier this year, in February, a study by IIT Kanpur and Shakti Foundation showed Varanasi suffered from poor air quality for 70 per cent of the days between October and November 2018 with PM2.5 levels crossing 170 micrograms per cubic metre against the national average of 60 and the WHO average of 25 for the tiny particulate matter, considered the most potent air pollutant.
"Varanasi is definitely the case of over-construction in the name of development as there is no dearth of funding for the Prime Minister's constituency," said a researcher who has long been involved with the city's development and blamed the local municipality for the situation. "In hindsight that becomes the problem and created this enormous pollution."