Boom for Kashmir barbers
Back on razor's edge? By choice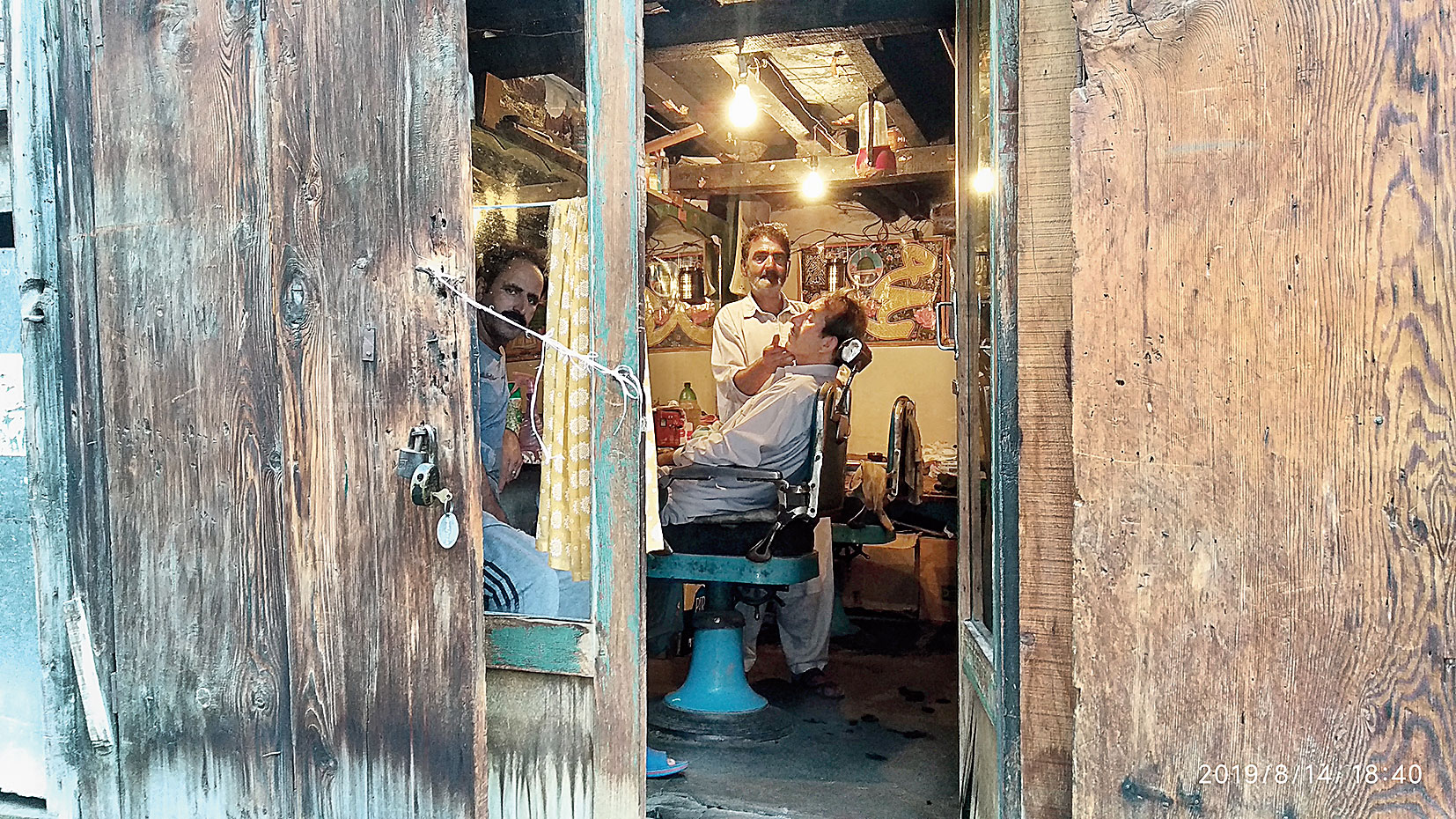 ---
|
Srinagar
|
Published 22.09.19, 08:28 PM
---
The Valley may have shut down for the past seven weeks but Mohammad Shaban is reaping a bumper crop. By cropping hair.
Shaban, originally a barber, abandoned his profession 12 years ago to work as a mason after failing to compete with the non-local barbers. After the rising tensions in the Valley prompted thousands of migrant barbers to leave last month, he has switched back from trowel to scissors.
"I was flooded with requests to reopen my shop, which I had had to close 12 years ago. People came looking for me from different localities and urged me to resume my old profession," Shaban told The Telegraph.
"I could not refuse. For a couple of days, I could not find the keys to my shop. When I eventually did, it didn't look like a shop. Local people helped me get things back in order."
Tens of thousands of skilled and non-skilled workers from other states have been migrating every year to Kashmir. The barbers among them had taken over the business of hairdressing almost entirely, leaving thousands of local barbers jobless over the years.
So, when the migrant barbers fled amid the tensions created by the scrapping of Jammu and Kashmir's special status on August 5, their absence was keenly felt. Like Shaban, many of the erstwhile local barbers have therefore picked up the clippers again, some of them operating from their homes as they had shut their salons long ago.
Still, there aren't too many of them and anyone getting a haircut in Srinagar these days must consider himself lucky, even if he had to stand in queue for hours.
Like most of the shopkeepers, the barbers operate for only a few hours --- early in the morning or later in the evening —because of the prolonged shutdown.
"I'm making good money, more than what I earned as a mason," Shaban said.
Tariq Rather, an official with a central government department, said he had not had a haircut in the seven weeks since the lockdown.
"I tried a lot to get one but every time I found long queues. I haven't the patience to wait for hours," he said.
Many men are taking the help of family members to get their hair or beards trimmed.
The Kashmir Hairdressers' Association said thousands of non-local barbers had fled the Valley.
A landlord who had rented out a shop to a group of migrant barbers at Srinagar's Habak locality said they had sent someone to enquire if they could return.
"I told them the situation is not conducive. When the situation turns normal, I may rent out my shop to someone else," he said.