BJP on month-long 370 and 35A drive
'Jan jagran' programme to highlight the significance of the govt's decision to scrap the special status of Jammu and Kashmir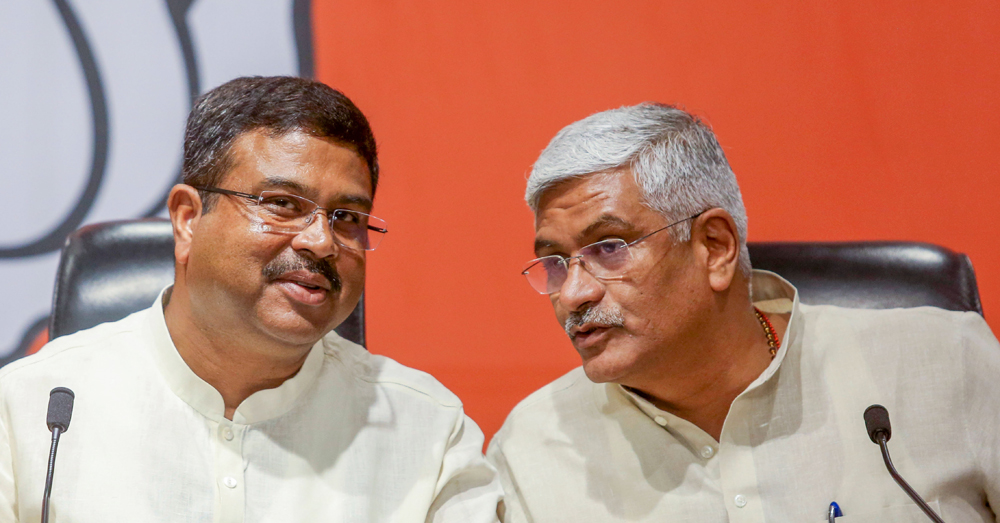 Union Ministers Dharmendra Pradhan and Gajendra Singh Shekhawat address a press conference, in New Delhi, Monday, August 26, 2019.
(PTI)
---
New Delhi
|
Published 26.08.19, 10:35 PM
|
---
The BJP on Monday announced 35 big and 370 small meetings as part of a "jan jagran" (mass contact) programme to highlight the significance of the government's decision to scrap the special status and privileges Jammu and Kashmir enjoyed under Articles 370 and 35A.
Union ministers Dharmendra Pradhan and Gajendra Singh Shekhawat announced the month-long programme in the backdrop of the combined Opposition's move to slam the government for the continued clampdown in the Valley.
"The decision of revoking (provisions under) Article 370 was a historic decision. It was one of the few moments in the history of independent India that united people across the country," Pradhan said, adding the programme would cover the whole of September.
The minister said big public meetings would be organised in 35 big cities and 370 smaller meetings held in smaller towns. "Union ministers, chief ministers, MPs, MLAs and party leaders would participate in the public meetings," he added.
The party has already written to BJP-led state governments and local bodies directing them to pass resolutions felicitating Prime Minister Narendra Modi and home minister Amit Shah for their "determination, firmness and courage".
According to the directions — given on behalf of Shah who is also the BJP chief — even party units have been asked to hold news conferences and "enthusiastic programmes" to advertise how Modi and Shah had fulfilled the dream of Syama Prasad Mookerjee.
Party leaders said the countrywide mass contact programme was aimed at blunting the Opposition's attack and also to make the Kashmir issue a big electoral plank in the year-end Assembly polls in three states — Maharashtra, Jharkhand and Haryana.
Sources said the party's internal feedback was that the government's decision had huge popular support and had underlined Modi's image of a strong leader.
"The Kashmir decision in many ways is equal to Indira Gandhi's Bangladesh liberation moment," one BJP leader said.
Asked whether the party would hold public meetings in Jammu and Kashmir, too, Shekhawat said nine places had been chosen, with four in the Valley and the others in the Jammu and Ladakh regions.
The communication clampdown in Jammu and Kashmir continues with telephone and Internet services snapped and prohibitory orders in place although 20 days have passed since the government decided to end the state's special status and split it into two Union Territories.
BJP leaders said they hoped the situation would normalise in the Valley by September.