BJP attacks Rahul Gandhi & Nitish Kumar, betrays jitters
Ex-law minister Ravi Shankar Prasad, who was fielded to slam the two Opposition leaders, termed Rahul's yatra as nothing but an effort to 'save the (Gandhi) family'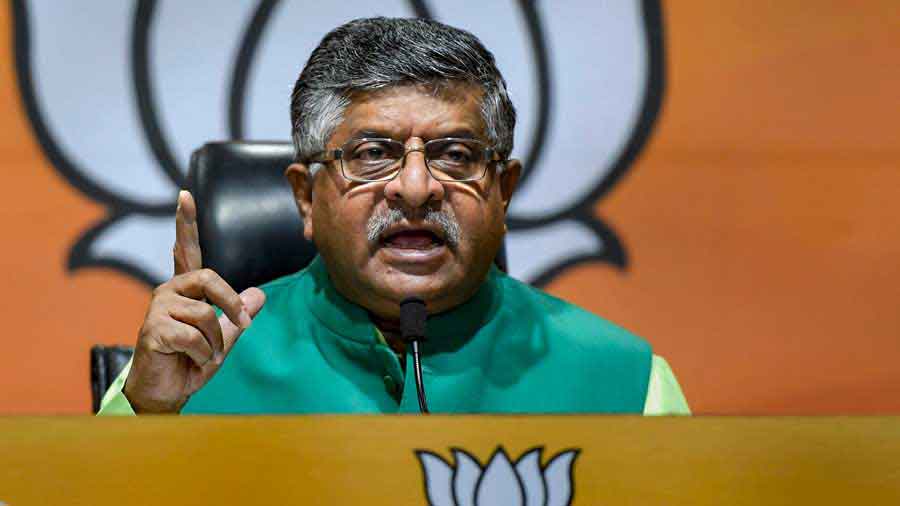 Ravi Shankar Prasad.
File photo
---
New Delhi
|
Published 08.09.22, 01:47 AM
|
---
The BJP on Wednesday hit out at Congress leader Rahul Gandhi for leading the Bharat Jodo Yatra and Bihar chief minister Nitish Kumar for striving for a wider unity of anti-BJP forces, betraying jitters over the twin developments.
Former law minister Ravi Shankar Prasad, who was fielded to slam the two Opposition leaders, termed Rahul's yatra as nothing but an effort to "save the (Gandhi) family".
Prasad also cautioned Nitish against trusting the Congress, recalling that the party had ditched three former Prime Ministers — Chandrashekhar, H.D. Deve Gowda and I.K. Gujral."Rahul Gandhi, who couldn't unify his party and couldn't unify himself with the party is talking about unifying the country. It's hypocrisy of the highest order," Prasad said. "This is nothing but a yatra to save the family and to maintain the control of the family over the (Congress) party," he added, highlighting how senior Congress leaders were deserting the party.
After Rahul, the BJP leader targeted Nitish, who has been meeting Opposition leaders in Delhi since Monday to unite them to take on the BJP in 2024. Nitish on Wednesday met NCP chief Sharad Pawar. He had earlier met Rahul, the Left leaders and Delhi chief minister Arvind Kejriwal.
"While Rahul Gandhi is talking about unifying the country, Bihar chief minister Nitish is on a political pilgrimage in Delhi at a time the state is witnessing drought on one side and flood on the other in addition to murders," Prasad said."Nitish ji has a right to meet people but it's worth reminding him how the Congress had withdrawn support from the Chandrashekhar  government. When Nitish ji is meeting Rahul Gandhi, he should be reminded how the Congress had pulled down the Deve Gowda government and then I.K. Gujral, who had said there was pressure on him to compromise with corruption," Prasad said.
"Have you (Nitish) come to unite those involved in corruption?" the BJP leader further said. The increased activity in the Opposition camp seems to have fuelled a concern in the BJP, which fears that if the divided Opposition camp comes together, the party could face a stiff challenge in the 2014 Lok Sabha polls.Prasad's attack on Rahul was on expected lines, portraying him as a dynast seeking control."This yatra is not for uniting the country but to relaunch Rahul Gandhi, who has proved to be a complete failure," Prasad said.