Bill linked to map passed, India fumes
Aim: Change to Nepal's emblem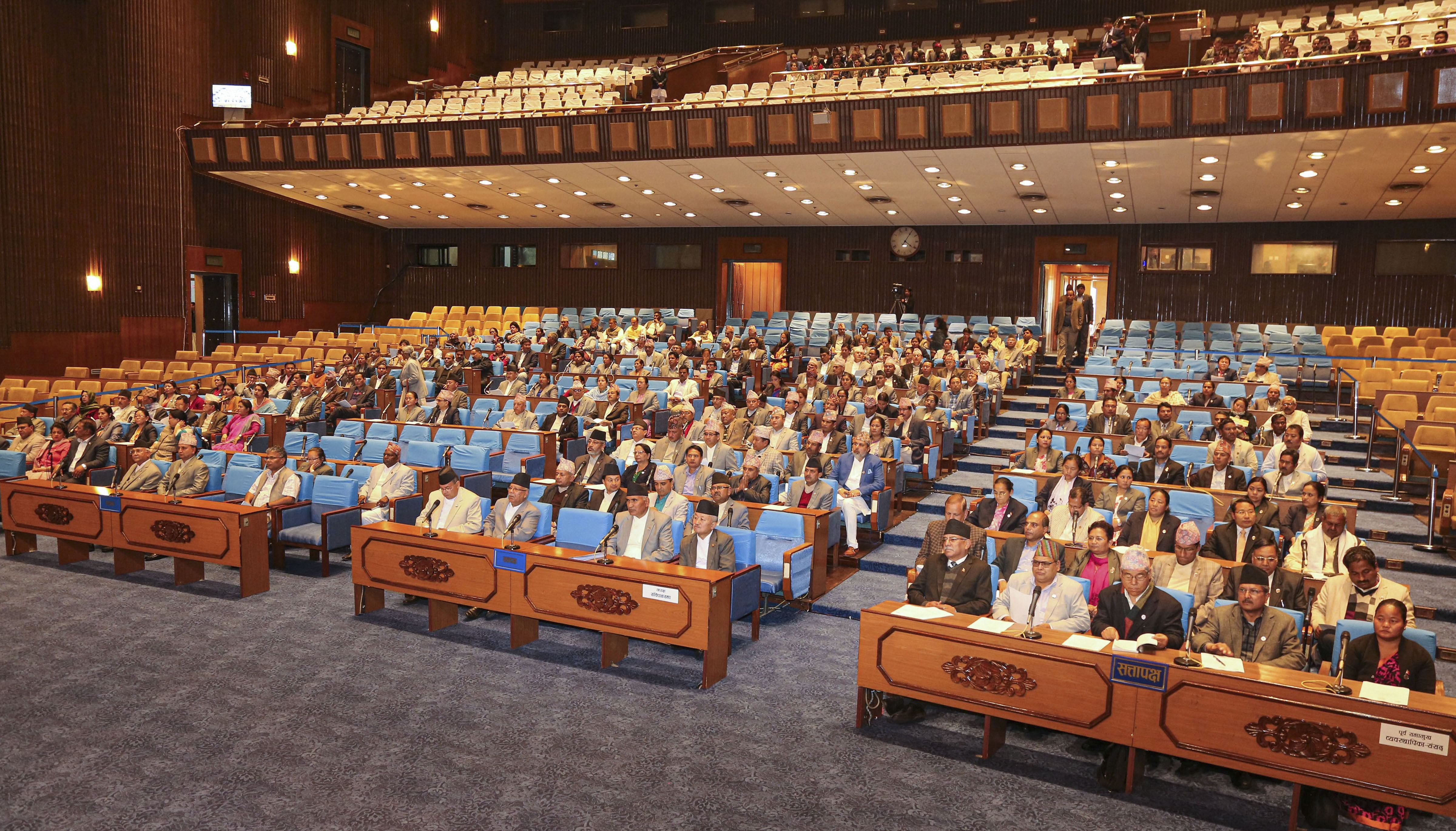 ---
---
Nepal's lower House on Saturday displayed unity to pass a constitutional amendment bill revising its emblem to reflect a new map with territories involved in a dispute with India.
Stung, New Delhi responded to the once-inconceivable snub by saying the "unilateral" legislative action violated "our current understanding to hold talks on outstanding boundary issues".
For the Narendra Modi government — which has always claimed to follow a "56-inch-chest" muscular foreign policy — Nepal's cocking the snook at India, as former Jammu and Kashmir chief minister Omar Abdullah put it, could not have been more ill-timed. It comes at a time tension has flared up along India's border with China.
Nepal's House of Representatives unanimously passed the bill to amend the map to be used on the country's coat of arms in future.
The new map includes three areas in dispute with India — Kalapani, Lipu Lekh and Limpiyadhura.
The constitutional amendment is needed to make the change to the country's emblem.
The map was approved by 258 of the 275 members of the lower House — exceeding the required two-thirds majority — and there was no vote against it.
Opposition parties, including the Nepali Congress, voted in favour of the new map. It is learnt that India had reached out to several political parties, including the Nepali Congress, but the effort yielded no result, PTI reported.
The bill will now go to the upper House for passage and then for presidential assent.
In New Delhi, Indian external affairs ministry spokesperson Anurag Srivastava said on Saturday: "This artificial enlargement of claims is not based on historical fact or evidence and is not tenable. It is also violative of our current understanding to hold talks on outstanding boundary issues."
The longstanding territorial dispute had became an irritant in November last year after India put Kalapani in the new map released to factor in the reorganisation of Jammu and Kashmir.
More recently, Nepal had kicked up a row after India opened a road to Kailash Mansarovar via Lipu Lekh, calling it the China border, on May 9.
Nepal iterated its demand for a meeting of the foreign secretary-level boundary mechanism. New Delhi said the meeting would be held on a mutually agreed date "after the two societies and governments have successfully dealt with the challenge of Covid-19 emergency".
Nepal saw this as a unilateral decision by India to delay the talks, for which Kathmandu had proposed two dates since November.
Nepal has been repeatedly calling for a dialogue. After Prime Minister Narendra Modi held a bilateral summit with his Australian counterpart Scott Morrison earlier this month via videoconferencing and Indian commanders met Chinese military officials last Saturday to address the face-off, Nepal openly began questioning why New Delhi was not doing the same with Kathmandu.
For Nepal, this was yet another instance of India displaying its Big Brother attitude towards the smaller neighbour. Prime Minister K.P. Sharma Oli — who is facing political problems at home and within his party — opted to go ahead and play the nationalist card to the hilt to rally his opponents around him.