Bihar: Antique sundial missing
It was under the possession of the state water resources department (WRD), which had posted employees for its upkeep and safety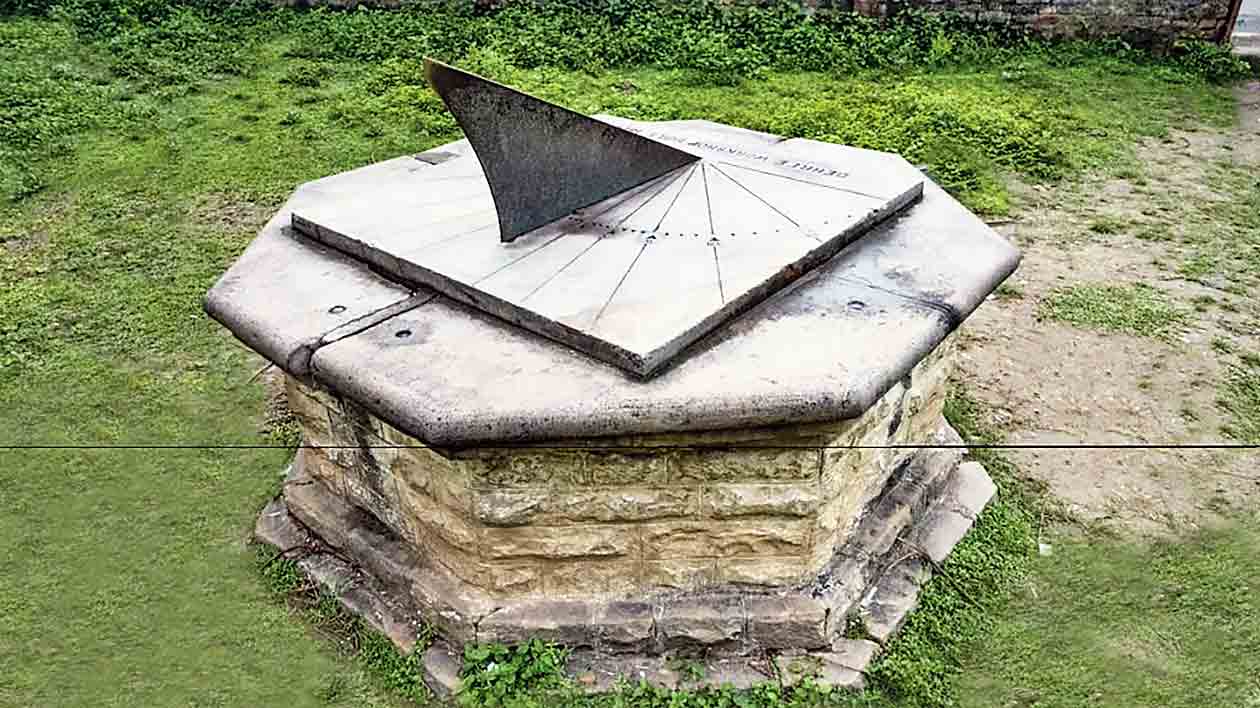 The sundial before it was stolen
Sanjay Choudhary
---
Patna
|
Published 10.02.22, 01:21 AM
|
---
Thieves stole the brass gnomon or pointer of a 150-year-old antique sundial right from under the police's nose in Dehri-on-Sone in Bihar's Rohtas district during the intervening night of Tuesday and Wednesday leading to a public outcry. 
The sundial, was built at the famous Dehri workshop in 1871 during the British regime, and was a centre of tourist attraction of the town. Its dial was made of stone with hour lines and Roman numerals carved on it to calculate the time with the help of the gnomon's shadow falling on it.   
It was under the possession of the state water resources department (WRD), which had posted employees for its upkeep and safety. The entire apparatus was fixed on an octagonal stone platform. Incidentally, the park where it was installed is within 100 metres of the office of the Rohtas DIG and SP. 
Offices and residences of several senior police officials are also in the area, while a battalion of the Bihar Special Armed Police also resides nearby.
"This sundial was installed by the British to keep time during the construction of the Sone canals, bridges, roads and the Anicut dam. A large number of workers were engaged in making them and the gongs for the start and stop of work, lunch and other breaks were sounded with the help of the sundial," historian Shyam Sundar Tiwari told The Telegraph. 
Randhir Kumar, a businessman and a resident of Dehri-on-Sone, said that the theft of the sundial's gnomon, indicated the extent to which the law and order has deteriorated in Bihar. "Nothing — neither people nor material assets are safe here," he said.
Meanwhile, the police officials visited the place and also roped in sniffer dogs into service in an attempt to nab the people who took away the vital part of the sundial.
"The brass part of the sundial is missing. We are taking all necessary steps to recover it. As per our information, three employees of the irrigation department were deputed for the protection of the sundial, but they were not present on duty since Tuesday. We have come here and they are still not here. We will write to the concerned department about this," Rohtas SP Ashish Bharti said.