Bihar: Speculation over Nitish Kumar's house shift
Chief minister's aides asserted that the move was 'temporary, undertaken to facilitate the renovation of his official residence'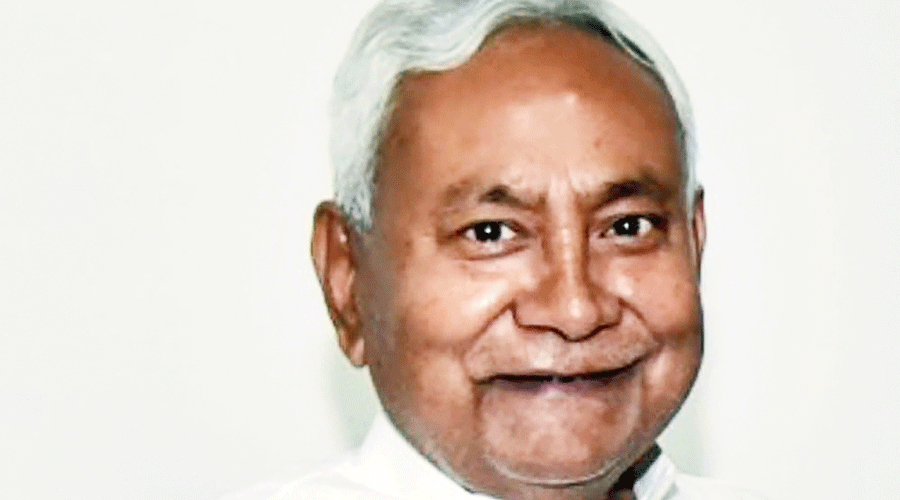 ---
Patna
|
Published 26.04.22, 02:23 AM
|
---
Bihar chief minister Nitish Kumar shifted from his sprawling 1, Aney Marg official residence to a smaller 7, Circular Road bungalow around midnight on Saturday.
Nitish's aides asserted that the move was "temporary, undertaken to facilitate the renovation of the chief minister's official residence that had been pending for the last three years".
But, the shifting of 17 cows and calves belonging to him to the new place raised several eyebrows. The repairs and paintwork could have been easily undertaken with the cattle ruminating under their secluded shed.
Moreover, the chief minister was back to work at his office at 1, Aney Marg on Monday morning, with plans to return to rest at 7, Circular Road in the evening — indicating that the official residence is not in an inhabitable condition.
This is not the first time Nitish has moved to 7, Circular Road residence. But whenever he has done so, it has marked a tectonic shift in Bihar politics. He had shifted there for the first time in 2014 after his Janata Dal United (JDU) fared poorly in the Lok Sabha elections. He installed party colleague Jitan Ram Manjhi as the chief minister, but took back the reins in his hands after a few months.
Nitish contested the 2015 Assembly polls as part of the Grand Alliance from the 7, Circular Road residence and dealt a resounding defeat to the Bharatiya Janata Party (BJP)-led National Democratic Alliance (NDA). He had also allowed poll strategist Prashant Kishor to stay there, but had later moved to 1, Aney Marg.
The chief minister's house shifting comes amid his moves like attending iftar hosted by Opposition Rashtriya Janata Dal (RJD), meeting Union home minister Amit Shah the very next day, his thanksgiving spree in his former constituencies, the outburst on legislative Assembly speaker Vijay Kumar Sinha, continuous skirmishes with bigger ruling partner BJP over various issues among other things.
Nitish and his JDU differs from the BJP over several important yet controversial issues such as the population policy and laws, uniform civil code, Pegasus spyware scandal, National Population Register, National Register of Citizens, wearing of hijab and performing namaz at public places.
Though Nitish is yet to show his hand and has kept everybody guessing, senior politicians in different parties are reading it differently.
"The way he moved for a month in his former constituencies in Patna and Nalanda districts despite early and scorching summer and thanked the people for providing him an opportunity to serve them indicates that he is planning a political shift. Either the BJP has tipped him to the vice-president's post or the Opposition wants him to contest the forthcoming Presidential elections. We know his nature. He won't opt for lesser positions," a senior JDU leader told The Telegraph on the condition of anonymity.
One section of the JDU believes that with poll strategist Prashant Kishor busy cobbling a strong Opposition and reviving the Congress against the BJP, Nitish could be on his way to present himself as a suitable prime ministerial candidate. Also, it has been his ambition due to which he fell out with the then BJP Prime Ministerial candidate Narendra Modi in 2013. Nitish and Kishor have stayed in touch.
However, RJD vice-president Shivanand Tiwari, who had worked closely with Nitish previously, told this newspaper that it was next to impossible to predict his moves and said he was deliberately sending mixed signals around.
"Nitish is deliberately creating confusion in the political circles. One day he attends iftar hosted by RJD leader Tejashwi and hogs the national limelight, the next day he goes with a bouquet to meet Shah against the set protocol. It should have been the other way round. He is meeting everybody who touched his career and is making it feel like his farewell," Tiwari said.
"Nobody knows what moves he (Nitish) will make, but I am sure about one thing. He cannot afford to go against the BJP because he will be quickly heaped with cases by various central agencies and locked up. Several scams like Srijan and paddy procurement are already in limbo," Tiwari added.
Yet, many leaders cutting across the party lines believe that Nitish may once again indulge in a political somersault and side with the RJD, with a possibility of anointing Tejashwi as the chief minister.
Lok Janshakti Party (Ram Vilas) leader and Jamui MP Chirag Paswan equated Nitish's attending RJD iftar with Sonia Gandhi's walk to his father Ram Vilas Paswan's bungalow in Delhi in 2004 and predicted a political shift in Bihar.
"Just like Nitish came walking to attend the RJD iftar at Rabri Devi's residence in Patna, Congress chief Sonia Gandhi had walked to meet my father at his bungalow in Delhi in 2004. Soon after the UPA came into being and swept to power at the Centre," Chirag said.
Political analyst and former Patna University professor N.K. Chaudhary asserted that Nitish was giving mixed signals because his popularity is at an all-time low due to corruption, poor law and order and the failure of prohibition in the state, while the BJP was pressuring him to quit.
"The BJP always played second fiddle to Nitish since 2005, but has now emerged as a strong pan-India party. It now wants its pound of flesh and is pressuring him to quit. He has outlived his utility. It will not want to make him the President or the vice-president due to his politically unreliable persona," Chaudhary said.
"Nitish's psychology is that it is better to rule in hell than to serve in heaven. But he has no viable offer from anywhere as of now. So he is attending RJD's iftar and also bowing down to Prime Minister Narendra Modi and Union home minister Amit Shah to send mixed signals. Bihar politics is at an interesting juncture," Chaudhary added.