Bihar: March to Raj Bhavan for Mithila state
We have submitted a memorandum so that our demand could reach Centre and appropriate action is taken, says MSU president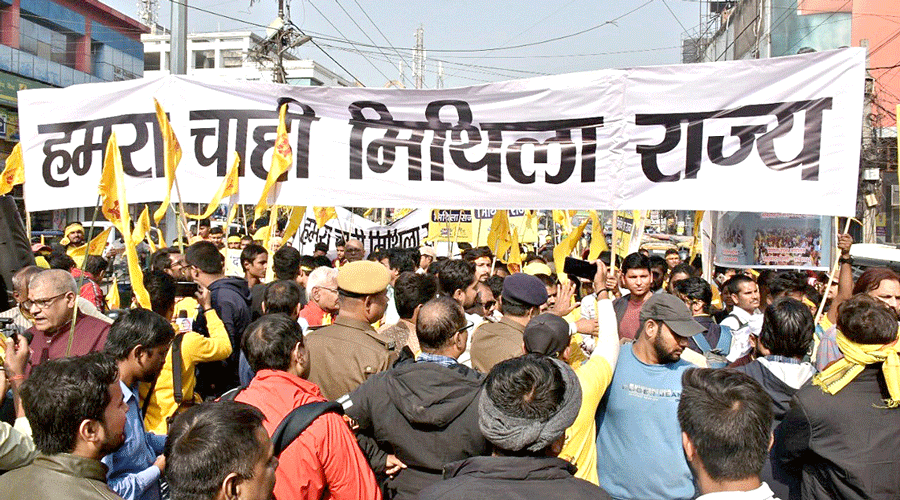 The Mithila Students Union's march to Raj Bhavan in Patna on Sunday to demand a separate Mithila state.
Sanjay Choudhary
---
Patna
|
Published 05.12.22, 03:12 AM
|
---
The demand for a separate Mithila state carved out of Bihar and parts of Jharkhand intensified on Sunday with the Mithila Students Union (MSU) taking out a march to Raj Bhavan in Bihar capital.
The police stopped the march midway and had a tough time controlling and containing the youths and other people participating in it. It was called off after the administration took a five-member delegation to the Raj Bhavan, which submitted a memorandum to the officials present there.
"We have submitted a memorandum at the Raj Bhavan so that our demand could reach the Centre and appropriate action is taken. According to the Niti Aayog the districts in the Mithila region are among the most backward in the country in almost all parameters. It has been neglected by the ruling parties since Independence," MSU president Amit Kumar Thakur said.
Another leader Vidya Bhushan Rai asserted that Mithila's economy, industries, agriculture, tourism, and education have been exploited and destroyed. "This despite the fact that it has been a seat of culture since ancient times to the British period. The region can fulfil all requirements to become a separate state, but has been ravaged by floods, poverty, unemployment and migration," he said.
The demand to make Mithila a separate state had first cropped up during the modern times in 1912, when the British separated Bihar from Bengal. However, it remained on a slow burner for decades, intensifying slowly after the then Atal Bihari Vajpayee's government at the Centre included Maithili language in the Eighth Schedule of the Constitution in 2003.