Bihar: Students protest against rail test results, disrupt train services
The main New Delhi–Howrah route was blocked for several hours at Buxar, bringing to halt trains that were already running late because of dense fog and bad weather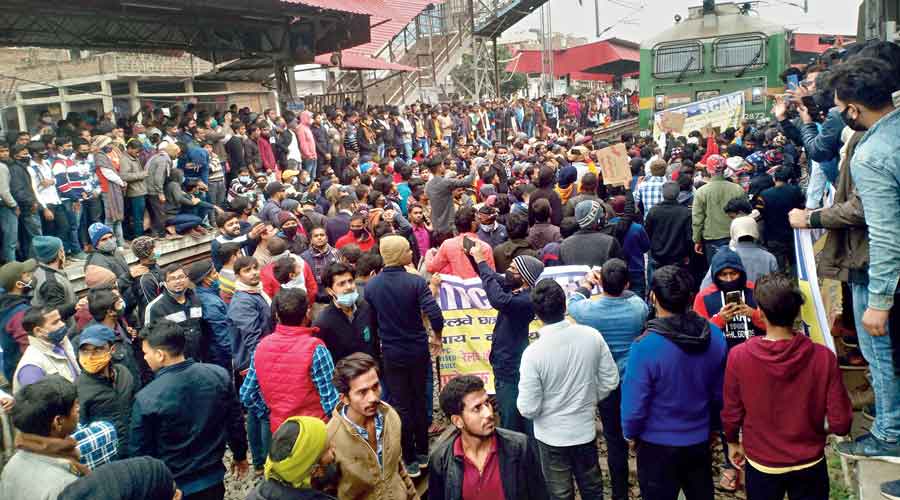 Students and candidates protest at the Rajendra Nagar station in Patna on Monday evening.
Pictures arranged by Sanjay Choudhary
---
Patna
|
Published 26.01.22, 01:50 AM
|
---
Thousands of candidates, who had appeared for the Railway Recruitment Board's non-technical popular categories' exam 2021, disrupted train services across Bihar on Tuesday to protest against the alleged discrepancies in results.
The main New Delhi–Howrah route, which witnesses one of the densest train traffic in the country, was blocked for several hours at Buxar, bringing to halt trains that were already running late because of dense fog and bad weather.
Train services at various places in Nalanda, Nawada, Saran, Sitamarhi, Muzaffarpur, Bhojpur, Buxar and Patna districts bore the brunt as protesters laid siege to stations, blocked rail lines by placing steel poles and bars and demonstrated on the tracks since morning.
"We could not see any logic in the RRB NTPC exam results. Those who got less marks in various categories have been selected while many who performed better have been rejected. We do not know what has happened. They (The railways) are playing with our career and future. The RRB should make corrections and issue fresh results," said Manish Kumar, a protester from Bihar Sharif in Nalanda district, who had written the exam. They raised slogans against the railways and the NDA government at the Centre. "The computer-based tests being conducted by the RRB should be scrapped. They leave much scope for bungling in the results. The government should at least ensure fair exam and results in this era of unemployment if it cannot provide more jobs," said Anand Singh, a protester at Buxar station.
A section of protesters in Nawada torched a track inspection locomotive and pelted stones on fire tenders and station buildings. At some places, they tried to damage the tracks. In other districts, scuffles broke out between the candidates and state police and Railway Protection Force (RPF) personnel.
At Ara station, the police fired in the air and lathicharged protesters after they started pelting stones. East Central Railway chief public relations officer Rajesh Kumar said at least two dozen trains had been diverted, rescheduled, cancelled, terminated before destination or started beyond their origin stations because of the ongoing agitation.
"Some changes have been made in the running of trains due to the protests at Buxar and Fatuha (Patna district) stations on Tuesday. Seven trains have been diverted from their regular routes, while the termination or departure station of a couple of them have been changed. Train 13287 Durg–Rajendra Nagar Terminal South Bihar Express has been cancelled," Kumar said. However, there was no word on how many trains were stranded or delayed. The agitation started at Rajendra Nagar station in Patna and Ara station in Bhojpur district on Monday afternoon and continued till the security personnel used force to disperse the protesters after they tried to torch the Patna–Kurla Express around 10pm. By Tuesday, the protests had spread to various parts of the state.
Asked about the agitation, Bihar additional director general of police (rail) Nirmal Kumar Azad told The Telegraph: "The protests are happening at five or six places in the state. Most of the protesters are students and they are aggrieved about some RRB results. We are trying to pacify them. Slight force has been also used at a couple of places to disperse them. So far, nine FIRs have been registered. We have arrested four and are on the lookout for others who are unnamed." Azad said the emphasis was on peaceful handling of the situation instead of arresting the students or registering FIRs against them. He added that the police were talking to the owners of lodges and hostels where students stay and taking their help in dissuading them from coming out on the roads and stations to protest. The railway ministry issued a notice on Tuesday, stating that students indulging in unlawful activities, vandalism, damage and disruption of train services would be liable to be debarred from railway jobs throughout their lives. It also said that specialised agencies would be used to identify such students from video clips and other means.