Bihar govt suspends 17 officials for failing to curb illegal sand mining
Among them were two IPS officers who have been charged with helping those involved in illegal activity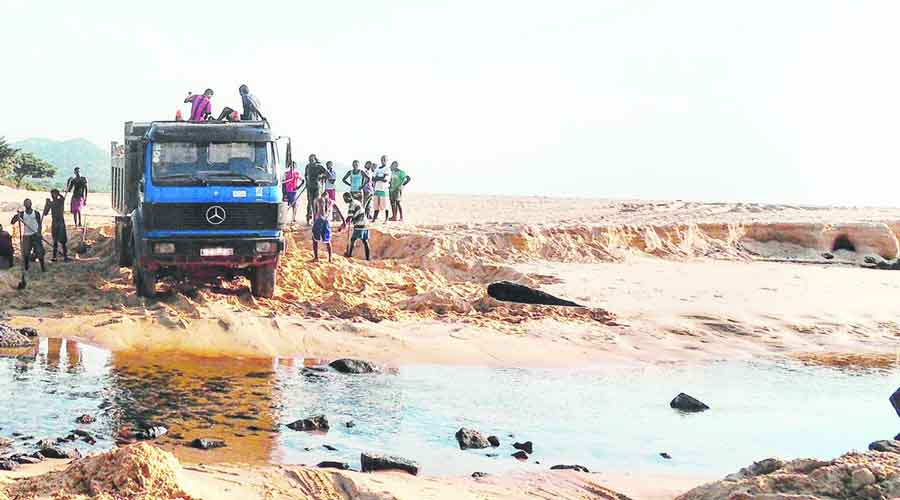 Some of the suspended officials are from the Bihar administrative service and mines and geology department posted in the two districts
File picture
---
Patna
|
Published 29.07.21, 01:26 AM
|
---
The Bihar government has suspended 17 officials, including two IPS officers, for failing to curb illegal sand mining and its trade in the state.
Notifications issued by the home department on Tuesday night said that IPS officers Sudhir Kumar Porika and Rakesh Kumar Dubey were being suspended with immediate effect in the light of a report by the economic offences unit of Bihar police for not discharging their duties with regard to illicit mining, storage and transportation of sand in Aurangabad and Bhojpur districts.
Porika and Dubey were the superintendents of police of Aurangabad and Bhojpur, respectively. The two officers were transferred earlier this month and had been waiting for posting since then.
Both the police officers have been charged with helping those involved in illegal sand mining and transportation, not keeping effective control on junior officers and allegations of suspicious behaviour.
Some of the suspended officials are from the Bihar administrative service and mines and geology department posted in the two districts. Others include four deputy superintendents of police and a sub-divisional officer.
"We are developing a strategy to check the sand mafia in the state. Raids are being conducted and action against the mafia is being taken on a daily basis. We are going to take tougher actions. Just wait and watch," mines and geology minister Janak Ram said on Wednesday.
Janak also said that 4,180 raids have been conducted, 750 FIRs registered and 538 people arrested till June 30 this year as part of the state government's crackdown on illegal sand mining.
Illegal sand mining is carried out by a well entrenched and well-oiled mafia without any permission from the state government, causing loss of thousands of crores of rupees to the exchequer every year. An alleged nexus with senior government officers and politicians allows the sand mafia to carry out its activities with impunity.
Aurangabad, Rohtas and Bhojpur are the worst affected districts by the illegal mining because they lie along the Sone river, which yields the maximum sand in the state.
The sand extracted from the Sone is considered to be of the best quality for construction purposes, and is exported to neighbouring states like Uttar Pradesh and Jharkhand.
The mafia has become so brazen that it uses earthmovers, trucks and several men to dig out the sand from the river basin without any fear of punishment.
However, the government's action seems to be focused on some of the affected districts though illegal sand mining is going on unchecked in Jehanabad, Gaya, Banka, Jamui and several other districts, sources said. Many big and small rivers in these districts possess good quality sand.