Yechury flags concern on BJP poll cash
The CPM general secretary questioned the Election Commission over the lack of a level playing field due to the pending electoral bond case in the SC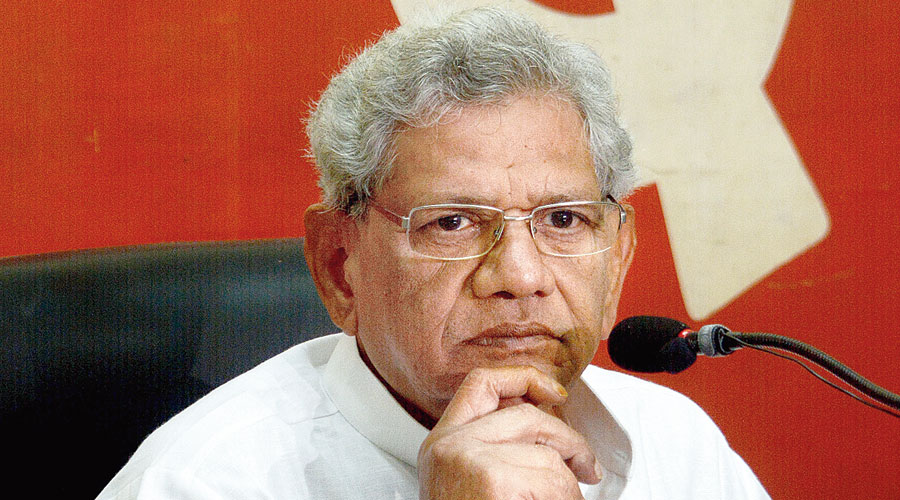 ---
---
CPM general secretary Sitaram Yechury wrote to chief election commissioner Sunil Arora on Friday, highlighting concerns over opaque political funding and the lack of a level playing field with the BJP in the upcoming Bihar polls.
In his letter, Yechury questioned the Election Commission of India's ability to ensure a level playing field due to the pending electoral bond case in the Supreme Court.
"You are aware, as much as we are, that the EC earlier had told the SC that electoral bonds will signal 'serious repercussions on the transparency aspect of political funding of political parties'… Since the matter is now pending with the Hon'ble Supreme Court, the question is, how the Election Commission will discharge the mandate of Article 324 in ensuring a free and fair poll in Bihar and a level playing field," Yechury wrote.
The court has refused to stay the scheme that offers anonymity to political donors although it has asked all parties to give details of bonds received to the EC by May 30 in sealed covers. Yechury added that the BJP enjoyed a "disproportionate advantage" over other parties in the use of mass media and has reportedly misused social media to "to build a narrative based on fake news".
He said, "On the eve of the 2019 general election, the then BJP president Amit Shah had publicly stated that the party, with its network of 32 lakh WhatsApp groups, can make any message, true or false, viral within hours. Add to this, the finding of international fact-check websites that an overwhelming majority of fake news is generated in India. And now on the eve of the Bihar elections, the party has kicked off a virtual election campaign by putting up 72,000 LED TV monitors for Shah's speech… Obviously, the anonymous corporate funds without any upper ceiling will certainly be the death knell for electoral democracy."
The BJP bagged 92.94 per cent of all corporate donations made to parties between 2016 and 2018. The CPM is contesting only four out of the 243 Assembly seats in the three-phase Bihar polls that begin later this month. It is part of the Rashriya Janata Dal-led Mahagathbandhan (Grand Alliance) of Opposition parties in Bihar.
"The issue of use of social media by political parties has assumed new significance in the light of the exposure on the BJP's involvement in the spread of misogyny and hate on social media. The report in The Wall Street Journal has opened the floodgate of more factual details about how Facebook and Twitter have been complicit in turning a blind eye to BJP's divisive campaign on the strength of its substantial investment through advertisement in the social media platform along with its associates. This is in addition to its use of WhatsApp messages to build a narrative based on fake news," he said.
The EC is yet to respond to the letter.