Mascot Modi outshines Nitish
BJP has turned the Aatmanirbhar Bharat package into a campaign plank, calling for an 'Aatmanirbhar Bihar'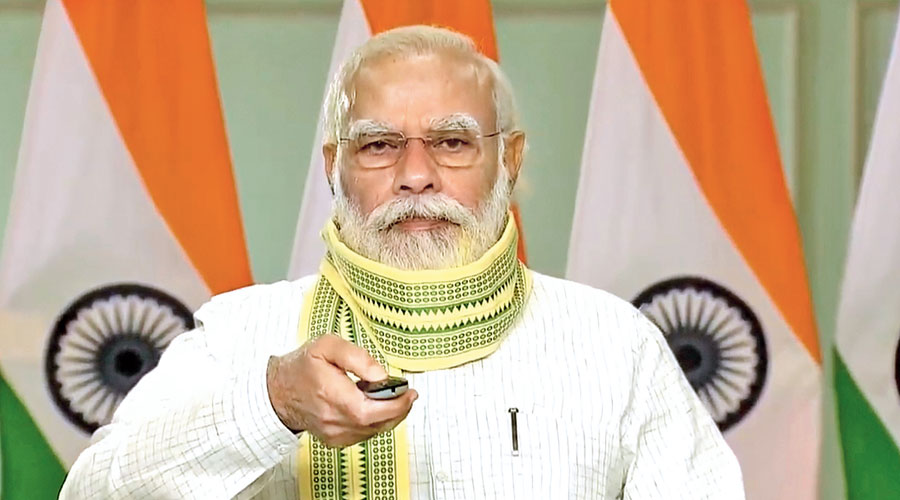 ---
---
Prime Minister Narendra Modi on Thursday launched a bunch of initiatives for the fisheries and animal husbandry sector, most of them for Bihar, and sought to strike a chord with the people of the poll-bound state by beginning his speech in Bhojpuri.
The otherwise official event, coming ahead of the Assembly elections in Bihar that are scheduled to be held in November, was seen as an attempt by the BJP to woo the electorate and dominate the narrative in the state by tapping into Modi's popularity.
BJP ally, Bihar chief minister and JDU leader Nitish Kumar, also attended the virtual event but appeared overshadowed in Modi's presence.
After interacting with some of the beneficiaries of his government's schemes, the Prime Minister delivered a speech on his pet theme of self-reliance, starting with a few sentences in Bhojpuri. Bhojpuri is one of the dominant dialects in Bihar, with many people who don't speak it also having a connect with the language because of a popular film and music industry.
Through the videoconference, Modi launched a Rs 20,050-crore PM Matsya Sampada Yojana and a mobile app to provide farmers a marketplace for livestock, and inaugurated a Rs 84.27-crore semen station at Purnia with state-of-the-art facilities. Some other schemes relating to animal husbandry and fisheries were also announced.
The majority of the schemes are part of Modi's Aatmanirbhar Bharat package that the BJP has now turned into a campaign plank, calling for an "Aatmanirbhar Bihar".
"All the schemes started today resonate our belief that our villages should become the strength of 21st-century India, a self-reliant India," Modi said.
The BJP, which is a junior partner in Bihar's ruling alliance, is trying to emerge from Nitish's shadow and play a dominant role. Although the party has endorsed Nitish as the chief ministerial face of the NDA, it is learnt to be working on a strategy to assert itself after the elections.
The BJP has usually contested a lesser number of seats than the JDU but this time it has indirectly piled pressure for an equal share even before seat-sharing talks have begun. The BJP hopes to win more seats than the JDU and leverage that in the post-poll scenario.
Nitish, too, spoke at Thursday's virtual event, highlighting that his government has done a lot of work in the agriculture and animal husbandry sectors and seeking to take a swipe at his detractors. Nitish thanked Modi for the initiatives.
Modi lauded Nitish, but briefly, for accelerating the scheme to provide clean drinking water in the villages. Mostly, the Prime Minister focussed on the central government's vision to improve the livelihood of the poor and make the country self-reliant.