Congress's Bharat Jodo Yatra begins Jammu and Kashmir leg
Sanjay Raut, Param Vir Chakra awardee Bana Singh join march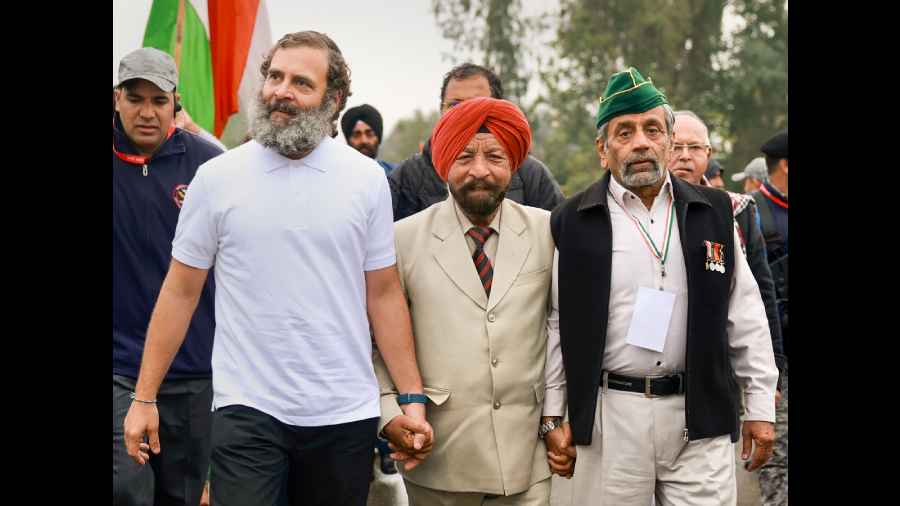 Congress leader Rahul Gandhi with Param Vir Chakra awardee Bana Singh and others during the party's 'Bharat Jodo Yatra', in Kathua district
PTI picture
---
Kathua
|
Published 20.01.23, 08:25 PM
|
---
Sanjay Raut of the Shiv Sena (UBT) and Param Vir Chakra awardee Capt (retd) Bana Singh were among those who joined Congress leader Rahul Gandhi in the Bharat Jodo Yatra which began its Jammu and Kashmir leg from this border district Thursday.
As it was raining in the morning, Gandhi donned a black raincoat over his now trademark white T-shirt for the yatra but removed it with some improvement in the weather after walking for over the first two hours from Hatli Morh towards Chadwal, a 21-km stretch along the Jammu-Pathankot highway which was virtually sealed as part of the stringent security arrangements.
The march, which started from Kanyakumari on September 7, entered Jammu and Kashmir from Punjab on Thursday evening and is scheduled to end in Srinagar on January 30.
The first day of the march in Jammu and Kashmir was scheduled to start at 7 am but could begin only after 7.45 am in view of inclement weather, Congress General Secretary Jairam Ramesh told reporters at the end of the first day of the yatra.
"Today is the 126th day of the yatra which crossed different states and finally reached J&K where it will spend the last 10 days. Today, we covered 21 km under the leadership of Gandhi," Ramesh, flanked by senior Congress leaders including former Madhya Pradesh chief minister Digvijay Singh, said.
He said after a day break on Saturday, the yatra will resume on Sunday from Hiranagar in Kathua and will reach Jammu on January 23. It will have another break on January 26 (Republic Day) before commencing in Kashmir valley. Jammu and Kashmir Congress president Vikar Rasool Wani and his predecessor G A Mir also accompanied Gandhi during the over five-hour long march.
Raut said he has come to join the yatra on behalf of his party.
"The atmosphere in the country is changing fast and I am seeing Gandhi as a leader who is raising his voice on real issues.
"The way people are connecting with this yatra is heartwarming. He is a leader and that is why he is on the roads. The people will choose (who would be their leader)," he added.
A tight security ring, composed of police and CRPF personnel, was thrown around Gandhi as he started walking along with his supporters despite the rains which lashed wide parts of Jammu and Kashmir since early on Friday morning.
A delegation of veterans led by captain (Retd) Bana Singh who was awarded the Param Vir Chakra - the highest wartime gallantry medal for his bravery during operation Rajiv in the highest battlefield of Siachen in Ladakh in 1988 - also joined the foot march and walked alongside Gandhi for over 40 minutes.
Gandhi smiled, waved and flashed kisses to a family which had climbed on the terrace of their house and flashed 'BJP' and 'Pappu' on pieces of papers, while an enthusiastic Congress supporter was silenced by volunteers as he tried to raise slogans against Prime Minister Narendra Modi.
Many Congress activists and supporters carrying tricolours turned up a couple of hours before the start of the yatra, while thousands of men, women and children were seen lined up on both sides of the roads with many of them carrying placards, flower petals and garlands at different places enroute to welcome Gandhi.
"We are on a walk to fight the ideology of hate and violence... the ideology which is against the poor and driving youngsters towards unemployment. These are the objectives we are fighting for and those who want to join are welcome and those who do not want to join best of luck to them," Digvijay Singh said.
Thanking the people for turning up in large numbers despite rains, Wani said a total of 90 deputations including Kashmiri Pandits are expected to meet Gandhi during his march through Jammu region.
"Public is faced with a lot of issues as BJP has done nothing for the public welfare over the past nine years. Congress has given ownership rights to the poor through Roshi legislation, but BJP dusted it and is taking back that land. The people are faced with the worst kind of oppression under BJP dispensation," he alleged.
Wani said the people of Jammu and Kashmir are having high hopes with Gandhi and the Congress will not disappoint them.
Sitaro Devi, a woman among a large group of people waiting for the yatra to pass through at Padwal, said Gandhi is speaking the truth as inflation has skyrocketed in the past eight years, unemployment is on the rise and it is very difficult for housewives to run their kitchens.
Haryana resident Pandit Dinesh Sharma, who has been walking barefoot from Kanyakumari, said, "I have taken a pledge not to wear shoes till Rahul becomes the prime minister of the country." PTI TAS SKL ZMN