Better to be a cow than a human being in Covid-ravaged Uttar Pradesh
Critics blast Yogi move to set up 700 cow welfare 'help desks' in midst of pandemic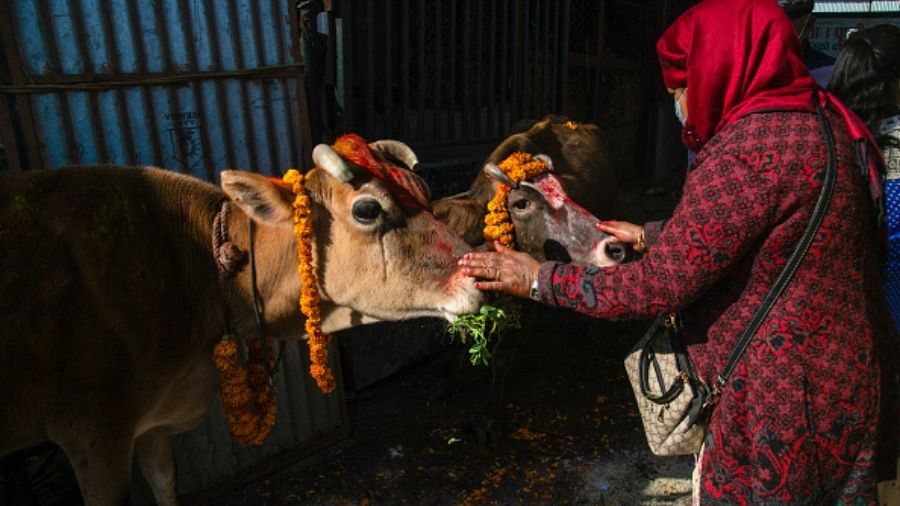 ---
New Delhi
|
Published 07.05.21, 09:22 PM
|
---
A storm of criticism has greeted a decision by Uttar Pradesh Chief Minister Yogi Adityanath to set up 700 helpline centres to report cows in need of assistance when Covid-19 patients are begging for oxygen and hospital beds.
Carrying forward the government's emblematic cow protection agenda, "in view of the current Covid situation, a total of 700 help desks for the welfare of cows has been set up across the state's districts," an official press release said, according to the Press Trust of India. 
As doctors battled the devastating second pandemic wave pummelling the state, the decree by the Yogi Adityanath government was blasted on social media. One irate Twitter user said Friday: "In a place where humans are dying like flies, a help desk is established for 'holy cows.' Another Twitter user commented: "Yogi should concentrate on human beings who are gasping for oxygen and begging for a hospital bed. Their families are gathering firewood to cremate them. This man is amazing!"
Priorities sorted:

1. Modi declares Centra Vista essential
2. Senior Babus attend a training on jumlebazi
3. Yogiji announces cow help desk in each district

Sincere request to hand over Covid management taskforce to @nitin_gadkari

— Arpit Srivastava (@sri_arpit) May 5, 2021
The state government has also ordered that staff in the cow shelters follow strict Covid-19 protocols, such as wearing masks, as part of measures to protect the cattle. The shelters are being equipped with medical equipment like thermal scanners to detect any early signs of the virus among staff.
A study by German government scientists last year suggested cattle can catch Covid-19. Researchers at Germany's Federal Research Institute for Animal Health inoculated six cattle with the coronavirus. Two cattle tested Covid-positive after nose swabs. At least a dozen animals are known to be susceptible to the virus, including dogs and cats.
"Amidst the raging Pandemic when thousands of people are dying due to lack of Oxygen & medical care in UP, Yogi orders setting up a help desk for cows in every district! Gobar gyan!" tweeted human rights advocate Prashant Bhushan. Congress MP Shashi Tharoor reacted Thursday, saying: "these days, better to be a cow in UP than to be a human being. CM Yogi Adityanath is setting up help desks to protect cows while Covid rages."
To modify an earlier line of mine, it is better to be a cow than a human being in UP.
CM "Yogi" is setting up help desks to protect cows while #Covid rages: https://t.co/RhjnnqaEiu

— Shashi Tharoor (@ShashiTharoor) May 6, 2021
Uttar Pradesh has been overwhelmed by Covid-19 cases with families struggling to find hospital beds, medical oxygen and drugs. Crematoriums have been running out of space to cremate the dead.
As part of its cow protection campaign, the Uttar Pradesh government also announced it is rapidly scaling up the number of cow shelters to deal with stray cattle. Because of "cow vigilantism" against people engaged in the cattle trade, farmers are unable to sell their cows and bullocks and are being forced to set them loose because they can't afford to feed them.
The government's news release said a total of 5,268 cow protection centres have already been established in the state and are "ensuring the well-being" of 573,417 stray cattle "thanks to the efforts of the chief minister." Apart from these smaller cow centres, there are 117 bigger cow sanctuaries.
"World-class Covid-19 management by BJP's Yogi Adityanath in Uttar Pradesh. He has ordered the setting up of war rooms, special cells, enough food stock and dedicated treatment hospitals in all district headquarters. For Cows," said another Twitter user.
The statement mentioned as well the existence of 3,452 "fodder banks" to feed stray cattle that have been set up since Yogi Adityanath took office back in 2017. The chief minister is famed for his policies to protect cows. Under a government scheme, the state government also gives Rs 900 per month to farmers who take care of stray cattle.
The chief minister boasted last year that his government had been able to crack down on both cow slaughtering and cattle smuggling to other states and neighbouring countries. "It was a challenge before me to protect the holy animal which I did to my full ability,'' Adityanath was quoted as saying.