Banner home-truths for Yogi Adityanath and friends
The headline on the banners read: Janata mange jawab, in dangaiyon se wasuli kab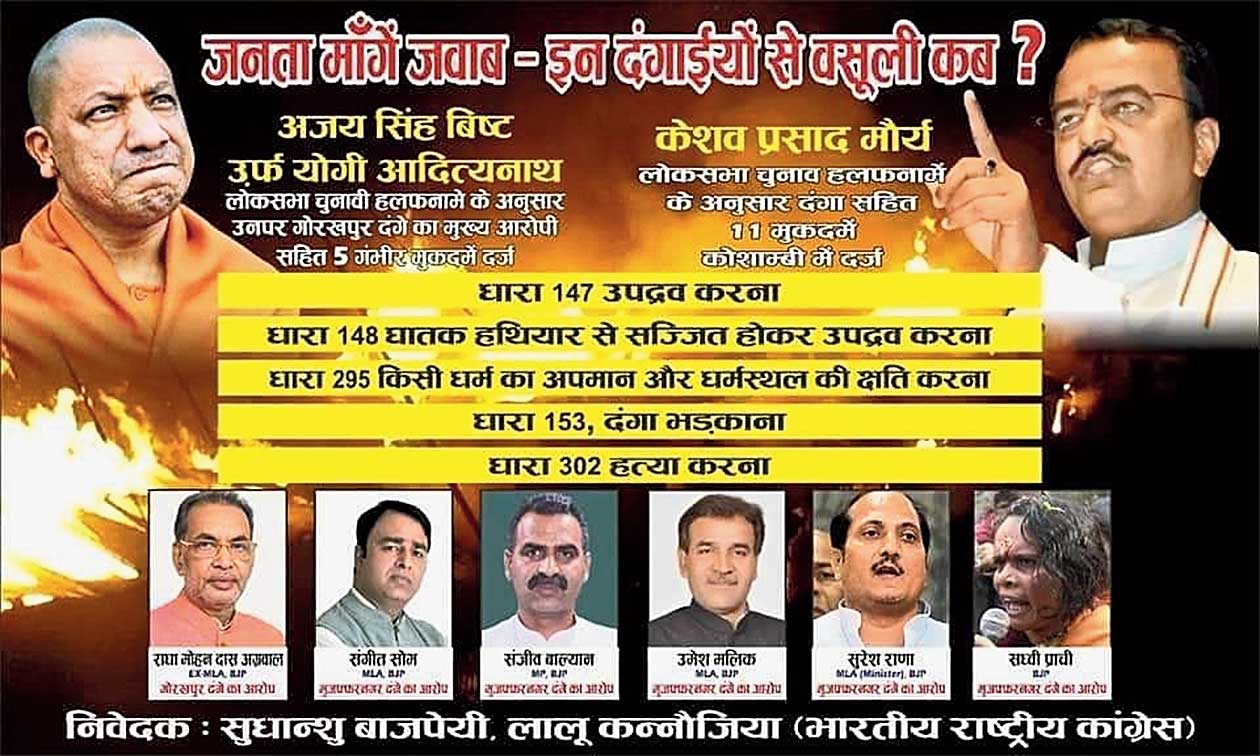 ---
|
Lucknow
|
Published 14.03.20, 09:03 PM
---
More opponents are paying chief minister Yogi Adityanath back in his own banner.
Uttar Pradesh police have brought down banners put up by a Samajwadi Party leader on Friday night beside the government's "name-and-shame" hoardings against anit-citizenship act protesters. But new banners with pictures of the ruling BJP's leaders, including the chief minister, were put up by two Congress supporters on Saturday morning.
Besides that of Adityanath, the new banners feature the pictures of Keshav Prasad Maurya, deputy chief minister; Sanjeev Baliyan, minister of state for animal husbandry in the Narendra Modi government; Sangeet Som, Umesh Mallik and Suresh Rana, all BJP MLAs; and Sadhvi Prachi, a Vishwa Hindu Parishad leader.
An error in the poster was testimony to the haste in which it was printed. It carried the photo of Radha Mohan Singh, a senior BJP leader of Bihar and former central minister but the name written below was that of Radha Mohan Das Agrawal, who is a BJP leader of Gorakhpur.
The headline on the banners, put up in Hazratganj area and also near Vidhan Sabha and at the gate of the BJP office, read: "Janata mange jawab, in dangaiyon se wasuli kab (The people are asking, when recovery would be done from these rioters)?"
The state government has put up 100 hoardings featuring photographs, names and addresses of 53 anti-CAA protesters across Lucknow city, declaring that they would be made to pay for the damages to public and private properties, caused at a protest against the amended law on December 19, 2019.
While Allahabad High Court and the Supreme Court had said there was no such law to put up the pictures of citizens at public places, the state cabinet on Friday cleared an ordinance amid suggestions that it will have a provision to get around possible legal pitfalls.
I.P. Singh, a Samajwadi leader, had struck back first. Beside the government hoardings, he put up banners with pictures of Kuldeep Singh Sengar, a rapist who was in the BJP, and Swami Chinmayanand, a former Union minister of state for home, who is accused of sexually exploiting a law student. The police had promptly removed the banners.
The fresh banners erected by Sudhanshu Bajpai and Lalu Kanaujia, the two Congress supporters, kept Lucknow police busy on Saturday.
These banners mention that "Ajay Singh Bist alias Yogi Adityanath" and Maurya are accused of rioting in five and 11 cases, respectively. The other leaders whose pictures and names have been printed (except the erroneously published picture of Radha Mohan Singh) are also accused of rioting.
Bajpai told reporters that he was annoyed with the government's action against those who were democratically protesting. "The government erected the hoardings with pictures, names and addresses of peace-loving citizens just because they were critical of the Modi government's citizenship act. Adityanath wants to impound their properties to make up the loss. However, the BJP leaders whose pictures and names have been published on the new banners have also damaged properties. They should also be made to pay against the damages," said Bajpai.
Dhirendra Pratap, station house officer of Hazratganj police station, said: "Besides municipal authority's action against such unauthorised banners, the police are also registering cases against them for breach of peace."