Bangla hawks snap at photo
Storm over sitting Pranab and standing VIPs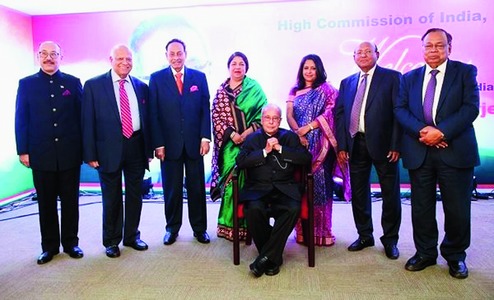 ---
Calcutta
|
Published 21.01.18, 12:00 AM
|
---
Calcutta: A picture may be worth a thousand words but need not always tell the full story.
A set of photographs featuring a group of distinguished-looking ladies and gentlemen has become the latest source of a ferocious debate on the relations between India and Bangladesh.
One picture shows former Indian President Mukherjee with several renowned Bangladeshis and the Indian high commissioner in Dhaka. The catch: Mukherjee, who was in Dhaka on a personal visit, is seated in a chair while the others are standing behind him.
The arrangement has hurt the "Bengali pride" of some hawk-eyed social media users, igniting howls of protest, conspiracy theories tied to "Big Brother India" and attempts to resurrect a charge of "colonial mindset". Some have gone to the extent of digging up a colonial-era photograph of a "Danish coloniser" seated on a chair while the natives are standing and squatting slavishly on the ground.
The debate has turned so acrimonious that the Indian high commission in Dhaka chose to remove the photographs from its official Facebook and Twitter pages.
"It was unfortunate. We did not want anymore controversy and removed the pictures," said a source in the Indian high commission.
One of the pictures shows Mukherjee sitting and flanked by Indian high commissioner Harsavardhana Sringla, Bangladesh finance minister Abul Maal Abdul Muhith, Jatiya Party chairman and dictator-turned-President Hussein Muhammad Ershad, Parliament Speaker Shirin Sharmin Chowdhury, commerce minister Tofail Ahmed and foreign minister Abul Hasan Mahmood Ali.
The picture, taken after an Indian high commission programme, was enough to stir emotions in the election-brewing Bangladesh where an anti-India stand has often yielded rich political dividends.
Over the past few days, social media was flooded with comments on how the lawmakers subjugated themselves to India's colonial instincts by standing behind the seated Mukherjee, 82.
The former President was on a five-day personal tour to Bangladesh and he returned to Delhi on January 18. But the controversy refused to die down on social media.
The high commission also had to remove a recent statement of Shringla in which he had predicted a bright future of Hindi in Bangladesh as it created a flutter among a section of people in Dhaka.
"These are all known anti-India faces and they are in the lookout for any opportunity to foment communal tension in the name of anti-Indiaism. As the elections are scheduled later this year, these people are hyperactive to please their political masters in the Bangladesh Nationalist Party and Jamaat-e-Islami," said Masuda Bhatti, a columnist.
According to her, the reaction was nothing but a "storm in a teacup" and was "manufactured by vested interests".
Pinaki Bhattacharya, a doctor who has been leading the campaign against the photographs on social media, stressed that there was nothing anti-India in his comments. "This picture alludes to the dominance India has been openly exerting over the last 10 years and, on the face of it, how our political leaders and cultural elites are increasingly becoming submissive, which infuriated people across the board," Bhattacharya said.
Masuda stressed that Bhattacharya has been among the loudest anti-India voices and had the backing of the Opposition, which was keen on using a Hindu name to whip up anti-India rhetoric ahead of the elections.
Rashadul Hossain Chowdhury, director of the Federation of Bangladesh Chambers of Commerce and Industry, echoed her and said: "There was nothing wrong in Mukherjee, a guest, sitting on a chair and the hosts standing around him as Bangladesh is known for its hospitality.... The pride of a race cannot be so brittle that a few pictures can sully it."
Some people present at the January 14 Indian high commission dinner in honour of the former President said that Mukherjee, wearing a smile, co-operated with everyone who wanted to be clicked with him.
"At least 17 to 18 groups went up to him and he patiently posed for all of them.... Every group had several people and each photo session lasted for two to three minutes. A chair was arranged for him so that he could sit through the entire session. The controversy was meaningless," said an Indian high commission source.