Axe on PM copycat
Wearing a saffron kurta, Umapati Dwivedi had washed the feet of a government sweeper at his home on Wednesday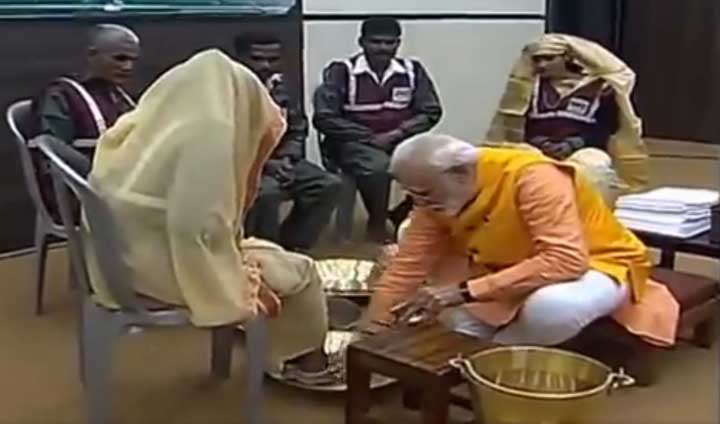 Footage shows Narendra Modi washing the feet of sanitation workers in Allahabad on February 25, 2019.
(Picture from official PM'S Twitter handle: @narendramodi)
---
Lucknow
|
Published 10.03.19, 09:38 PM
|
---
When Prime Minister Narendra Modi washed the feet of five sweepers at the Ardh Kumbh Mela in Allahabad last month, the BJP had lauded the gesture as a statement that all deserve respect.
But when Dr Umapati Dwivedi — chief medical officer of Ballia district and, according to friends, a Modi fan — took a leaf out of the Prime Minister's book last week, Yogi Adityanath's BJP government started an official inquiry against him for "professional misconduct".
It then announced a second probe against him on older charges of poor performance and misbehaviour and, pending the outcome, suspended him on Saturday.
Wearing a saffron kurta like Modi at the Kumbh, Dwivedi had washed the feet of Ram Chandra, a government sweeper assigned to his official residence, at his home on Wednesday. He then knelt and placed his forehead on the Dalit's feet in a full pranam.
Dwivedi, who friends said did it to emulate Modi, had called journalists to witness the event. "The Dalits need not just a job quota but also respect," he told them.
Several newspapers carried brief reports and the video was circulated among a very small group of doctors on social media.
The health directorate ordered the probe on Friday without explaining how Dwivedi's act, in his private capacity and at his home, could constitute "professional misconduct".
While the inquiry is on, Dwivedi was suspended on Saturday by the health directorate, which charged him with poor performance relating to a Japanese encephalitis vaccination drive in the district and "misbehaviour" with a senior.
Prashant Trivedi, principal secretary, health, said he had ordered a probe into the CMO's "poor performance".
A directorate source said Ballia had only achieved 51 per cent of the target of vaccinating 85,489 children and that Dwivedi had allegedly misbehaved with a secretary-rank official over the phone instead of giving a proper explanation.
He added that health department sweepers in Ballia had complained in writing to the directorate that they had not received their salaries for three months and that Dwivedi was not doing anything about it.But he added: "Ballia's performance in relation to the Japanese encephalitis vaccination programme has been better compared with Azamgarh, Jaunpur and Mau, but the CMOs are safe there."
He added: "Further, it's the health directorate's job to ensure that staff receive salaries on time."
A friend of Dwivedi denied the CMO had misbehaved with anyone. "The Prime Minister is the country's guardian and it's our duty to follow him. We are his fans but the Adityanath government dislikes those who copy the guardian," the friend said.
Modi had on February 24 washed the feet of five Mela sweepers after taking a dip in the Ganga. "This moment will remain with me all my life," he had later told a gathering.
Critics have alleged that the widely publicised and televised act was an attempt to court Dalits ahead of the Lok Sabha elections.