PM's 'charity' with a trumpet
Some critics felt that publicising one's acts of charity was in questionable taste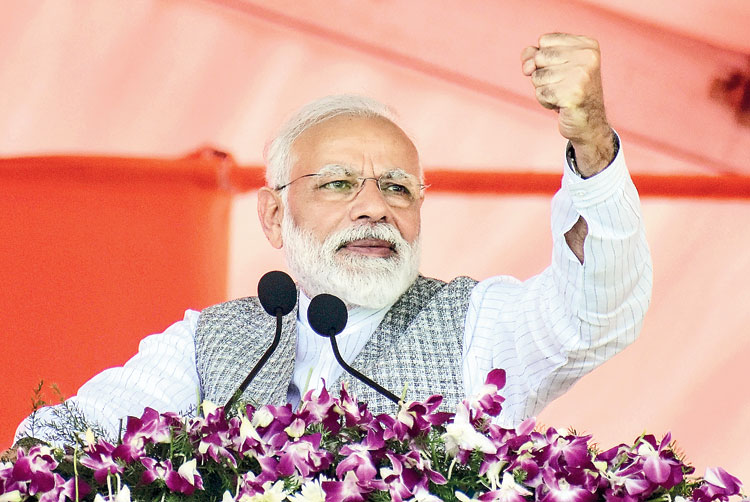 Narendra Modi addresses a rally in Kalaburagi, Karnataka, on Wednesday.
Picture by PTI
---
New Delhi
|
Published 06.03.19, 09:06 PM
|
---
The official Twitter handle of the Prime Minister's Office has listed Narendra Modi's acts of donation, including those towards sanitation workers, a day after questions were raised whether his gesture of washing sweepers' feet at the Kumbh was just a photo-op.
Some critics felt that publicising one's acts of charity was in questionable taste and underlined that the official gifts received by Modi that were auctioned to fund welfare measures, as mentioned in the list, were government property.
Five tweets were put out on @pmoindia citing donations amounting to more than Rs 100 crore and dating back to when Modi was Gujarat chief minister. The list begins with a Rs 21-lakh contribution to a fund for the welfare of sanitation workers involved in cleaning the Kumbh Mela venue.
On Tuesday, The Indian Express had reported that the sweepers' whose feet Modi had washed last week were day labourers who wanted permanent jobs, a wage hike and sewer-cleaning machines.
Congress president Rahul Gandhi too alleged on Tuesday that Modi "lives for the camera" and that "once the cameras were shut, the Prime Minister did not even hear the problems of the sanitation staff", a PTI report said.
The PMO list mentions how Modi had auctioned gifts received as Prime Minister and chief minister and donated the money for the Ganga clean-up mission and a girls' education fund. It pegs the contributions from Modi's personal savings at Rs 42 lakh.
MP Asaduddin Owaisi, who is associated with several charitable health and education institutions in Hyderabad, shrugged when asked about the use of personal charitable acts as a political statement.
Quoting the Gospel according to Saint Matthew, he told The Telegraph: "I was taught as a child that when you help someone your left hand shouldn't know what the right hand does…. As a PM, he should publicise the jobs created and the capital expenditure on defence, which should have been raised."
Matthew quotes Jesus: "Be careful not to practise your righteousness in front of others to be seen by them. If you do, you will have no reward from your Father in heaven. So when you give to the needy, do not announce it with trumpets, as the hypocrites do…."
Owaisi, president of the All India Majlis-e-Ittehadul Muslimeen, went on: "In any case, official gifts are government property. These are steps he (Modi) is taking before an election. It would have been better had he fulfilled his oath to the Constitution by showing urgency in stopping the lynching of Muslims and Dalits."
How a politician in a position of authority discharges his duty is more important, and deserves more publicity, than his donations, Owaisi suggested.
"People vote for someone to discharge a duty. There is a huge role of money in Indian (politics), and electoral funding is now secret through electoral bonds. Rich MPs now focus on so-called charity by funding marriages or eye operations, and engage in publicity to show how compassionate and modest they are," he said.
"Voters need not know about our charity. What we have done for our constituency, our attendance in Parliament and the questions we raise are what matter. What we must ask is, have the workers whose feet the Prime Minister washed stopped going inside gutters?"
Two part-time municipal sweepers hired by a private company to clean a sewer in Varanasi, Modi's constituency, had died on Friday after climbing down a manhole, allegedly without gas masks or safety belts.
On February 24, Modi had taken a holy dip at the Sangam in Allahabad during the Ardh Kumbh and washed the feet of five municipal sweepers who kept the venue clean.