Auto driver chases policemen with sword, is beaten up in Mukherjee Nagar
Home ministry and Kejriwal call for probe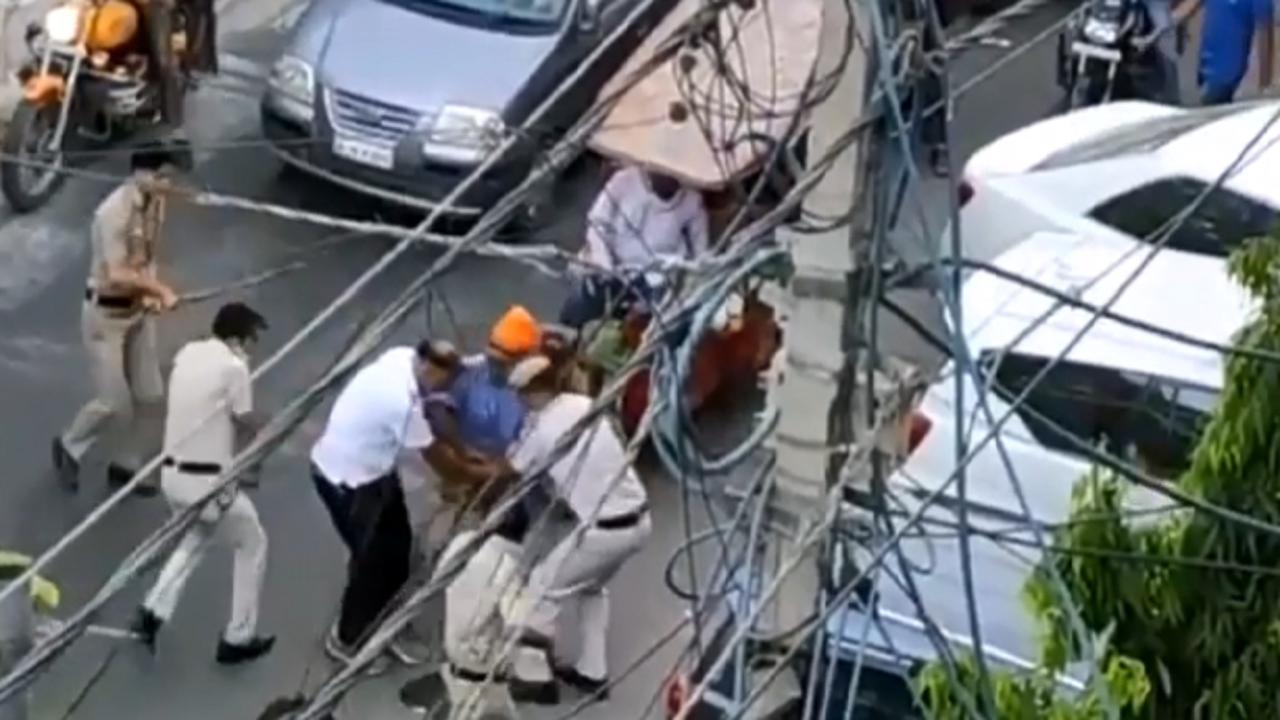 ---
---
We have lost humanity for sure..looking at this, don't have faith in these goons.

— Rajneesh Das (@RajneeshDas1) June 17, 2019
Delhi chief minister Arvind Kejriwal condemned the violence and demanded an impartial probe into the entire incident.
Many went on to slam the instance as high-handedness of Delhi police and lauded the Aam Aadmi Party chief's reaction on the issue.
Some justified the police reaction questioning the auto driver's conduct.
How the police behaved was immature and unethical, for that suspension has been done, but tempo driver was no innocent. He shd be booked, and sikhs and creating havoc in mukherjee nagar on roads and beating police personnels and even ACP, this is nothing but #sikhterror

— Rajat Jain (@rajatjain2june) June 17, 2019
Citizens are allowed to attack them with sword but they are not allowed to counter them ??

— Jitendra Jain (@jitendra_jain1) June 17, 2019
We are thankful to Honourable State Home Minster @kishanreddybjp ji for his prompt action in Mukherjee Nagar Case.@rpsinghkhalsa pic.twitter.com/NUek7FVR64

— Impreet Singh Bakshi ਇਮਪ੍ਰੀਤ ਸਿੰਘ ਬਖ਼ਸ਼ੀ (@impreetsbakshi) June 16, 2019
Sitting outside Mukherjee Nagar Police Station for justice. Those @DelhiPolice officials should be rusticated right away!
Join us in our Dharna https://t.co/ovIwStJ6nw

— Manjinder S Sirsa (@mssirsa) June 16, 2019
The violence between an auto driver and Delhi police personnel in Mukherjee Nagar on Sunday became a talking point on social media.
Videos circulated on social media show policemen thrashing Sarabjit Singh, the driver of a Gramin Sewa scheme three-wheeler, after he pulled out a sword. Within hours of the incident, many took to Twitter to condemn the alleged police brutality.
Gramin Sewa autos part of the Delhi government's transit scheme in rural areas and unauthorised settlements.
@DelhiPolice
Please revoke the decision !
Police was right.
beating wad necessary there, followed by taking in custody.
That guy needs treatment.
Guru Govind singh had asked to keep kripan not to protect self, but to protect others.
This guy was arrogant.

— Sudipta B ( রাজা - راجہ ) (@bsudipta81) June 17, 2019
What kind of brutality are are talking about?
Do you want to make National Capital Syria?

Police is doing his job.
Such an irresponsibility statement can't be expected from a CM. #JustShame

— 🇮🇳Pradeep_Gairola🇮🇳 (@Pradeep_Gairola) June 17, 2019
Some regarded Kejriwal's 'interference' as unnecessary.
Delhi Police brutality in Mukherjee Nagar is highly condemnanble and unjustified.
I demand an impartial probe into the whole incident & strict action against the guilty.
Protectors of citizens can't be allowed to turn into uncontrolled violent mobsters.

— Arvind Kejriwal (@ArvindKejriwal) June 17, 2019
@narendramodi @AmitShah @ArvindKejriwal @msisodia @DelhiPolice Thrashing someone on road like this .Is this right? Police cannot torture anybody like this .This incident took place at mukherjee nagar .This man(auto driver) was brutally beaten.He might have died .WE NEED AN ANSWER pic.twitter.com/1AyXMJbPrS

— Rihaan aggarwal (@aggarwal_rihaan) June 16, 2019
One video that has been doing the rounds shows the police personnel thrashing the man with sticks and dragging him on the road. In another video, the man is seen chasing the police with his sword.

A day later, on Monday, three police personnel were reportedly suspended on the charge of unprofessional conduct. The Union home ministry also sought a report from Delhi police commissioner Amulya Patnaik on the incident.
One day Delhi people will realise the importance of Mr Arvind Kejriwal.

— Manish Agarwal (@manishmedia1980) June 17, 2019
Some people went to the police to protest but dispersed after being assured that a police case will be registered against the policemen who allegedly thrashed the driver.