At odds with Congress, Karan Singh sees positives
'I personally do not agree with a blanket condemnation of these developments'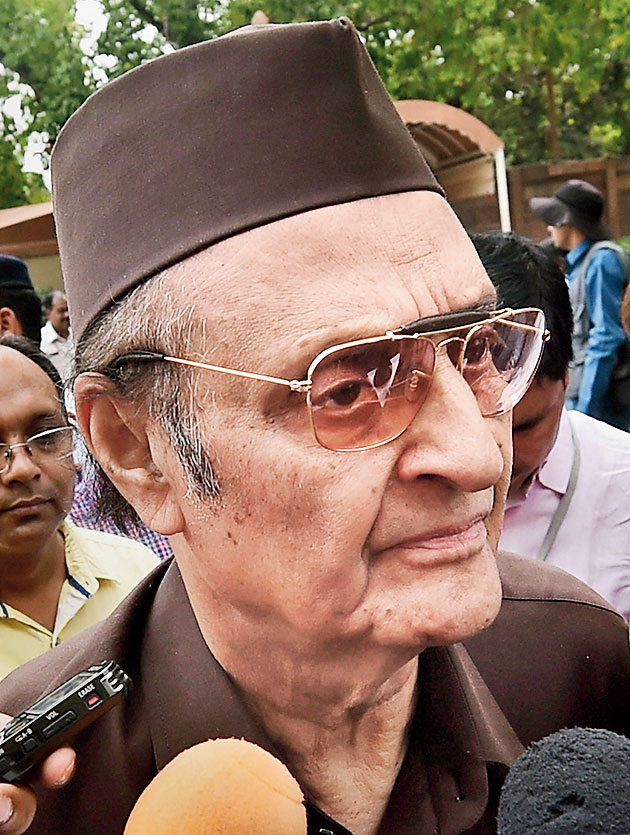 ---
New Delhi
|
Published 08.08.19, 09:00 PM
|
---
Karan Singh, veteran Congress leader from Jammu and Kashmir, said on Thursday that "there are some positives" in the government's latest decisions on the state and that he did not support a blanket condemnation.
The comments by Singh, whose father Maharaja Hari Singh had signed the Instrument of Accession with India, come at a time the Congress has been grappling with contradictory views on the subject.
"I personally do not agree with a blanket condemnation of these developments. There are several positive points," Singh, 88, said in a statement.
"Ladakh's emergence as UT (Union Territory) is to be welcomed.… The gender discrimination in Article 35A needed to be addressed, (and) the long awaited enfranchisement of West Pakistan refugees and reservation for Scheduled Tribes will be welcomed."
He added: "There will be a fresh delimitation which, for the first time, will ensure a fair division of political power between the Jammu and Kashmir regions."
Singh, however, called for the release of the leaders of the mainstream political parties in the state and the initiation of a broad-based political dialogue with them. Several Kashmir politicians, including former chief ministers Omar Abdullah and Mehbooba Mufti, are in confinement.
"With regard to Kashmir, where a broad spectrum of people may be feeling mortified, I feel it is important for the political dialogue to continue. It is unfair to dismiss the two main regional parties as being anti-national. I would urge that leaders of legitimate political parties in Kashmir be released and a broad-based political dialogue initiated with them," Singh said.
He said efforts should be made to restore Jammu and Kashmir to full statehood as soon as possible so that "people can at least enjoy political rights available to the rest of the country".
The tenor of the Congress's criticism of the government's moves on Kashmir has been at odds with Singh's. The party has focused on questioning the process and constitutionality of the sudden decisions — matters the veteran did not comment on.
Several young Congress leaders such as Jyotiraditya Scindia, Deepender Hooda and Milind Deora had earlier voiced partial endorsement of the government's decisions on Kashmir, apparently sensing the public mood.
At Tuesday night's Congress Working Committee meeting, the leadership stressed that ideology should not be sacrificed for political expediency. The Congress has called a meeting of its office-bearers, including state leaders, on Friday to explain its position on the matter.
Persisting with that line, former home minister P. Chidambaram tweeted on Thursday: "Shah Faesal came first in the civil services examination and joined the IAS. He has called the government's actions on J&K as 'the biggest betrayal'.
"If Shah Faesal thinks so, imagine what millions of ordinary people of J&K think. Has 'muscular nationalism' resolved any conflict anywhere in the world?"Singh, a former Rajya Sabha member and one-time ambassador to the US, has been President (Sadr-i-Riyasat) and governor of Jammu and Kashmir.