At Mumbai wall collapse site, a cry in vain: 'Pull me out'
As many as 35 people have died in the state in rain-related incidents since Monday night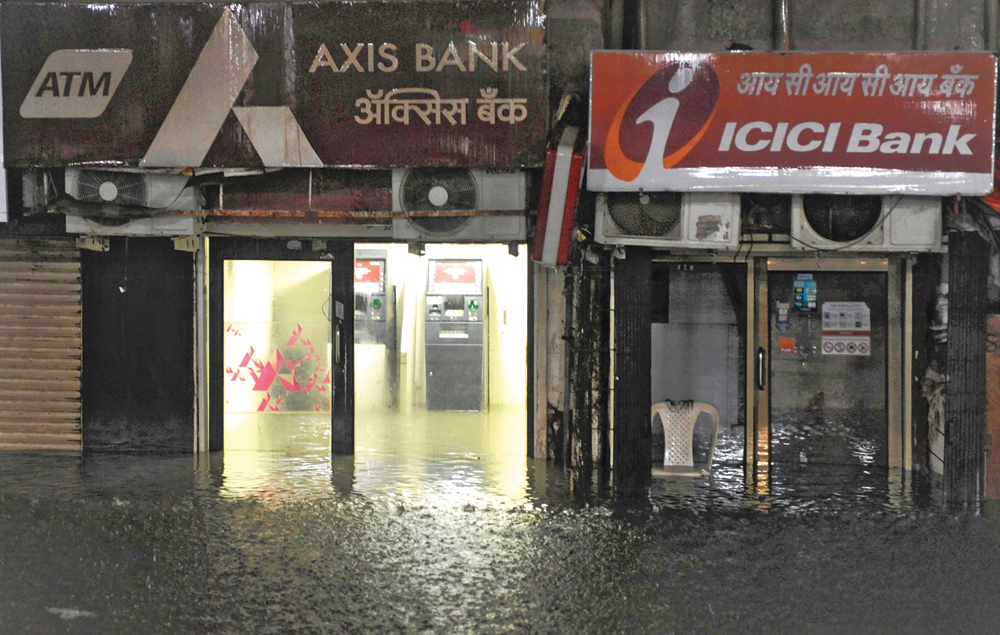 ---
|
Mumbai
|
Published 03.07.19, 12:50 AM
---
The heart-wrenching but futile entreaty of a teenager — "mujhe bahar nikalo (pull me out) — bore testimony to the stricken status of Mumbai after rain wreaked havoc in the financial capital in the past 24 hours.
As many as 35 people have died in the state in rain-related incidents since Monday night. The monsoon rain was described as the worst in a single day in 14 years.
Among the casualties was Sanchita Ganore, 15. For close to 12 hours, Sanchita kept pleading to pull her out, her legs trapped in the debris of a wall that had collapsed.
When Sanchita could finally be brought out on Tuesday afternoon, she had breathed her last. Eighteen others died in the wall collapse at Malad, a congested north Mumbai suburb.
A doctor at the spot said a medical team had tried its best but couldn't save Sanchita. "Her legs were stuck in the debris, so it took long to rescue her. We tried our best to bring her out alive but could not," he said.
A rescue worker said Sanchita had been crying for help and asking for water. "Shortly after the wall collapsed, we rescued a child from underneath the debris. Sanchita had been crying for help since 2am," the worker said. "She kept pleading 'mujhe bahar nikalo'," he added.
Sanchita's faint voice could be heard calling out for water to drink. Efforts were made to cut a small section of the wall and clear a path for the girl to come out. But it was too late.
A mother and child were found alive with the help of life-sensing equipment and sniffer dogs, according to a tweet by the Brihanmumbai Municipal Corporation (BMC).
"Water was getting accumulated since it began raining heavily several hours ago. It created massive pressure on the wall and it soon gave way," an eyewitness said.
People gathered at the site were seen discussing the ownership of the wall. While some claimed it belonged to the forest department, others said the BMC was the owner. A few others said the wall had been erected by a private company.
Several residents expressed anger at political parties, accusing them of ignoring them after elections.
Fifteen people were killed in Pune on Saturday when a portion of a 22ft-high compound wall of a housing society collapsed on adjoining shanties following heavy rainfall.
Calcutta flights
From Calcutta, several flights to and from Mumbai were cancelled or delayed. Airport officials said three flights from Mumbai to Calcutta were cancelled and six delayed by several hours on Tuesday. Three Mumbai-bound flights were cancelled and nine delayed.