Assembly polls: All set for counting, but early trends may be delayed
In Bengal, postal ballots more than before, number of EVMs up 30%, work tables down to adhere to Covid norms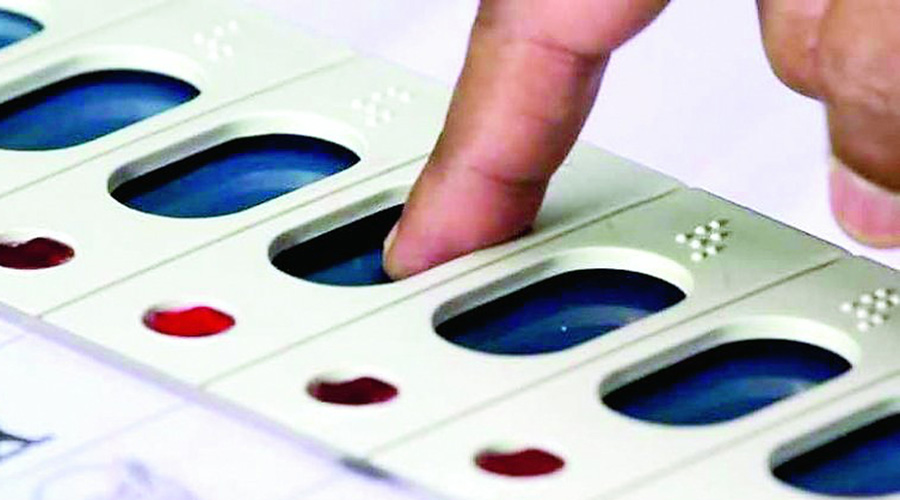 ---
---
All arrangements are in place for counting of votes on Sunday in tune with COVID-19 guidelines for Assembly polls held between March 27 to April 29 in the four states of Bengal, Assam, Tamil Nadu, Kerala, and the Union Territory of Pondicherry.
In Bengal, where the ruling Trinamul Congress headed by chief minister Mamata Banerjee is pitted against the BJP, the Election Commission has deployed 292 counting observers across the state to oversee the counting process.
The counting of votes on Sunday is likely to take longer than usual and early trends will start emerging well beyond 12 noon unlike previous years, sources in the Election Commission have said.
Amidst the novel coronavirus pandemic, there has been a major structural change in the way counting of votes is done and this may delay the process till late in the evening.
"Generally, postal ballots, which are counted first, give an early trend. But this time, the number of postal ballots has increased and hence, it will take longer to count them," an EC official said. "Moreover, all candidates and counting agents will be checked for negative RT-PCR/RAT test reports or vaccination certificates. Hence, the counting will start later than usual," the official added and said the official hour for counting to start was 8am.
The early trend comes from the counting of postal ballots, which gives a rough idea of the fate of a particular seat. Most political parties look forward to these trends. While an early trend used to become clear within two to three hours of the counting's start in previous elections, it might take over five to six hours this time, sources said.
"Postal ballots were primarily for people who are government officials and lived outside their Assembly seats or were engaged for poll duty. But this time, the poll panel has extended the facility of postal ballots to senior citizens, patients and physically-challenged individuals. This has increased the number of postal ballots," the source said.
The EC also increased the number of booths in Bengal to 1,01,790 from 78,903 in 2019 in the wake of the Covid-19 pandemic. This has increased the number of EVMs by almost 30 per cent. As a result, this time, it might go up to 18 to 20 rounds of counting or more, delaying the process. Previously, there would be a maximum of 14 to 15 rounds of counting.
Moreover, the EC has reduced the number of tables by almost half inside a counting hall to ensure physical distancing. Thus, while previously, there would be 14 to 15 counting tables, this time, there will be 7 only. After every round of counting, the entire hall will be sanitised, which will take farther time.
"The entire counting process will be delayed this time because of the pandemic and measures taken by the EC. Therefore, all of us must wait at least till afternoon to get an understanding of which way the result is going. Leaders should refrain from predicting results from early in the day and ask followers to restrain themselves in view of the current situation," said Subhamoy Maitra, a psephologist and professor at the Indian Statistical Institute.
Kerala
In Kerala, as many as 957 candidates, including Chief Minister Pinarayi Vijayan, 11 of his cabinet colleagues, Leader of Opposition Ramesh Chennithala, Senior Congress leader Oommen Chandy, BJP state chief K Surendran, 'Metroman' E Sreedharan, and former Union minister, K J Alphons among others were in fray for the 140 assembly seats.
Though all the exit polls and pre poll surveys had predicted a massive win for the ruling front, the opposition UDF has not given up hope.
In Kerala, of the 633 halls in 114 counting centres, 527 will be earmarked for tabulating EVM votes while the remaining 106 will be for counting postal votes, Chief Electoral Officer, Teeka Ram Meena said.
Tamil Nadu
In Tamil Nadu, though there were four fronts including actor-politician Kamal Haasan's Makkal Needhi Maiam led combine, the key contest was between the ruling AIADMK and main opposition DMK, which exit polls have predicted that would wrest the reins of power.
There were nearly 4,000 candidates in the fray including Chief Minister K Palaniswami, Deputy Chief Minister O Panneerselvam, DMK president M K Stalin, his son and party youth wing secretary Udhayanidhi Stalin, AIADMK's rival and Amma Makkal Munnetra Kazhagam chief TTV Dhinakaran, MNM's Haasan and BJP state unit chief L Murugan were among the prominent candidates.
In Tamil Nadu, there are 75 counting centres spread across the state and all arrangements are in place to smoothly conduct the exercise, authorities said.
Cumulatively, there would be 3,372 EVM tables and depending on the constituency and votes polled, counting of votes is expected to range anywhere from 13 to 43 rounds in each of the 234 segments.
Puducherry
In the Union territory of Puducherry, the former Chief Minister N Rangaswamy led All India NR Congress-BJP alliance and Congress-DMK combine are the key contenders for power.
Exit polls have predicted a win for the front led by Rangaswamy.
As many as 1,382 personnel would be deployed for counting of votes in the whole of the UT while about 400 police personnel shall be on security duties.
Covid guidelines
Authorities said the counting of votes would be in strict adherence to the EC guidelines to prevent the spread of coronavirus which includes RT-PCR testing for agents.