Arrested Kerala journalist's wife questions BJP's double standard
Raihanath Kappan is the wife of Delhi-based journalist Siddique Kappan who was arrested while on his way to Hathras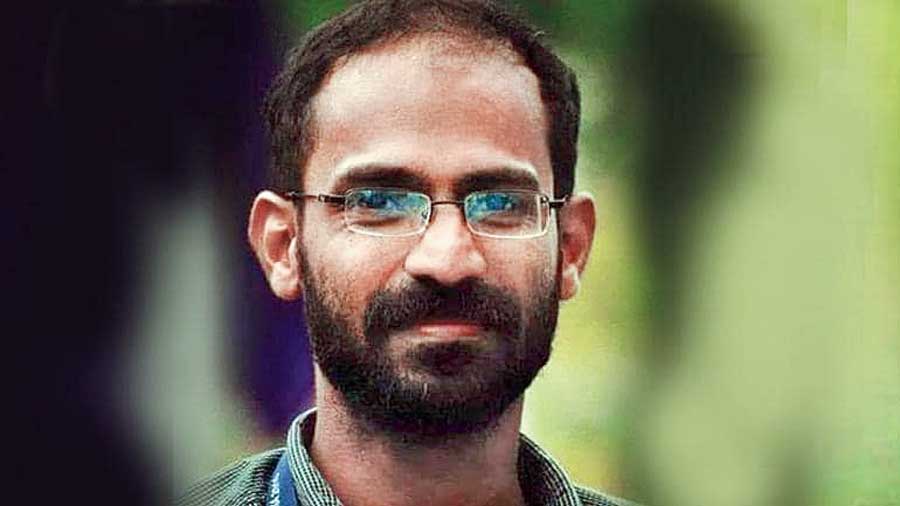 Siddique Kappan
Sourced by Correspondent
---
Bangalore
|
Published 10.11.20, 01:05 AM
|
---
The wife of a Kerala journalist arrested 36 days ago and lodged in a jail in Uttar Pradesh has questioned the double standard of the BJP leadership that has been speaking up for Republic TV managing editor Arnab Goswami but not for her husband.
Raihanath Kappan, wife of Delhi-based journalist Siddique Kappan who was arrested while on his way to Hathras to cover the gang-rape and murder of a Dalit girl, said her husband was only trying to do his job when he was arrested.
"Why this double standard? Goswami is an accused in a suicide abetment case. Why are these people not questioning the arrest of my husband and other journalists and activists jailed on cooked-up charges?" Raihanath asked during an interaction with The Telegraph on Monday.
A native of Malappuram in Kerala, Siddique, 41, was arrested with three others and booked under the Unlawful Activities (Prevention) Act and other provisions of the penal code.
"Our own minister in Delhi, V. Muraleedharan, decried the arrest of Goswami and called it an assault on freedom of the press. But he didn't spare a thought for a man from his own state who has been locked up in a jail in UP," Raihanath said.
Muraleedharan, minister of state for external affairs, hails from Kerala.
The only time Kappan called home was on November 2 when he spoke to his ailing, 90-year-old mother who lives with his elder brother.
"From what I was told, he managed to speak to his mother for five minutes. When I checked on Truecaller (a call tracing application), I could see he had called from a landline in Mathura jail," said Raihanath, who has been running from pillar to post to be able to get Kappan to sign his bail application.
"He is a chronic diabetic who needs regular medication and medical attention. I have no idea if he is getting anything at all. Our only hope now is the Supreme Court," she said, citing the habeas corpus petition filed by the Kerala Union of Working Journalists that is scheduled to come up on November 16 for hearing.
Raihanath slammed media outlets that have been reporting that Kappan had received huge sums of money.
"We haven't been able to complete the construction of our house, which began eight years ago. My husband doesn't even take a bank loan as he believes in spending what we have," she said.
The couple have three children -- two sons aged 17 and 12, and a 7-year-old daughter.
"I'm surviving with the help of family and friends. But at the moment my only concern is about my husband. I want him back home at the earliest," she said.