Arrested Kerala journalist Siddique Kappan seeks interim bail to visit ailing mother
The SC had on January 22 allowed a single video call between the two, as she had been asking about her son since his arrest on terror charges in October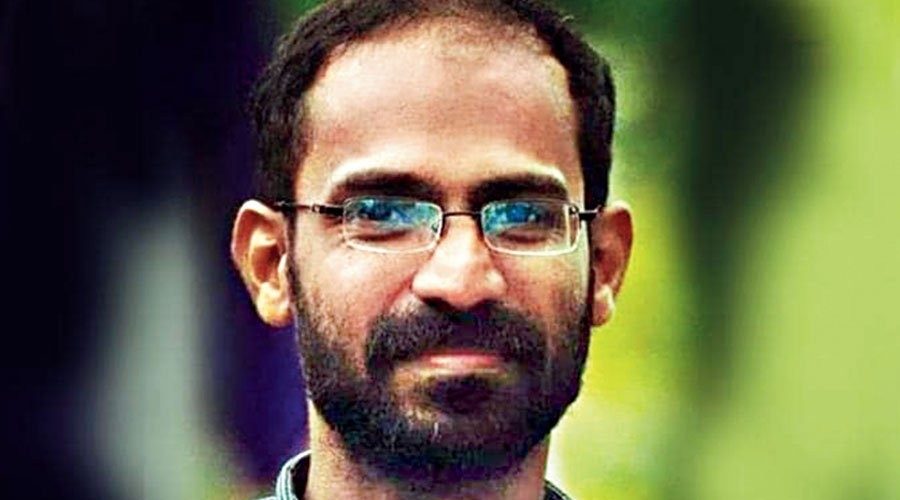 Siddique Kappan
File picture
---
Bangalore
|
Published 31.01.21, 03:18 AM
|
---
The Kerala Union of Working Journalists has approached the Supreme Court seeking five days' interim bail for Siddique Kappan to visit his 90-year-old mother who is on her deathbed.
The application was filed on Friday, a day after Siddique made a video call to his family from jail but could not speak to his mother since she was unconscious at a hospital in the family's hometown of Vengara, Malappuram district.
The apex court had on January 22 allowed a single video call between Kappan and his mother, who had been asking about her son since his arrest on terror charges in October, while her health was steadily deteriorating.
"We tried our best to wake her up so she could see her son. But her condition was so bad that she didn't even realise her son was at the other end of the video call," Kappan's wife Raihanath told The Telegraph on Saturday.
Hospitalised on January 22, Kappan's mother was discharged on January 29 — still unconscious and without any improvement in her health — after the doctors said there was little they could do for her any more.
A medical certificate submitted to the Supreme Court has confirmed that she is suffering from uncontrolled diabetes that has led to reduced food intake and general debility.
"Our only hope is that the court will allow interim bail to Siddique to be with his mother for at least a few days," Raihanath said.
Kappan, 41, Delhi-based retainer of Malayalam news portal azhimukam.com and secretary of the Delhi unit of the KUWJ, was arrested on October 5 while on his way to Hathras in Uttar Pradesh where a Dalit girl had been brutally gang-raped, leading to her death.
Uttar Pradesh police have accused him and three others who were travelling with him of being members of the Muslim Right-wing group Popular Front of India, a charge Kappan denies. They have been accused of planning to foment trouble and booked under the Unlawful Activities Prevention Act and other penal provisions.
Raihanath said a prison official who had allowed Kappan to use his phone to make the video call had ensured there was no media presence while the call was made.
While Kappan could not speak to his mother, his family members and children got to see him.
"He was wearing winter clothes and a cap. But he looked tired and downcast and started tearing up on seeing his motionless mother lying on the hospital bed," Raihanath said.
She said the interim bail plea was the last resort since the regular bail application would come up only in March. "This is our only option to get him here to see his mother," she said.
Lawyer Wills Mathew, who filed the interim bail application, said that if the plea was allowed, Kappan could be flown directly to Kozhikode, about 17km from his home, and taken back to Mathura along the same route.