Army chief Bipin Rawat hawkish on 370, PoK
His latest remarks echoed recent comments by Rajnath Singh and Amit Shah on PoK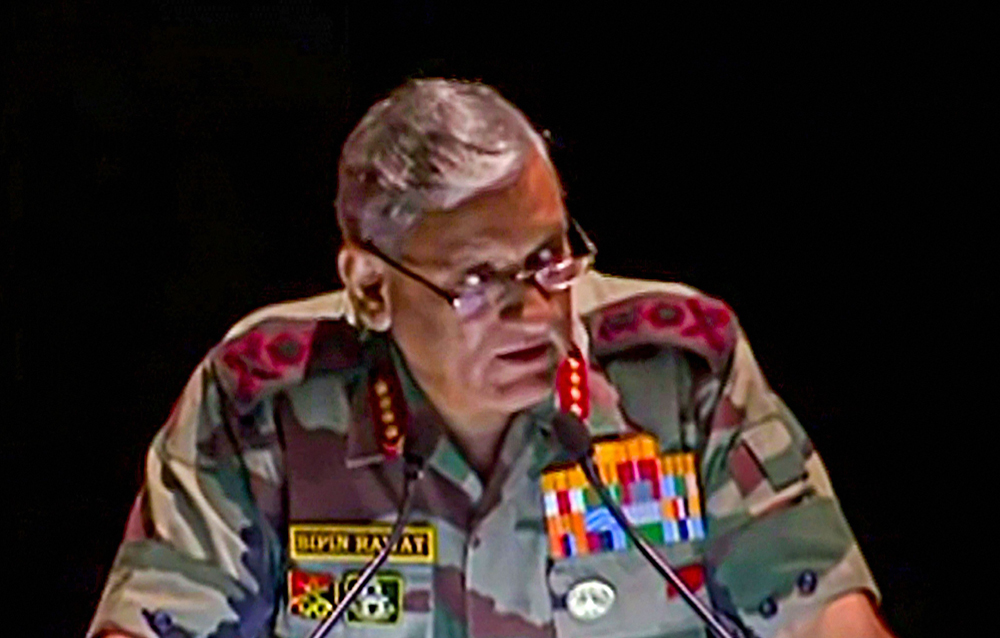 Rawat at the K.M. Cariappa Memorial lecture.
(PTI)
---
New Delhi
|
Published 25.10.19, 08:53 PM
|
---
The army chief, General Bipin Rawat, on Friday defended the scrapping of Article 370 provisions and described Pakistan-occupied Kashmir as a "terrorist-controlled country or terrorist-controlled part of Pakistan", delivering what appeared a politically loaded speech.
His remarks continued a trend of tough talking by India, especially relating to PoK, amid escalating tensions with Pakistan over the revocation of Jammu and Kashmir's special status.
"When we say Jammu and Kashmir, the complete state of Jammu and Kashmir includes PoK and Gilgit-Baltistan. Therefore PoK and Gilgit-Baltistan become an occupied territory, a territory which has been illegally occupied by our western neighbour," Rawat said while delivering the K.M. Cariappa Memorial lecture here.
On Article 370, he said: "When Article 370 was introduced with the word 'temporary' in sub-paragraph 3, there was no objection from Pakistan. Therefore why has Pakistan suddenly woken up and has raised the ante on Article 370?"
He added: "This illegal territory (PoK) has been occupied by Pakistan, illegally occupied by Pakistan; (it) is not controlled by any Pakistani establishment, it is controlled by terrorists. PoK is actually a terrorist-controlled country or terrorist-controlled part of Pakistan."
Rawat has been known to make political comments. He had stoked controversy earlier this year by implying that illegal immigration from Bangladesh was driving the growth of the AIUDF, an Assam-based political party widely seen as espousing the cause of minorities.
The army had defended Rawat's comments saying there was "nothing political or religious in the talk".
Rawat's latest remarks echoed recent comments by defence minister Rajnath Singh and home minister Amit Shah on PoK. Rajnath had said: "If talks are held with Pakistan, it will now be on PoK."
Shah had told Parliament that PoK "also comes in when we talk about Kashmir and we will give (our) life for it".
Foreign minister S. Jaishankar too has said that "one day we will have physical jurisdiction over" PoK.