Arif Mohammed Khan spars with Kerala government
Governor hints that he will stop University Laws (Amendment) Bill, 2022, which will give an upper hand to govt in appointing vice-chancellors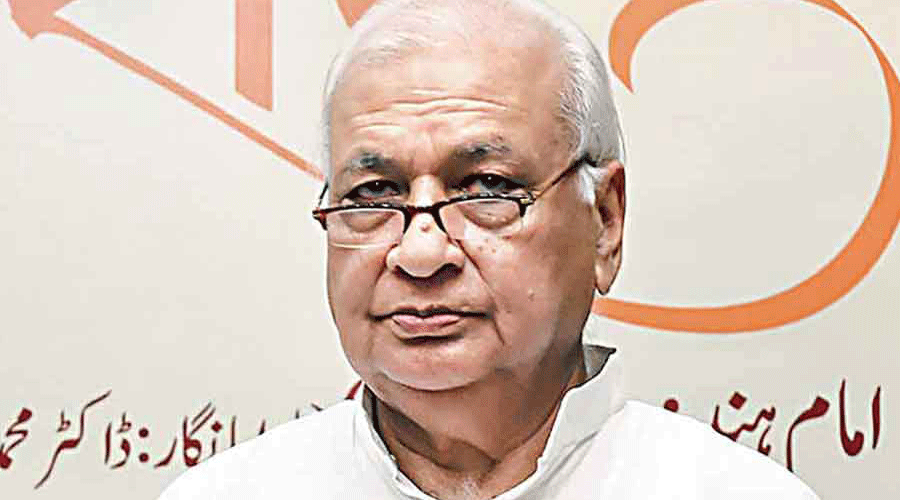 Arif Mohammed Khan.
File photo
---
Bangalore
|
Published 18.09.22, 01:49 AM
|
---
Kerala governor Arif Mohammed Khan has said he will release "evidence" on an alleged attempt on his life at a history congress held three years ago, intensifying the sparring between the government and Raj Bhavan into an open feud.
"I will produce all documentary evidence. And I have definite information," he told reporters in Kochi on Saturday, alleging an attempt on his life at the 80th Indian History Congress at Kannur University in December 2019. Hundreds of delegates, including eminent historians such as Irfan Habib, had risen in protest against the governor's position in favour of the Narendra Modi government's citizenship matrix.
Khan appeared to be referring to chief minister Pinarayi Vijayan when he asked who prevented police from booking a case after the protest and a scuffle that left the governor's aide de corp with a torn shirt. "Who prevented the police from registering a case? Who held the home department?"
Khan also hinted that he would stop the University Laws (Amendment) Bill, 2022, recently passed in the Assembly, which would give an upper hand to the government in appointing vice-chancellors. "The government should not have the power to appoint vice-chancellors…. This will amount to executive interference," he said.
The comments came a day after Vijayan broke his silence on his government's run-ins with Khan who has never lost an opportunity to address the media about alleged misdemeanours in appointments made in the state's universities.
Vijayan had on Friday lambasted the governor without taking his name over his allegation that the chief minister was aware of a university appointing a relative of his personal staff.
"No one can speak more nonsense than this. What he says should be in keeping with the dignity of the position," Vijayan had said.
His counter-attack was also in response to the governor describing the ruling CPM as a foreign idea that believed in strong-arm tactics.
"A relative of a chief minister's staff has individual rights and can apply for any job. Will anyone seek permission from the chief minister to do so?" Vijayan had lampooned Khan's allegation.
The allusion was to the governor freezing the appointment of Priya Varghese, wife of the chief minister's secretary K.K. Ragesh, as an associate professor in the Malayalam department of Kannur University. Kerala High Court has since stayed the appointment as another candidate who claimed to have fared better in the qualification scores challenged the recruitment.
Vijayan on Friday also reminded Khan that communists were part of the Constituent Assembly and were the principal Opposition in the first-ever Union government.
"At one stage, the name of a communist leader (Jyoti Basu) was unanimously recommended for the Prime Minister's post. It's another matter that we (CPM) didn't accept that. That's our internal matter. A communist leader (Indirajit Gupta) was the home minister of our country…. At one stage a communist leader (Somnath Chatterjee) was the Lok Sabha Speaker," Vijayan said.
Khan had in August too attacked the state government for not booking a case over the history congress fracas.
Two years and eight months after the protest, Khan had last month called Kannur University vice-chancellor and historian Gopinath Ravindran a "criminal" for allegedly conspiring to attack him, and Habib a "goonda".
More than 50 historians, including Romila Thapar, had slammed Khan and urged him to end the harassment of an eminent historian like Ravindran, who had headed the department of history and culture at the Jamia Millia Islamia university, New Delhi, and has been member-secretary of the Indian Council of Historical Research.