Modi anguished over road deaths in UP, but not death of farmers
For the fifth day running, the PM continued to remain silent over farmers run over and killed by a car owned by his junior home minister Ajay Mishra Teni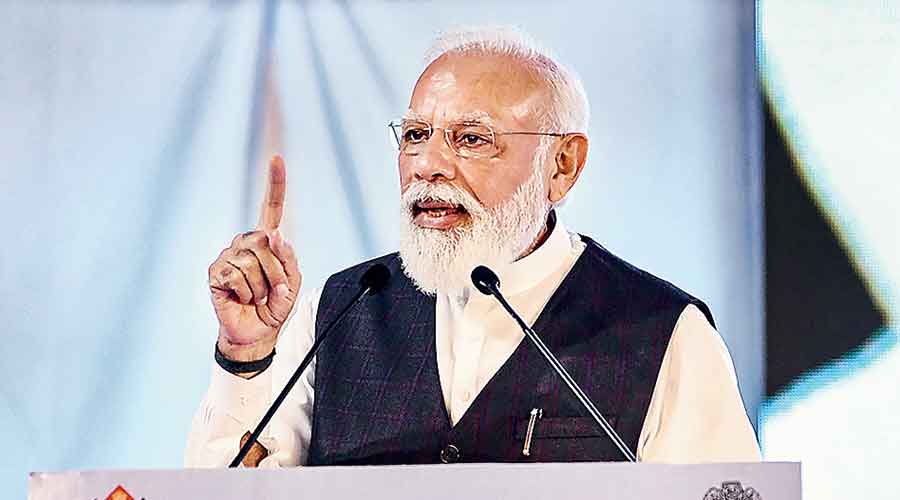 Modi at the event in Rishikesh, Uttarakhand, on Thursday.
(PIB/PTI picture)
---
Lucknow, New Delhi
|
Published 08.10.21, 02:50 AM
|
---
And the Lord hardened the heart of Pharaoh, and he hearkened not unto them…
Exodus 9:12, King James Version
Prime Minister Narendra Modi on Thursday expressed anguish and condolences.
It was not Lakhimpur Kheri in Uttar Pradesh the Prime Minister had on his mind. He was referring to a tragic incident of 15 road deaths at Barabanki in the same state.
For the fifth day running, Modi continued to remain silent over the farmers run over and killed by a car owned by his junior home minister Ajay Mishra Teni on Sunday.
In another tweet, Modi expressed grief at deaths caused by a house collapse in Karnataka.
"Anguished by the road accident in Barabanki, Uttar Pradesh. Condolences to the families of those who lost their lives," a tweet from the Prime Minister's official handle @PMOIndia said on Thursday morning.
A bus had collided with a sand-laden truck near Baburi village in Barabanki on Thursday, leaving 15 people dead and 21 injured, a PTI report said.
The PMO's tweet announced Rs 2 lakh each for the families of those killed and Rs 50,000 for the injured from the Prime Minister's National Relief Fund.
Another comment by Modi on Thursday provoked relatives of the Lakhimpur Kheri victims to ask why he was "annoying" them "by making absurd statements while keeping mum on the bloodbath organised by the minister of state for home".
Modi had said his government "doesn't wait for people to come to it" but "reaches the people", prompting the Lakhimpur Kheri victims' families to ask why he or his ministers had "not reached us".
The second tweet from Modi's official handle said: "The loss of lives due to a house collapse in Belgavi, Karnataka, is saddening. My thoughts are with the bereaved kin in this hour of sadness." It announced financial assistance for those killed and injured.
On Sunday, four farmers and a journalist were killed in Lakhimpur Kheri and many others were injured when a car, which Teni has acknowledged belonged to him, appeared to deliberately plough through a group of protesting farmers from behind. The farmers say Teni's son Ashis "Monu" Mishra was at the wheel but the minister denies this.
While Modi spoke not a word on this, he seemed to strike a self-congratulatory note at an event in Rishikesh, Uttarakhand, referring to how Thursday marked 20 years in high office for him.
"I had never imagined that I would rise from the post of chief minister to Prime Minister. But on this day, 20 years ago, I got a new responsibility to serve the people," Modi said, adding that he had taken oath as Gujarat chief minister for the first time on October 7, 2001.
Modi's remarks were followed by BJP leaders tripping over themselves to heap praise on him.
Teni, whose removal has been ruled out by BJP sources, participated as chief guest at a Bureau of Police Research and Development programme on Thursday with the media shut out of it.
Ashok Kashyap, a relative of the wife of journalist Raman Kashyap, who had been run over with four farmers in Sunday's incident, told The Telegraph on Thursday: "No Prime Minister, home minister, chief minister or any other minister has visited our homes to ask what we need and expect.
"Summing up Modi's attitude, I would say he is an empty conch shell (dhapor shankh) that produces an annoying sound."
Kewal Singh, uncle of 20-year-old Luv Preet Singh, one of the four slain farmers, said: "Modi or (chief minister) Yogi (Adityanath) have no feelings for people. They can say anything in their speeches but cannot stand with a victim of their own government."
'Intimidation'
Kewal alleged the administration was trying to intimidate the farmers into remaining silent.
He said "a subdivision-level officer" had used "harsh language" while visiting the family on Wednesday to hand over a cheque for Rs 45 lakh as compensation.
"Some senior officers come here every now and then, sometimes to warn us to remain silent on the incident and at other times to request us to remain silent," Kewal said.
Bharatiya Kisan Union spokesperson Rakesh Tikait, who had on Monday brokered peace between the administration and the agitated farmers, said he had learnt that "officers are trying to bully the victims' families".
"I want the officers to give us their bank account numbers and we will return the money they have given to the families of the slain farmers and the journalist," he said.
He stressed that he had "an agreement with the government that Monu would be arrested, the minister would be suspended and the inquiry would be completed within a few days".