Anant Kumar Hegde and his offensive charm
Union minister Anant Kumar Hegde has made bigotry a manifesto for himself and the BJP in Karnataka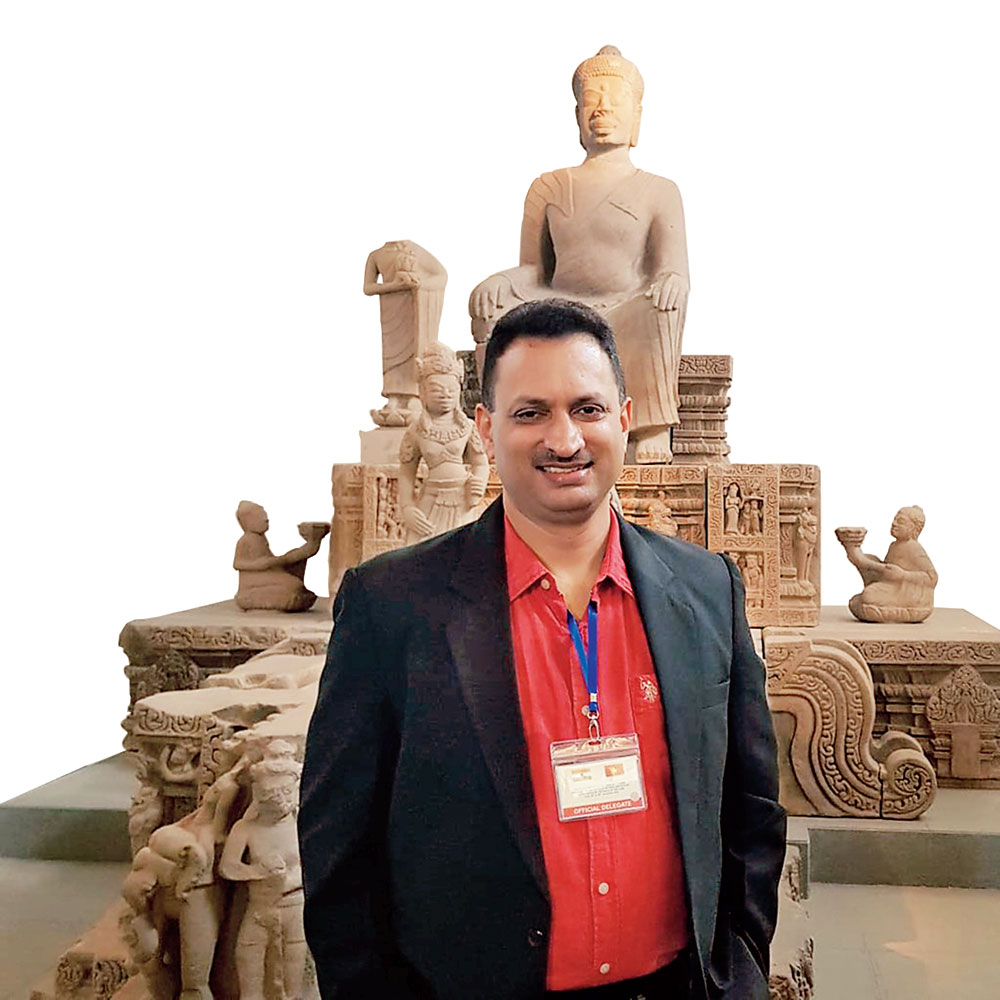 Anti-hero: Anant Kumar Hegde at the Museum of Cham Sculpture, Vietnam
Source: Twitter
---
Published 02.02.19, 07:20 PM
|
---
In the early 1990s, whenever communal tension broke out in the port town of Bhatkal, 150 kilometres north of Mangalore, local Congress MLA Rama Narayan Naik used to hear the police talking about an Anant Kumar Hegde. This man was a lanky rabble-rouser, and was frequently accused of instigating mobs. When Naik enquired after him, he came to know that the man was an activist of the Hindu Jagaran Vedike — a youth organisation of the Vishwa Hindu Parishad — from Sirsi, 120 kilometres northeast of Bhatkal. He was also working closely with the local Bharatiya Janata Party (BJP) leader, U. Chittaranjan.
Soon enough, Anant Hegde's name began to appear in the local newspapers frequently. Once, he and two others breached the security cordon and hoisted the Tricolour at the disputed Idgah Maidan in the communally charged Hubli. "You would find him at the most volatile spots in Karnataka with the single aim of causing communal trouble," Naik recalls.
Later that year — this was 1994 — the Congress lost several Assembly seats in the coastal region to the BJP, and Chittaranjan won from Bhatkal with a huge margin. Within two years, Anant Hegde had forged to the fore as the BJP's candidate for the North Kannada Lok Sabha seat. He was then 28 years old.
Naik recalls how a fortnight before the polls, Chittaranjan was shot dead. The sympathy wave and the communal cauldron that the region had become ensured Anant Hegde's victory. "Chittaranjan's death remains a mystery to this day. Even the CBI has failed to trace the killers. But if there were any beneficiaries of his killing, it was Anant Hegde and the BJP," says Nagendra Naik, a former Rashtriya Swayamsevak Sangh activist in coastal Karnataka and now a Bangalore-based high court advocate.
Two decades later, Anant Hegde is the Union minister of state for skill development and entrepreneurship. He has several cases of rioting and inciting violence against his name and he is also in the news from time to time for his rabid anti-minority statements. The latter list runs long.
Some years ago he had said: "As long as there is Islam in the world, there will be terrorism. Until we uproot Islam, we can't remove terrorism." Only last week he called Rahul Gandhi a hybrid specimen with a Muslim father and a Christian mother. And in a recent address to Hindu Jagaran Vedike members, he said, "If a hand has touched a Hindu girl, then that hand must not exist." In response to criticism from Karnataka state Congress president Dinesh Gundu Rao, he called the latter the "guy who ran behind a Muslim lady", referring to Rao's Muslim wife.
The way things are now, Anant Hegde is known to challenge journalists to quote him verbatim on his anti-Muslim views. "I will stand by all my statements… Let us see if your editors have the courage" is his standard line before an interview or a press conference. "By his standards, these statements are very mild," says Gangadhar Hiregutti, editor of the Kannada daily Karavali Munjavu. He adds, "You have to listen to him when he speaks to his party members in private. He is more rabid than his public persona."
Track record notwithstanding, Anant Hegde was included in the council of ministers in September 2017 in a clear signal to the electorate that the BJP liked him the way he was. Of course, there is the fact that he had won five of the last six Lok Sabha elections he had contested and his admirers say he is popular for standing up for the Hindus.
Says N.S. Hegde, who is district in-charge of the BJP in North Kannada, "I know him for more than two decades now. He has not changed even after becoming a big leader. He speaks his mind and he is not scared of anybody. That's what makes him popular among party activists and the Hindus of the region." Hegde says it is because of Anant Hegde that the BJP has been able to guard coastal Karnataka as its bastion. "I would go a step forward and say that it is because of rabid people like him that the BJP thrives here," says Hiregutti. He continues, "Backward castes dominate this region but, being a Brahmin, Anant Hegde knows that he can win by projecting the Muslims as the enemy and checkmate the lower caste leaders. He has been successful in that."
According to Nagendra Naik, the BJP has adopted a fairly clear-cut strategy in coastal Karnataka — rather than pander to caste equations, go for a full-blown Hindutva agenda riding on the shoulders of people like Anant Hegde. Many in the constituency agree that this stance has proved to be more successful than any ideology peddled by the opposition parties. "Secularism is a very bad word in coastal Karnataka. The Congress doesn't have the courage to say that it is secular. In fact, during the last Lok Sabha elections, Congress candidate Prashant Deshpande didn't have the courage to criticise Anant Hegde's politics of hate," says Ibrahim Sharif, a Karwar-based businessman.
Some, of course, remain critical, arguing that Anant Hegde has hardly any achievement worth the boast in terms of developmental work. "He has nothing to show. In fact, I will resign from politics if he proves that he initiated some major development work in this constituency and has completed it," rails MLA Rama Narayan Naik.
But Anant Hegde is a taekwondo pro, a sport known for its various stances, and for now he seems more than happy playing the dogged communal stance. And from the looks of it, he is not faring too badly for it.