Rahul slaps 'unfit' tag on BJP minister with crass mouth
The Congress chief took on Anantkumar Hegde for targeting Muslim wife of state chief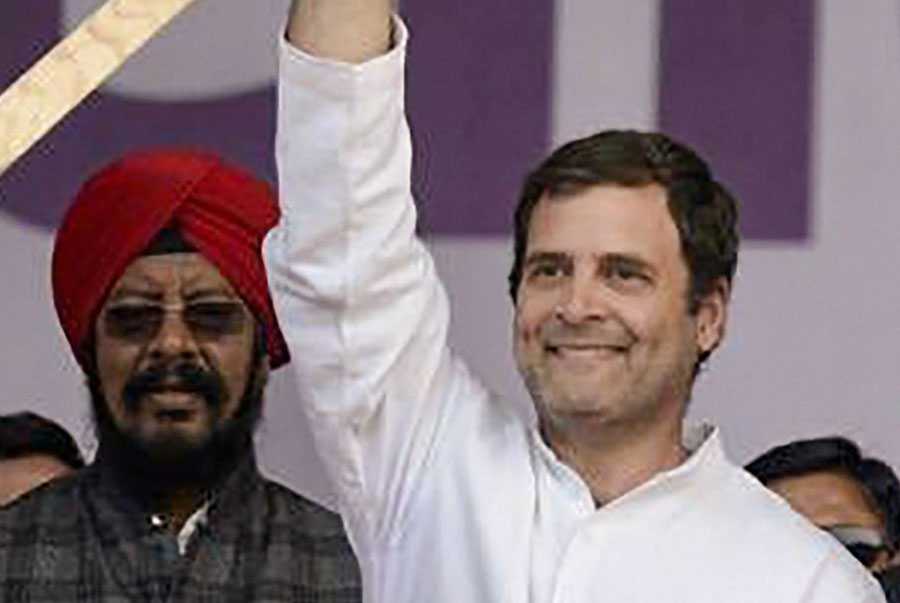 Congress President Rahul Gandhi at Rajyotsav Mela ground in Naya Raipur on Monday, January 28, 2019.
(PTI)
---
Bangalore
|
Published 28.01.19, 08:51 PM
|
---
Union minister Ananthkumar Hegde on Sunday dragged state Congress president Dinesh Gundu Rao's wife and her religion into a political exchange, prompting Rahul Gandhi to call him an "embarrassment" and demand his sacking.
"This man is an embarrassment to every Indian. He's unfit to be a Union minister and deserves to be sacked," the Congress president tweeted on Monday.
The controversy started when Hegde, Union minister of state for skill development, made a provocative comment while addressing a meeting of the Sangh parivar outfit Hindu Jagarana Vedike in Kodagu on Sunday.
He appeared to be calling for Hindus to forget caste differences and unite against any non-Hindu male who "touches a Hindu girl", seemingly advocating violence against them.
"We have to rethink the priorities of our society. We should not think about caste. If anyone touches a Hindu girl, then that hand should not exist," Hegde was quoted as saying.
Rao condemned the comment on Sunday night. "Wht are ur achievements after becoming a Union minister or as MP?" he tweeted.
"Wht are ur contributions for Karnataka's development? All I can say for sure, it's deplorable tht such people have become ministers & have managed to get elected as MPs."
Hegde hit back, with a reference to Rao's wife Tabu and her religion.
"I shall definitely answer this guy @dineshgrao's queries, before which could he please reveal himself as to who he is along with his achievements? I know him as a guy who ran behind a Muslim lady," Hegde tweeted.
Rao responded: "Sad to see @AnantkumarH stoop to such low levels as to bring in personal issues. Guess it's his lack of culture. Guess he hasn't learnt from our Hindu scriptures. Time hasn't run out, he can still try and become a more dignified human."
Tabu too reacted on Monday, tweeting that she had become a "soft target" for BJP leaders who were unable to fight her husband.
"I have never made any personal remarks against any BJP leaders and I strongly resent their using me as a pawn in their cheap tactics," she wrote.
"If they have the courage they should challenge my husband politically instead of hiding behind a housewife's saree and throwing stones. Such misogynistic and provocative remarks are highly unbecoming of a union minister."
The BJP kept mum over Hegde's comments. The party spokesperson did not take calls.
Hegde, a five-time Lok Sabha member from Uttara Kannada who was appointed a minister in August 2017, has a history of making provocative comments.
In January last year he had called his critics "barking stray dogs" after Dalit activists staged a protest while he was visiting Bellary.
Hegde was booked on hate speech charges in 2016 after he said that terrorism would exist as long as a particular religion did. In December 2017, he had claimed that "secularists lack clarity on their parentage".
Criticising the Karnataka government for celebrating Tipu Sultan's birth anniversary, he had called then Congress chief minister P.C. Siddaramaiah a "bootlicker".
State Congress vice-president B.L. Shankar condemned Hegde on Monday, saying: "It only shows his lack of confidence. That's why he is trying to provoke."