Amit Shah's call to rewrite history
"The uprising of 1857 wouldn't have become a part of our history but for Veer Savarkar," Shah said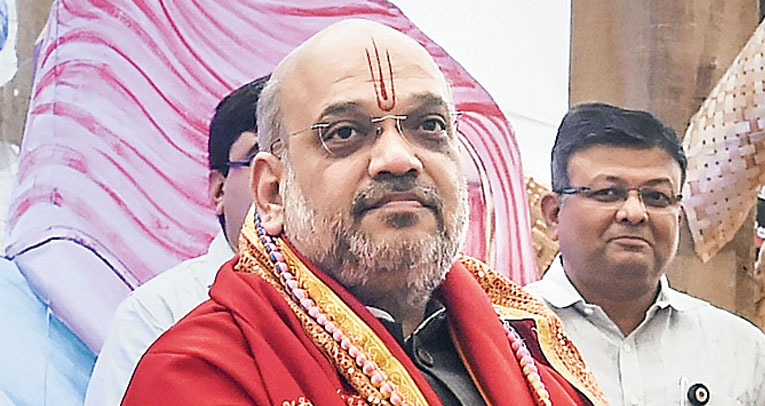 ---
Lucknow
|
Published 17.10.19, 10:12 PM
|
---
Union home minister and BJP president Amit Shah on Thursday urged Indian historians to "rewrite history from an Indian perspective" and held up Hindu Rashtra proponent Vinayak Damodar Savarkar as an exemplar.
"There is a need to rewrite our history. We need to come forward to do so. The historians of the country have a big role to play. It's our weakness that we couldn't re-analyse our history," Shah said after inaugurating a two-day seminar on Skandagupta Vikramaditya, the fifth-century AD emperor, at Banaras Hindu University.
The seminar was titled "Guptavanshak Veer: Skandagupta Vikramaditya". While "Gutpavanshak veer" means "brave member of the Gupta dynasty", the title also carries an echo of the sobriquet, "Veer", that the Sangh parivar attaches to Savarkar (1883-1966), one of its spiritual forbears.
Shah asked the historians to take a leaf out of the book of the freedom fighter and Hindu Mahasabha leader from Maharashtra. "The uprising of 1857 wouldn't have become a part of our history but for Veer Savarkar," Shah said.
"It was he who wrote that the uprising of 1857 (portrayed by British historians as a mere mutiny or revolt by sepoys) was the first Indian war of independence. Otherwise, we would have still been looking at this event through the eyes of the British."
Savarkar had written a Marathi book about the 1857 uprising, calling it India's first war of Independence. An English translation was published in 1909, titled The Indian War of Independence: 1857.
Savarkar was arrested in 1948 on the charge of conspiracy in Mahatma Gandhi's assassination but was acquitted for lack of evidence. The BJP has in its manifesto for the Maharashtra Assembly elections promised to honour Savarkar with the Bharat Ratna, the country's highest civilian award.
One of the Sangh parivar's pet peeves is that most universities in the country teach a "Leftist" version of Indian history that, among other things, glorifies Mughal rule.
It wants Indian history rewritten to project the whole of Islamic rule as retrogressive, lionise Hindu kings like Prithviraj Chauhan and Rana Pratap who fought Muslim invaders or rulers, and extol ancient Indian (Hindu) knowledge and wisdom.
Shah claimed that India was regaining its "lost glory" under the leadership of Prime Minister Narendra Modi. He asserted that after the Mahabharat period, the Gupta period (fourth to sixth century AD) was the golden age of Indian history.
"The country is regaining its lost glory under Modiji. The entire world now accepts India and accords importance to its philosophy," he said.
"Now that India is independent, historians must rethink and rewrite its history. Whatever you write must be true and popular (among the readers). How long should we keep cursing Leftist, English and Mughal historians (for alleged distortion)?"