Amit Shah tests positive for Covid
BJP leaders say there is no need for Modi to isolate himself and the Ayodhya event will go ahead as scheduled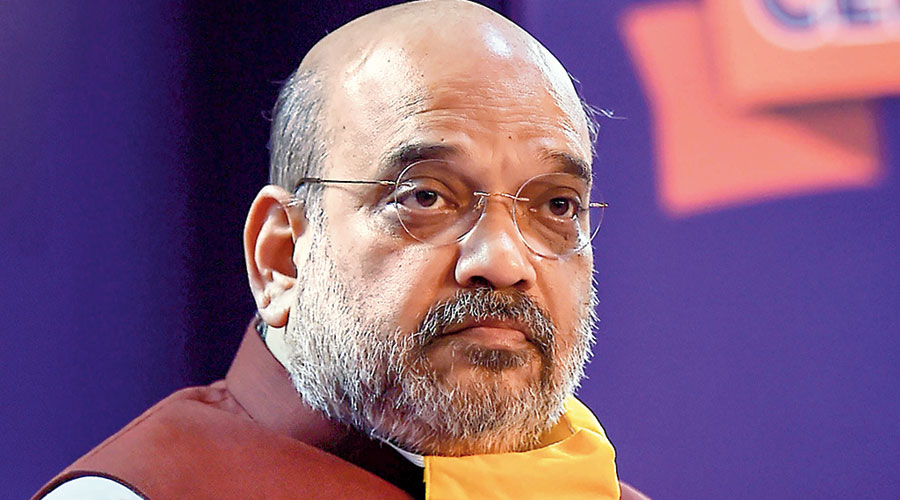 Amit Shah at a webinar on Saturday.
PTI
---
New Delhi
|
Published 03.08.20, 03:23 AM
|
---
Union home minister Amit Shah has tested positive for Covid-19 and has been admitted to Medanta hospital in Gurgaon.
Shah, 55, himself announced the diagnosis. "On getting the initial symptoms of corona, I got the test done and the report came back positive. My health is fine, but I am being admitted to the hospital on the advice of doctors. I request that all of you who have come in contact with me in the last few days, please isolate yourself and get your test done," the home minister tweeted on Sunday afternoon.
A senior official said the All India Institute of Medical Sciences (AIIMS), New Delhi, had been initially considered for the minister's treatment but it was later decided to admit him to the private hospital. Some military veterans wondered why Shah was not being treated at a government hospital.
Another question is whether the test result would affect the Ram temple event in Ayodhya on August 5, which Prime Minister Narendra Modi is scheduled to attend.
Shah had attended a cabinet meeting that Modi had presided over on Wednesday. Officials said social distancing and other safeguards were strictly followed at the cabinet meeting.
Citing the same reason, BJP leaders said there was no need for Modi to isolate himself and the Ayodhya event would go ahead as scheduled.
Standard guidelines recommend quarantine and tests for close contacts of those who test positive for Covid-19 but health officials say who exactly qualifies for tests or quarantine depends on the circumstances of their exposure.
"The decision on who needs to be quarantined will depend on the exact circumstances and duration of the exposure," said a senior official with the National Centre for Disease Control, New Delhi.
When a person is found positive, the official said, an epidemiology team is typically assigned to probe the circumstances of exposure and identify the high-risk contacts.
For instance, someone who had face-to-face contact with an infected person at a distance of one metre and for longer than 15 minutes could be considered a contact, the official said. The use of protective masks and the distance of contact are taken into account in identifying contacts.
The Union health ministry's guidelines define contacts at the workplace as "persons who have been exposed to a confirmed case anytime between two days prior to onset of symptoms (in the positive case) and the date of isolation (or a maximum 14 days after the onset of symptoms).
Junior minister Babul Supriyo, who had met Shah at the weekend, said he had been "advised by doctors to confine myself, away from my family members, for the next few days with a test to be done soon".
Anil Duhoon, a retired lieutenant colonel, tweeted: "Why the country's Home Minister not prefer Hospital in Delhi @ArvindKejriwal? Does that say something about the hospital conditions? And you claimed that they are world class?"
Ashok Kumar Singh, a retired colonel, asked: "Why is Amit Shah in Medanta? Why not in AIIMS? Why not in Govt hospital?"
Congress leader Rahul Gandhi wished "Mr Amit Shah a speedy recovery".
Bengal chief minister Mamata Banerjee tweeted: "Heard about the Union Home Minister Shri @AmitShah Ji being tested positive for #COVID-19. Wishing him a speedy recovery. My prayers are with him and his family!"