Amit Shah reminds babus of Chidambaram work culture
Shah is in office by 9.30-9.45am and has his first briefing by senior bureaucrats at 10am; he leaves between 7pm and 8pm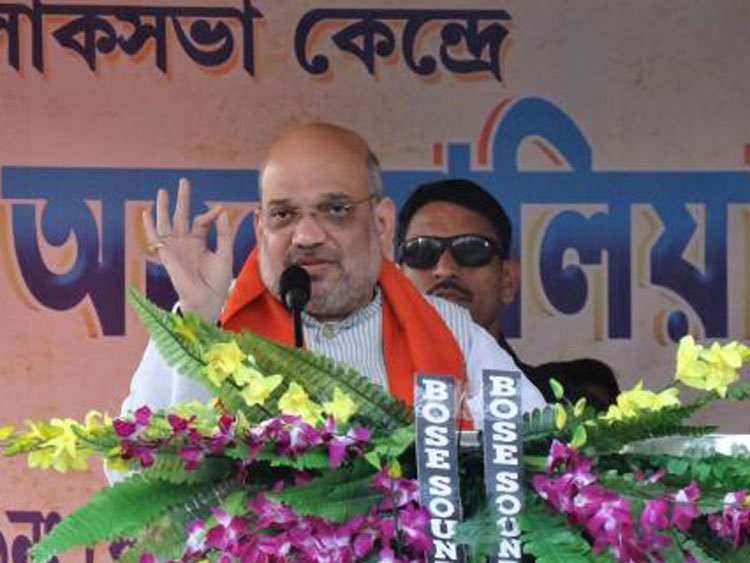 "Amit Shah is a stickler for discipline and punctuality. He is a hard taskmaster like Chidambaram," a senior official told The Telegraph.
Telegraph picture
---
New Delhi
|
Published 21.06.19, 02:24 AM
|
---
Long working hours and no holidays -– this seems to be the mantra for the new Union home minister Amit Shah, bureaucrats in his ministry say.
They say Shah reminds them of his Congress predecessor, P. Chidambaram, who had ushered in a new work culture in the ministry during his tenure between December 2008 and July 2012.
Chidambaram used to arrive in office by 9am and was ready for his first briefing by 9.30, forcing bureaucrats to rush to North Block before their boss's arrival.
"Amit Shah is a stickler for discipline and punctuality. He is a hard taskmaster like Chidambaram," a senior official told The Telegraph.
Shah is in office by 9.30-9.45am and has his first briefing by senior bureaucrats at 10am. He leaves between 7pm and 8pm.
"With Shah's priority being to streamline the anti-terror mechanism across the country, especially Jammu and Kashmir, the pressure is heaviest on the secretaries, joint secretaries and chiefs of the Intelligence Bureau and external spy agency RAW," the official said.
Shah's two deputies — junior home ministers G.K. Reddy and Nityanand Rai — have no choice but to remain in office till 7pm, waiting for their boss to leave first.
"The home minister worked even on Id, remaining in office till 7pm. He comes to office on most weekends, which forces senior bureaucrats, including home secretary Rajiv Gauba, to be present," the official said.
Unlike his predecessor Rajnath Singh, Shah has his lunch brought from home.
"Rajnathji used to leave for home for lunch and mostly worked from there during the second half of the day. He used to hold important meetings, even political meetings, at home. But Shah holds all his meetings at his office: Room No. 104 in North Block," the source said.
Another source, an IPS officer, too compared Shah's strictness and penchant for hard work to Chidambaram's. "Even Chidambaram rarely left office before 7pm, forcing senior bureaucrats to stay back," he said.
Shah has made it clear at his daily meetings with the intelligence agencies that he favours "zero tolerance" for terrorism and wants to guarantee the maximum possible security to each citizen.
As home minister, Chidambaram had taken revolutionary steps to improve the work culture, including the installation of a biometric attendance control system for everyone.
The electronic device records the times of arrival and departure through fingerprint identification.
Chidambaram had issued an order saying that reporting for work after 9am or leaving office before 5.30pm would be considered a leave availed for the day.
"Several bureaucrats resented the new attendance system. They argued that they turned up late because they worked late, sometimes till 8pm," the official said.
"But Chidambaram led from front and followed the biometric system himself, forcing the others to comply too."