Blinken highlights importance of unity among democracies
America adds Jawaharlal Nehru to rights abuse injury
Reference to ex-PM comes at a time when Modi govt is following the Nehruvian policy of strategic independence on Russia-Ukraine conflict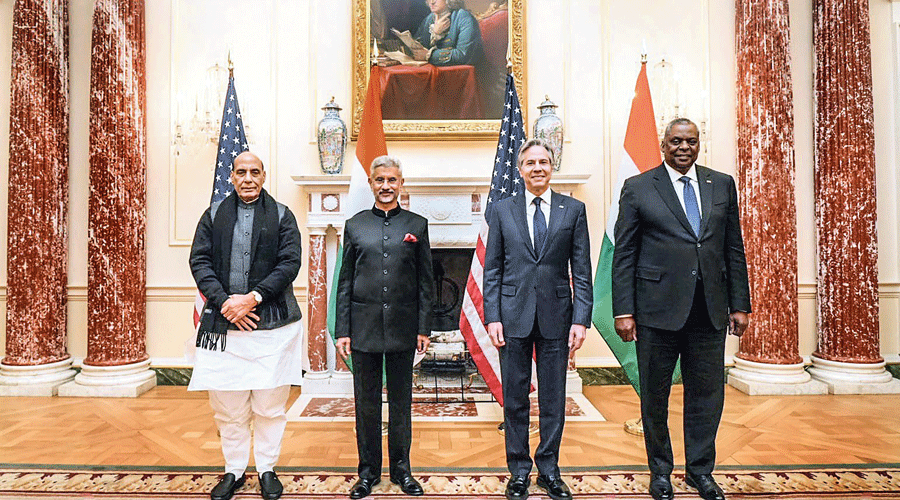 (From left) Rajnath Singh, S Jaishankar, Antony Blinken and Lloyd Austin in Washington.
PTI Photo
---
New Delhi
|
Published 13.04.22, 02:36 AM
|
---
The US has flagged the rise in human rights abuses by government agencies in India and quoted Jawaharlal Nehru to two ministers from the Narendra Modi government.
The Biden administration also used the 2+2 ministerial dialogue in Washington to appeal to countries with leverage to urge Russian President Vladimir Putin to end the war with Ukraine and underscored the need for democracies to stand together.
The multiple messages were delivered to India by US secretary of state Antony Blinken at the joint media availability of all four ministers — the other three being external affairs minister S. Jaishankar, defence minister Rajnath Singh and US secretary of defence Lloyd Austin — after their dialogue that followed the virtual meeting between Prime Minister Modi and US President Joe Biden earlier in the day.
Stating that India and the US share a commitment to democratic values such as protecting human rights, Blinken said: "We regularly engage with our Indian partners on these shared values, and to that end, we're monitoring some recent concerning developments in India, including a rise in human rights abuses by some government, police and prison officials."
He did not elaborate and neither Jaishankar nor Rajnath commented on this reference that comes a few days after the Biden administration was questioned by its own Democratic party member Ilhan Omar on why it was "reluctant to criticise Modi's government on human rights".
At a House Foreign Affairs Committee hearing, Omar had asked deputy secretary of state Wendy Sherman: "How much does the Modi administration have to criminalise the act of being Muslim in India for us to say something?... Because when we remain silent and the situation gets out of control the way that it did with the Rohingya…."
Sherman accepted the importance of standing up for every religion and ethnicity, adding that "we are not perfect either".
The Nehru reference came up while Blinken was wrapping up his statement to the media. Referring to the first Indian Prime Minister's visit to the US soon after diplomatic relations were established between the two countries about 75 years ago, Blinken said: "President Truman met him on the tarmac of the airport. And Prime Minister Nehru noted the importance of the moment, saying, and I quote: 'I trust that these two republics of the western world and the eastern world will find many ways of working together in friendly and fruitful cooperation to our mutual advantage, and for the good of humanity.'"
This reference to Nehru by the US comes at a time when for the first time the Modi government is forcefully following the Nehruvian policy of strategic independence on the Russia-Ukraine conflict, refusing to condemn Moscow in the belief that this will help create the space for playing a more constructive role in brokering peace.
On Ukraine, Blinken referred to Russia's war as an attack "on the rules-based order that we both adhere to and defend", using the same language the two countries use on China and the Indo-Pacific in a seemingly not-so-subtle reminder to India that the two situations are not very different.
Jaishankar, for his part, conceded that Ukraine dominated his discussions with Blinken, given the ramifications of the conflict on energy security, food security, commodities prices and logistics disruption even for faraway countries. The two sides discussed measures to mitigate not just the impact on supplies but also prices.
Asked what the US can do to persuade India to condemn Russia, Blinken said: "India has to make its own decisions about how it approaches this challenge. We as a general proposition are consulting with all of our allies and partners on the consequences of Putin's war, the atrocities being committed against the people of Ukraine.
"In our judgement, it is important that all countries, especially those with leverage, press Putin to end the war. And it's also important that democracies stand together and speak with one voice to defend the values that we share. And we do share, profoundly, the values of freedom, openness, independence, sovereignty, and those values need to apply everywhere."
At the same time, he acknowledged India's long-standing relationship with Russia which "was developed over decades at a time when the United States was not able to be a partner to India".
Stating that the US is "willing to be a partner of choice with India across virtually every realm — commerce, technology, education and security", Blinken added that "every country is differently situated, has different needs and requirements, but we're looking to allies and partners not to increase their purchases of Russian energy".
Jaishankar reminded the US media that Europe continued to buy more oil from Russia than India even after the conflict began, adding that considerable amount of the discussions at the meetings pertained to what India can do to stabilise the global economic situation.
"We are quite willing, and in fact we've already started responding to the need for greater food supplies, especially wheat most of all but to some degree sugar as well. At this moment, a number of countries are discussing with us the possibility of greater food supplies, including the World Food Programme," the Indian foreign minister said.