All members welcome PM Narendra Modi SAARC step
PM suggests video conference of leadership to discuss a 'strong strategy' to fight coronavirus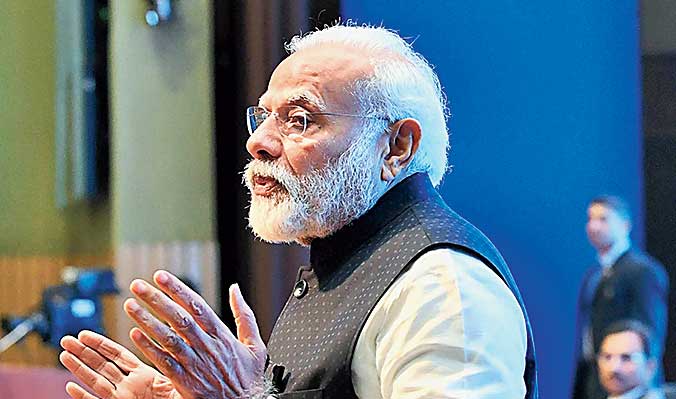 ---
New Delhi
|
Published 13.03.20, 09:27 PM
|
---
Prime Minister Narendra Modi on Friday sprang a surprise by suggesting a video conference of the Saarc leadership to discuss a "strong strategy" to fight the coronavirus, breathing some life into the regional grouping that has been defunct for four years now because of India-Pakistan hostilities.
By evening, all member countries other than Pakistan — which downgraded diplomatic relations with India last year — had responded positively to the suggestion of having such a brainstorming session to deal with the pandemic. Later at night, Pakistan said one of its officials will participate in the session.
All eight Saarc countries have reported confirmed cases of the coronavirus. The Saarc secretariat welcomed what it called the "timely proposal" of the Prime Minister and the support of other leaders.
The Prime Minister's call saw him reclaim some lost ground in the region, creating a moment that could be akin to a virtual repeat of his first swearing-in ceremony when the leadership of all Saarc countries turned up at his invitation.
Though eyebrows were raised over the surprise move given how New Delhi has been arguing that Saarc has outlived its utility and was showing a preference for Bimstec instead, Modi drew appreciation from organisations and individuals who have been critical of his policies.
"Brilliant initiative by PM Modi. India revisits Saarc… Please make videoconferencing a common practice; talk as often as time permits — on Covid-19, locusts, anything & everything under the sun. For God's sake, let us get the act together as a region, finally… @narendramodi,'' tweeted retired diplomat M.K. Bhadrakumar who has often criticised the Modi government's policies.
Meenakshi Ganguly, South Asia director of Human Rights Watch, tweeted: "This could be a welcome initiative. Saarc leaders could also cooperate in bringing stranded citizens back home, provide proper medical advice to those at risk."
Among the Saarc countries, Bhutan was the first to welcome the initiative. Prime Minister Lotay Tshering tweeted: "This is what we call leadership. As members of this region, we must come together in such times. Smaller economies are hit harder, so we must coordinate. With your leadership, I have no doubt we will see immediate and impactful outcome. Looking forward to the video conference.''
Thanking the Prime Minister for the "great initiative", Sri Lankan President Gotabaya Rajapaksa tweeted that his country was ready to join the discussion, share best practices and learn from other member countries. "Let's unite in solidarity during these trying times and keep our citizens safe."
Maldivian President Ibrahim Mohamed Solih noted that Covid-19 requires collective effort to defeat it and expressed full support — as did Nepal Prime Minister K.P. Sharma Oli. Afghanistan and Bangladesh communicated their willingness to be on board through official channels.