A turnaround could take 3 to 5 years
Air India and the many complex turnaround challenges Tatas face
From finding new offices to tackling legacy debt and modernising fleet, the salt-to-software conglomerate has its task cut out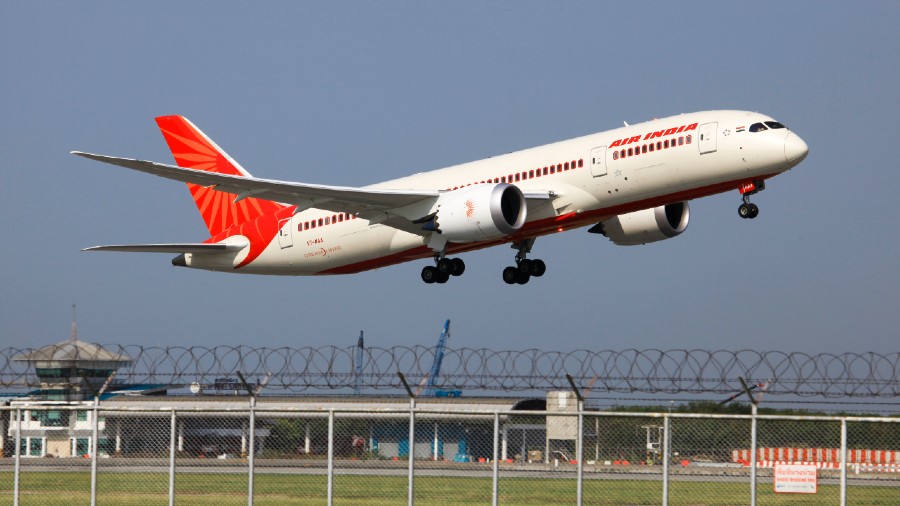 Under the deal announced Friday, the Tata Group also gets a 100 per cent stake in the low-cost carrier Air India Express and a 50 per cent stake in SATS which provides ground catering and other services for Air India and other airlines.
File picture
---
New Delhi
|
Published 09.10.21, 11:43 AM
|
---
The Tata Group will have a monumental task on its hands when it takes control of loss-making Air India two months from now after winning the state-owned carrier with a Rs 18,000-crore bid.
First of all, the Tatas will be flying into an aviation market reeling from the coronavirus pandemic that has left India's airlines bleeding cash.
This will make restoring Air India's fortunes even tougher. Kapil Kaul, chief executive of airline consultancy CAPA, believes turning around Air India's performance could take three to five years.
One of the immediate challenges facing the new owners will be to find office space. The deal does not include the airline's other assets and the buildings like the Air India building at Nariman Point and Airlines House in Delhi. As a result, one of the Tata Group's first jobs will be to locate office accommodation for Air India's roughly 12,000 employees.  
The Tata Group will also have to launch a global manhunt for top personnel who will need to pick up the reins very quickly. Currently, Air India has no CEO and Rajiv Bansal, its chairman and managing director, is an IAS officer, who is also the Civil Aviation Secretary.
As well, the airline will have to decide where to have its new headquarters. Before its merger in 2007 with Indian Airlines, Air India was headquartered in Mumbai. Post-merger, the combined airline moved to Airlines House in New Delhi which had previously been the Indian Airlines' headquarters.
But its greatest challenge will be to bring together the three airlines now under its control -- - Air India, Air Asia and Vistara. 
It looks almost certain they will merge the two low-cost airlines Air India Express and Air Asia India. The only hurdle to be surmounted is that AI Express flies Boeings and Air Asia India has Airbus 320s. Air Asia in MAlaysia is financially strapped and would have no objection to the merger. 
Ideally, Vistara and Air India should also be merged but it's not clear whether Vistara's parent Singapore Airlines has given the go-ahead for this move. 
Under the deal announced Friday, the Tata Group also gets a 100 per cent stake in the low-cost carrier Air India Express and a 50 per cent stake in SATS which provides ground catering and other services for Air India and other airlines.
The Tata win had been widely expected and was considered almost a certainty. The only other bidder, Spice Jet's Ajay Singh, would have had considerable difficulty assembling the large sums of money required both for the bid and to keep the airline in the skies.
The Tatas will pay Rs 18,000 crore for the airline, out of which Rs 15,300 crore will go towards repayment of Air India's colossal debt mountain. The deal will take effect when the payment is made within the next two months. The government will continue to pay the retirement benefits of around 55,000 former employees.
Besides the purchase amount, the Tatas will also have to spend heavily to modernise Air India's fleet which is quite old. Many aircraft will need to be replaced. The airline has 117 aircraft currently and Air India Express has 24 planes. 
Air India's massive government-backed debt totals around Rs 70,000 crore.  It received a $4.2-billion bailout from the government in 2012. Apart from the Rs 15,300, the rest will now have to be cleared by the government.
The Tata Group's three airlines will together have about 25 per cent of the Indian aviation market. However, this is far behind the market leader, IndiGo which has a dominating 60 per cent share of passenger traffic.
Air India is also making operational losses and the new management team will need to move urgently to trim these sharply.
However, it has several routes, both nationally and internationally, which were started for political reasons at the behest of powerful politicians, and which could now be cut if they are loss-makers. Several international routes have been launched partially to serve the government's diplomatic goals and these could also be in for the chop in the not-too-distant future.
The Tata Group has yet to unfold its strategy for bringing together the three airlines it now owns in India. It has a controlling 85 per cent stake in Air Asia India and is likely to buy out the remaining 15 per cent because its Malaysian partner is keen to exit the Indian market.
It's unclear whether Singapore Airlines would be happy about bringing together Vistara with Air Asia India and Air India. But combined, the three airlines together could be a fighting force against IndiGo which is a tough and ruthless competitor.
The Tatas have a huge opportunity in the international markets where Indian carriers have allowed the Gulf carriers to grab a large chunk of Indians travelling abroad. It's thought that Dubai's Emirates gets about 20 per cent of its revenue from Indian passengers. The same's true for Etihad and Qatar Airways.
Similarly, Indians travelling eastwards have divided their preferences between airlines like Singapore Airlines, Thai Airways and Cathay Pacific. In recent years Air Asia International has also grabbed a big slice of the low-cost market. Nevertheless, Air India gets two-thirds of its income from its international routes and is the leading player from India in the international market and it could build on this in coming years.
Airline industry experts predict that the hub-and-spoke system operated by Singapore and the Middle Eastern airlines may weaken post-pandemic because passengers will want to take direct flights and not increase infection risks by changing flights.  Says an aviation industry expert: "The future, even for Singapore, is to grow the business here."
There are other issues that remain unclear. Air India has always been designated as the national carrier and that status has brought considerable benefits. In his statement welcoming Air India into the Tata fold, Tata Sons Chairman N. Chandrasekaran, referred to the airline as "the country's flagbearer airline".
Air India's interests were always kept paramount even when foreign airlines applied for routes into India. Also, government employees were issued orders some years ago that they had to fly Air India unless the airline did not have flights to their destination.