Tata group wins bid for troubled national carrier Air India
The Tatas will be paying an upfront cash component of Rs 2,700 crore while assuming a debt of Rs 15,300 crore, the deal is expected to be completed by December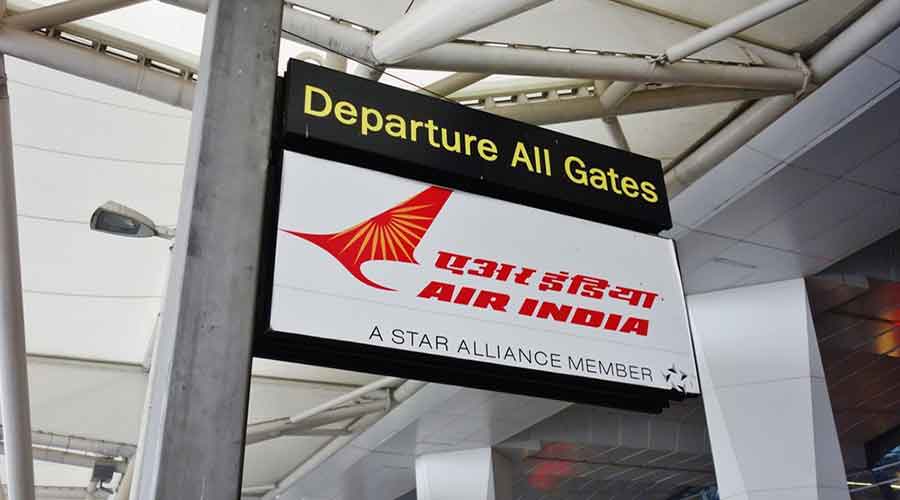 The announcement — anticipated for weeks — means that Air India returns to the Tata fold after 68 years.
File picture
---
Published 09.10.21, 01:26 AM
|
---
Welcome back, Air India.
Ratan Tata's quiet, matter-of-fact tweet summed up the mood in Bombay House after the Narendra Modi government announced that the Tata group had won the bid for the troubled national carrier in a two-horse race.
The announcement — anticipated for weeks — means that Air India returns to the Tata fold after 68 years.
Welcome back, Air India pic.twitter.com/euIREDIzkV

— Ratan N. Tata (@RNTata2000) October 8, 2021
The Tatas' bid was for an enterprise value of Rs 18,000 crore, considerably higher than the SpiceJet chairman Ajay Singh-led consortium's offer of Rs 15,100 crore. The government had set a reserve price of Rs 12,906 crore for the loss-laden airline.
Tata Airlines — the precursor to Air India — was founded in October 1932.
J.R.D. Tata had created history when he touched down in Bombay on October 15, 1932, in his Puss Moth on a flight from Karachi, carrying a precious mailbag that marked India's tryst with the world of aviation.
The government nationalised the airline in 1953. Even though the government took over the airline, J.R.D. Tata stayed on as chairman till he was unceremoniously dumped by Prime Minister Morarji Desai in January 1978.
"Air India, under the leadership of Mr J.R.D. Tata, had, at one time, gained the reputation of being one of the most prestigious airlines in the world. Tatas will have the opportunity of regaining the image and reputation it enjoyed in earlier years. Mr J.R.D. Tata would have been overjoyed if he was in our midst today," said Ratan Tata, the 83-year-old patriarch of the group who had unsuccessfully tried to acquire Air India in the late nineties before its disastrous merger with Indian Airlines in 2007.
The winning bid came from Talace Private Ltd, a wholly owned subsidiary of Tata Sons, the group's holding company.
The Tatas will be paying an upfront cash component of Rs 2,700 crore while assuming a debt of Rs 15,300 crore. The deal is expected to be completed by December.
"This is a historic moment, and it will be a rare privilege for our group to own and operate the country's flag-bearer airline. It will be our endeavour to build a world-class airline which makes every Indian proud," said N. Chandrasekaran, chairman of Tata Sons.
Divestment secretary Tuhin Pandey said the group of ministers headed by Amit Shah had cleared the winning bid for Air India on October 4 but didn't say why the announcement was delayed by four days. The other ministers in the panel were finance minister Nirmala Sitharaman, commerce minister Piyush Goyal and civil aviation minister Jyotiraditya Scindia.
Civil aviation secretary Rajiv Bansal said the Tatas would retain all employees of Air India for one year from the close of the transaction and could offer a voluntary retirement scheme (VRS) in the second year.
Air India has 12,085 employees: 8,084 permanent and 4,001 contractual. Besides, Air India Express has 1,434 employees.
About 5,000 permanent employees are due to retire over the next five years, Bansal said.
The Tatas cannot transfer the Air India brand or logo for five years. Thereafter, it is free to do so but only to an Indian entity. There has to be business continuity for three years and the new owners will have to maintain an equity stake above 51 per cent with a lock-in period of one year, Pandey said.
Air India had a total debt of Rs 61,562 crore at the end of August 31. This means that debt worth Rs 46,262 crore will remain with government entities, principally Air India Asset Holding Ltd.