Will India go ahead with missile test?
Ahead of possible missile test, two Chinese 'spy' ships scour India waters
Yuan Wang 5 joined by Yuan Wang 6 satellite trackers as India issues 'area warning', or 'no-fly zone', for November 23-24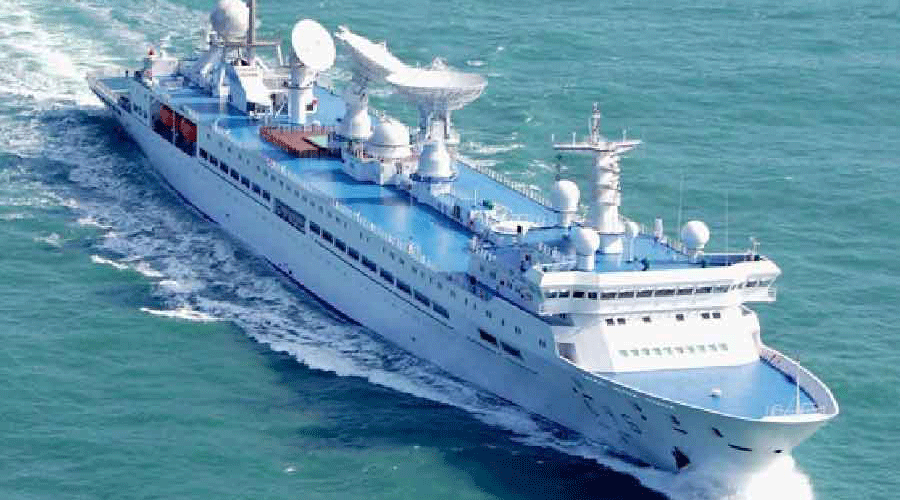 ---
Published 12.11.22, 07:55 PM
|
---
India is pushing ahead with a postponed missile test even though two Chinese 'spy' ships have entered the Indian Ocean. 
The Yuan Wang 6 which had sailed through the Lombok Strait, which is between Bali and Lombok Island, just before the missile launch was earlier scheduled has now been joined by a second ship the Yuan Wang 5.
The Yuan Wang 5 was the ship which caused a diplomatic row when it docked at Sri Lanka's Hambantota Port in August. 
India has issued what's called an "area warning" or a no-fly zone for November 23-24 which stretches from a large chunk of the Bay of Bengal to below Sri Lanka. No-fly notices are usually issued before a missile test. India is thought to be testing a long-range ballistic missile. Such missiles could be capable of hitting targets in China.
The Yuan Wang class of ships are described as satellite and missile tracking ships. They can follow the trajectories of missiles and keep track of satellites. They are not categorised as naval vessels.
India and China have been playing a cat and mouse game with each other and the Yuan Wang 5 had docked in Hambantota in August just before a scheduled Indian missile launch. The Yuan Wang 5 docking in Hambantota had caused great consternation because it arrived just before an Indian missile launch and also because it was only the second Chinese ship of its kind to berth at the port. Hambantota port has been given to the Chinese under a 99-year lease.
China has several Yuan Wang class ships. By comparison, India has only one vessel, Dhruv which is classified as a missile range instrumentation ship. The ship can track nuclear missiles and could act as an early warning system if there are ever such missiles approaching the country.
India could once again put off its missile launch but this appears unlikely currently.