Sri Lankans say Chinese spy vessel can dock at Hambantota Port, despite Indian protests
Bankrupt Colombo fears China could derail economic recovery, hold up IMF bailout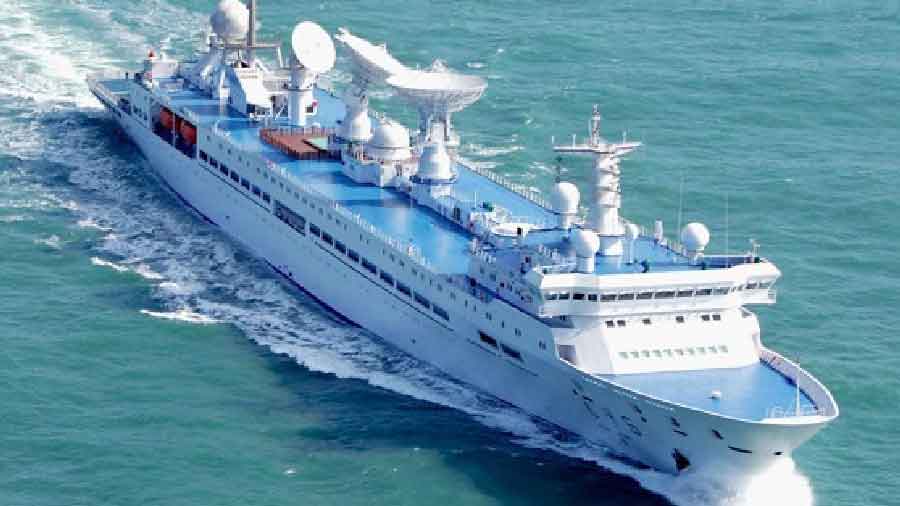 ---
Published 13.08.22, 10:21 AM
|
---
India's strong concerns about national security have been brushed aside and Sri Lanka has given a green signal to the Chinese missile-tracking ship Yuan Wang 5 to dock at Hambantota Port.
The Yuan Wang 5 is now due to arrive at the Chinese-leased port on August 16, five days later than its originally planned arrival on Thursday. 
India and China have been battling behind-the-scenes about allowing the Yuan Wang 5 to dock in the strategically located island nation in the Indian Ocean.
The US had also thrown its weight behind India's demands that the ship should not be allowed to enter Hambantota. The US ambassador is believed to have raised the issue at a meeting with new Sri Lankan President Ranil Wickremasinghe.
Neither India and the US had given sufficiently "concrete reasons" for opposing the docking of the Chinese ship so the government granted its approval, according to Sri Lankan newspaper The Sunday Times.
Worst possible time
The crisis comes at the worst possible time for Sri Lanka when it has run out of foreign exchange to buy even essentials like crude oil and also food, a large amount of which is imported. Sri Lanka, a country of 22 million people, defaulted on its sovereign debt in May.
Sri Lanka doesn't want to annoy India which has been extremely generous with aid, sending crude oil and other essential commodities to the island. But The Sunday Times, Sri Lanka commented: "Sri Lanka is caught badly between the devil and the deep blue sea as the Sino-Indian tussle over the Indian Ocean brews into a full-blown storm, threatening to wreak havoc on the nation's plans for early economic recovery."
The Sunday Times pointed out that Sri Lanka and India are inextricably linked by geography. Said the Sunday Times: "For India, Lanka is an inescapable geographical presence, an island that can be transformed into a veritable enemy aircraft carrier anchored on her doorstep, within strike range." By contrast, it added: "For China, the island is the coveted pearl in the Indian sea, the strategic rear-door to India."
China's veto powers
China's greatest threat is that it could veto or stall the IMF loan that Sri Lanka desperately needs. The Chinese have also given other aid to Sri Lanka and there are indications it could have demanded early repayment of previous loans. About 10 per cent of Sri Lanka's foreign debt is owed to China, according to central bank data. But some western analysts suggest the debt to Chinese creditors is closer to about 20 per cent.
Analysts say Sri Lanka won't be able to resolve its debt restructuring problems without help from China. U.S. Treasury secretary Janet Yellen says it is in China's interest to restructure Sri Lanka's debt. Normally, though, China prefers to keep adding on new debt to pay off old, Sri Lankan officials say.
The Sunday Times praised India's recent cash and commodity infusions that have helped the country when it has been in dire straits. It said: "Besides India's prolonged kiss-of-life to resuscitate moribund Lanka, she has also granted billions of dollars in aid, placing her in the top bracket of the nation's creditors, if not the topmost."
No further credit lines
By contrast, the Times said: "China will not blink to cut her losses – as she showed these last three months when she granted no further credit lines except to service her own loans – but instead strive to recoup it; and leave Lanka to her woes. For her, Lanka is a far-flung dispensable little island, mainly valued for being in the Indian neighbourhood."
On Thursday, the Yuan Wang was around 600 nautical miles from Sri Lanka and it was clear that it was not setting sail back to its home port and had not abandoned the idea of docking in Hambantota.
It's not clear if there are any particular reasons for the Yuan Wang to dock in Hambantota and stay there for a week. It's thought that the Chinese want to establish the principle that its naval vessels should be allowed to dock in the island and they've chosen this moment when the Sri Lankans are at their weakest both politically and economically.
Also, it's possible that China particularly wanted to be in Hambantota just as India was celebrating the 75th anniversary of Indian Independence.
Dornier aircraft 
Sri Lanka had, earlier this year, asked India for two Dornier-228s and India last week said one would be delivered before the end of this month. It remains to be seen if that promise will now be kept.  
Since 2017, Hambantota has been run by a Chinese company, China Merchants Ports, which has taken a 99-year lease on it. The port was handed over to the Chinese company after Sri Lanka found itself unable to meet the heavy repayments needed for the port.
Separately, India has issued a bland statement about the Taiwan Straits crisis. Asked by a Xinhua journalist about India's stand, the External Affairs Ministry spokesperson said: "We urge the exercise of restraint, avoidance of unilateral actions to change the status quo, de-escalation of tensions and efforts to maintain peace and stability in the region.
In the same vein, the spokesperson added: "India's relevant policies are well-known and consistent. They do not require reiteration."