Chinese missile tracking ship detected in Indian Ocean region ahead of Indian missile test
Navy closely monitoring vessel that is the same class as spy ship that triggered Delhi-Beijing diplomatic row in August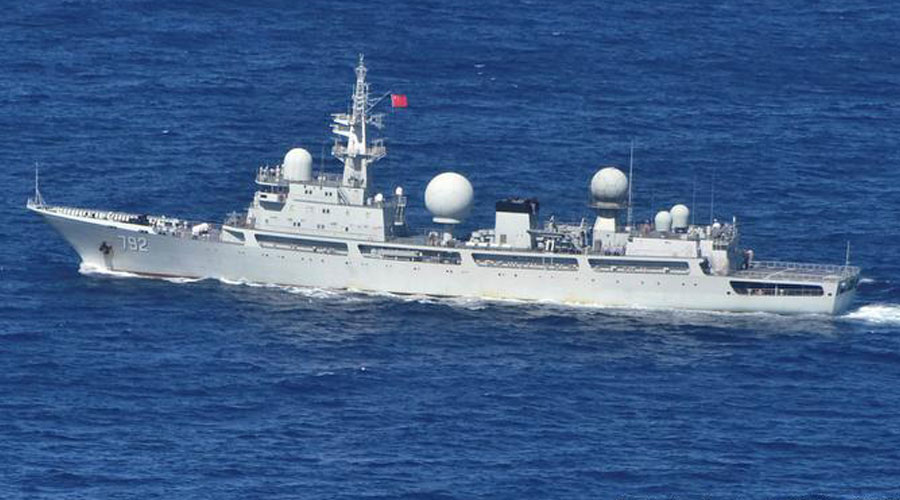 Representational image.
File picture
---
Published 05.11.22, 10:19 AM
|
---
A Chinese missile tracking ship has been spotted entering the Indian Ocean via the Lombok Strait near Indonesia. Yuan Wang 6's destination is unknown but its presence could be connected to an Indian ballistic missile test scheduled to be carried out later this month.
The Yuan Wang 6 belongs to the same class of missile tracking ships as the Yuan Wang 5 which created a diplomatic rumpus between India and Sri Lanka when it docked at the island's Hambantota Port in August.
There is no indication currently whether the Yuan Wang 6 plans to dock at Hambantota but its progress as it enters the Indian Ocean is being closely monitored by India.
The Indian missile is likely to be test-fired from the Abdul Kalam Island off the Odisha coast on November 10 or November 11. The missile that reports say may be tested is the submarine ballistic missile K-4 meant for Indian-manufactured nuclear-powered ballistic missile submarines known as SSBNs.
Xinhua describes the Yuan Wang 6 as a "third-generation space tracking ship". The Chinese vessel can track the trajectory, speed and range of any missile test, according to defence experts.
India had issued a notification for a no-fly zone over the Bay often Bengal in late October.
Both India and the US have requested Sri Lanka not to allow Chinese naval ships to dock at Hambantota which has been given under a 99-year lease to China. But any ship is allowed to sail through international waters in the Indian Ocean.
The Yuan Wang 6 has sailed into the Indian Ocean several times in earlier years and made another voyage in this region in March. In 2020, the Yuan Wang 6 undertook a 100-day voyage that encompassed the Pacific Ocean, the Indian Ocean and the Atlantic.
The Yuan Wang 5's trip to Hambantota caused considerable unhappiness in India because it was only the second time a Chinese naval ship had docked at the port. India had gifted a Dornier maritime surveillance aircraft to Sri Lanka in August.
Sri Lanka, which defaulted on its sovereign debt in March, is still in an acutely difficult financial position and China is one of its main creditors. India stepped in earlier this year with financial aid and oil shipments.
China holds leverage over Sri Lanka as Colombo needs Beijing's support to resolve its debt restructuring problems. Sri Lanka also doesn't want to upset India which has been extremely forthcoming with its assistance.
The country was hoping to wrap up an IMF loan agreement by December but this appears to be stalled because China has not held a dialogue with Colombo about the loan.
As a result. the Sri Lanka loan is not likely to happen before March 2023 and this is likely to deepen the country's financial woes.