Agnipath scheme: Bihar erupts in street stir over Centre's decision
Thousands of protesters blocked tracks and roads, burnt tyres and effigies, threw stones, vandalised billboards and tore off full-page newspaper ads for the scheme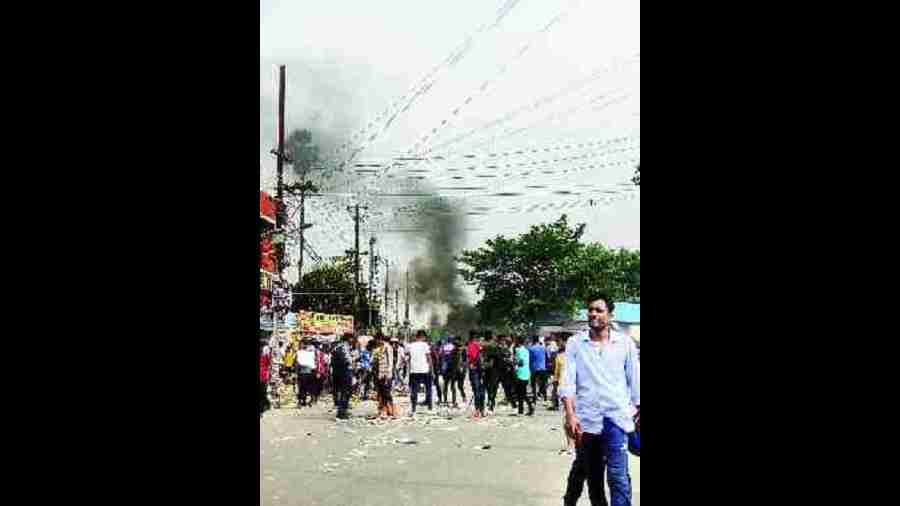 Youths protest in Bihar's Muzaffarpur city on Wednesday against the Agnipath scheme.
Sanjay Choudhary
---
Patna
|
Published 16.06.22, 02:34 AM
|
---
Bihar erupted in street demonstrations on Wednesday against the Centre's Agnipath scheme for short-term recruitment of jawans into the armed forces, with young protesters who had applied for, or planned to apply for, regular army jobs saying they felt "cheated".
Thousands of protesters blocked tracks and roads, burnt tyres and effigies, threw stones, vandalised billboards and tore off full-page newspaper ads for the scheme, which provides for four-year appointments without pension or ex-servicemen benefits.
The protesters chanted slogans against Prime Minister Narendra Modi and his government, accusing it of compromising armed forces recruitment, which has been a major source of employment for the state's youth.
Defence ministry sources said the new scheme, formally named Tour of Duty, would now be the lone avenue for the recruitment of ordinary soldiers and that those who had already applied for, or appeared in armed forces recruitment tests, would need to apply afresh.
"The army had sought applications from eight districts, including Muzaffarpur, in 2021. Thousands of us applied and took the physical tests," a young protester said in Muzaffarpur, the epicentre of the protests in Bihar.
"Those who passed the physical test were subjected to medical tests. I was one such candidate. However, it's been around a year now and the final results have not come. We are feeling cheated now (with the announcement of the new scheme)."
Anjay Singh, another protester, said: "Even the good-for-nothing MLAs and MPs are elected for five years, and they are going to recruit soldiers for just four years. This is injustice; it will also affect the nation's security."
Many protesters had assembled outside the army recruitment office and railway station in Muzaffarpur, demanding withdrawal of the new scheme. Police were called in but the protesters refused to disperse. A stalemate was continuing till late evening.
In Buxar, protesters stoned trains and disrupted railway traffic for some time. Thousands blocked NH31 in Begusarai for hours.
Under the Agnipath scheme, around 46,000 youths aged between 17.5 and 21, who have at least cleared Class X, will be inducted into the armed forces for four years. One-fourth of them will be retained for another 15 years under regular terms. Recruitment starts in 90 days.
The Centre is believed to have introduced the scheme to ease the armed forces' huge salary and pension bills.
Rashtriya Janata Dal leader Tejashwi Yadav said: "If the biggest employers in the country – the railways and the armed forces – start giving jobs on contract, what will the youths do? Will they be used to provide security to the BJP's capitalist friends after completing their studies and four years of service?"
He said the scheme would ensure that a large population, trained in firearm use, would become unemployed at a young age. "Will it not create a law-and-order problem in the country?" Tejashwi asked.
He suggested that the Sangh parivar was eager to provide arms training at government expenditure to its hatred-filled cadre.