Advice to emulate Rajnath gesture of shouldering coffin
BJP tells its ministers to participate in the last rites of CRPF jawans in their states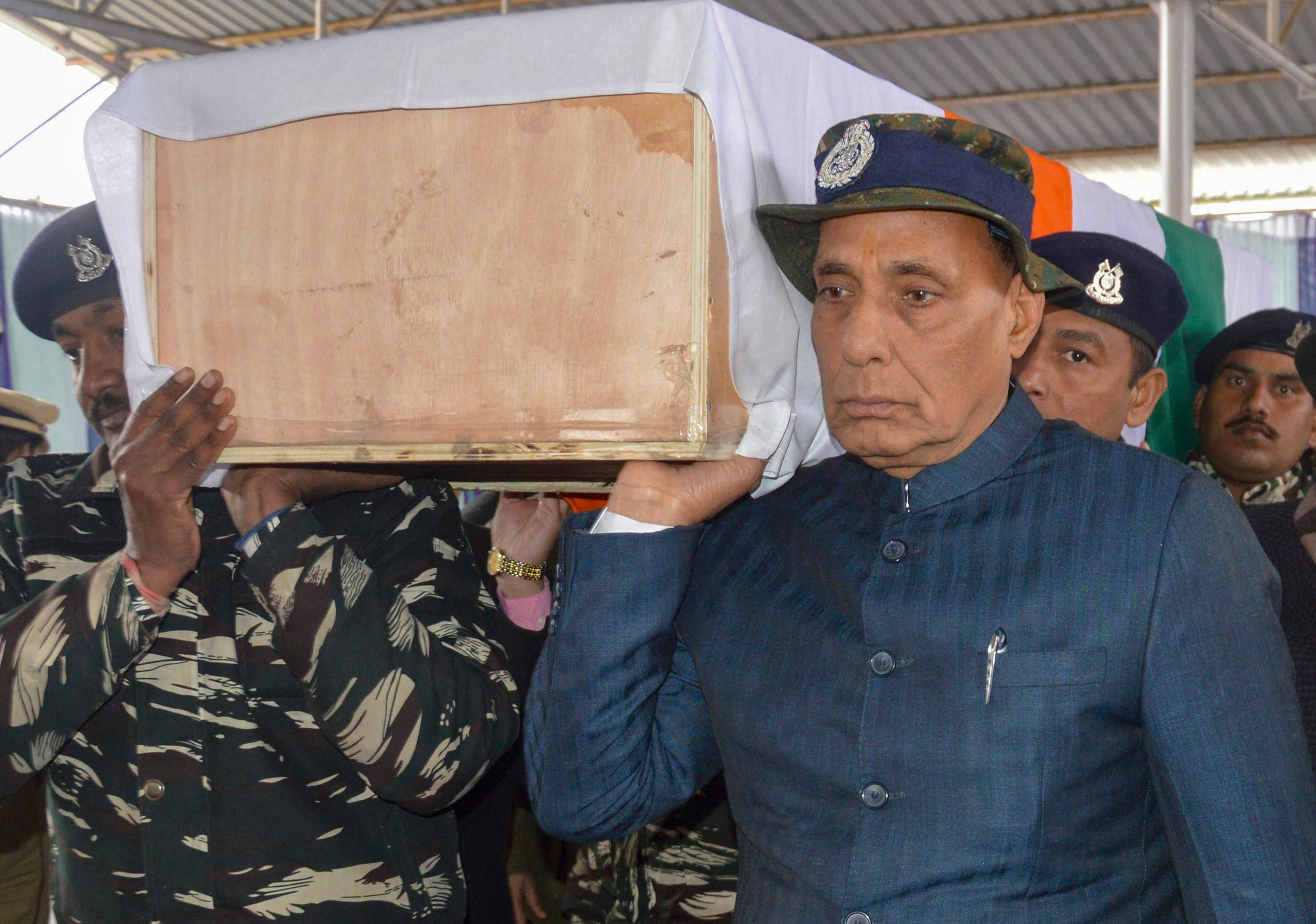 Rajnath Singh carries the coffin of a slain CRPF jawan during a wreath laying ceremony at the CRPF camp in Budgam on Friday.
PTI
---
New Delhi
|
Published 15.02.19, 11:03 PM
|
---
Union home minister Rajnath Singh flew to Srinagar on Friday and joined others in carrying the coffin of one of the deceased CRPF soldiers.
The BJP leadership soon directed its chief ministers, central ministers and senior party leaders to emulate Rajnath's gesture when the bodies of the Pulwama jawans arrive in their respective states.
"We have asked chief ministers, central and state ministers and other party leaders to participate in the last rites of soldiers and stand with the family members of those who have sacrificed themselves for the country," a BJP leader said.
BJP managers are also planning protests against Pakistan. Members of the party's youth and women's wings have been asked to "provide leadership" to protests over the terror strike.
Party leaders asserted that there was intense anger among the people and it was the duty of grassroots workers to channel the rage to strengthen the country. The leaders said the terror strike would have a "big impact" on the general election and they would have to handle the situation carefully.
BJP leaders hoped that the government would live up to the "people's expectations".
"We are building up an atmosphere of a war-like situation, but can the country afford a war with Pakistan?" a leader asked. "If not, then what options do we have to prove to the people that the Narendra Modi government is different?" he added.
The leader pointed out that another "surgical strike", while being difficult, might not be enough to meet the "heightened expectations of the people".
Jadhav case
The World Court will hear arguments at the Hague on Monday in a dispute between India and Pakistan about Kulbhushan Sudhir Jadhav, the former Indian Navy commander sentenced to death by Islamabad for allegedly being a spy.
India had won an injunction from the World Court, formally known as the International Court of Justice. It ordered his execution stayed after India argued that Jadhav had been denied his right to diplomatic assistance under the 1963 Vienna Convention.
For four days next week, the two countries will argue their case in open court in The Hague. The court's rulings are final and cannot be appealed, but the UN body has no mechanism to enforce its decisions, which major powers have ignored in the past.
Additional reporting by Reuters