Abhinandan echo in tea video
The army has released a video of two captured Pakistani militants, one of whom sips tea and says that the brew is good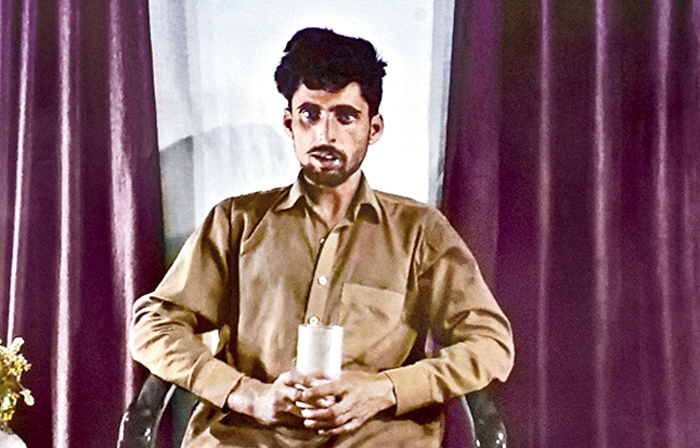 ---
Srinagar
|
Published 04.09.19, 09:57 PM
|
---
The Indian Army has released a video of two captured Pakistani militants, one of whom sips tea and says in response to a question that the brew is good, much in the manner in which Wing Commander Abhinandan Varthaman had interacted with his captors in a video released by the neighbouring country after he was caught in a post-Balakot dogfight.
The army's Kashmir chief, Lt Gen. K.J.S. Dhillion, said on Wednesday that they had captured two Lashkar-e-Toiba militants from Pakistan who had been pushed into the Valley as part of renewed efforts by the neighbouring country to step up militancy.
The army, during a media conference addressed by Dhillion, released the video of the two Pakistani militants, who identified themselves as Mohammad Khalil and Mohammad Nazim, hailing from Rawalpindi.
The two admitted they had been trained by the Pakistan Army and the Lashkar and named several of their accomplices.
The video shows Nazim holding a glass of tea. He takes a sip before revealing his identity and militant connections. As his statement ends, he takes another sip, prompting somebody who is not visible in the frame to ask: "Chai kaisi hai (how is the tea)?"
"Chai achhi hai (the tea is good)," Nazim responds.
The contents of the video are a replica of the video featuring Abhinandan that had been released after his capture in February.
The man identified as Nazim seemed to have been tutored to repeat a script as his response does not seem impromptu. He begins by taking a sip, then makes a statement and has another sip before looking straight into the camera, and not towards the man who was asking the question, to say the tea is good.
Police sources said it appeared to be a "badla" (revenge) video. Journalists at the media conference questioned if it was right to draw parallels as the man in army custody was no match for a wing commander captured after a dogfight.
The Abhinandan video had triggered outrage across the country.
The Indian Army said the two militants had been captured in Gulmarg near the LoC on August 21 and that they had been pushed into the Valley to carry out attacks.