A lie, a lie: Slain Kashmiri's uncle and cop; CRPF unwavering
Assistant sub-inspector Ghulam Hassan Shah's account paints a picture of callousness about human life on the part of the CRPF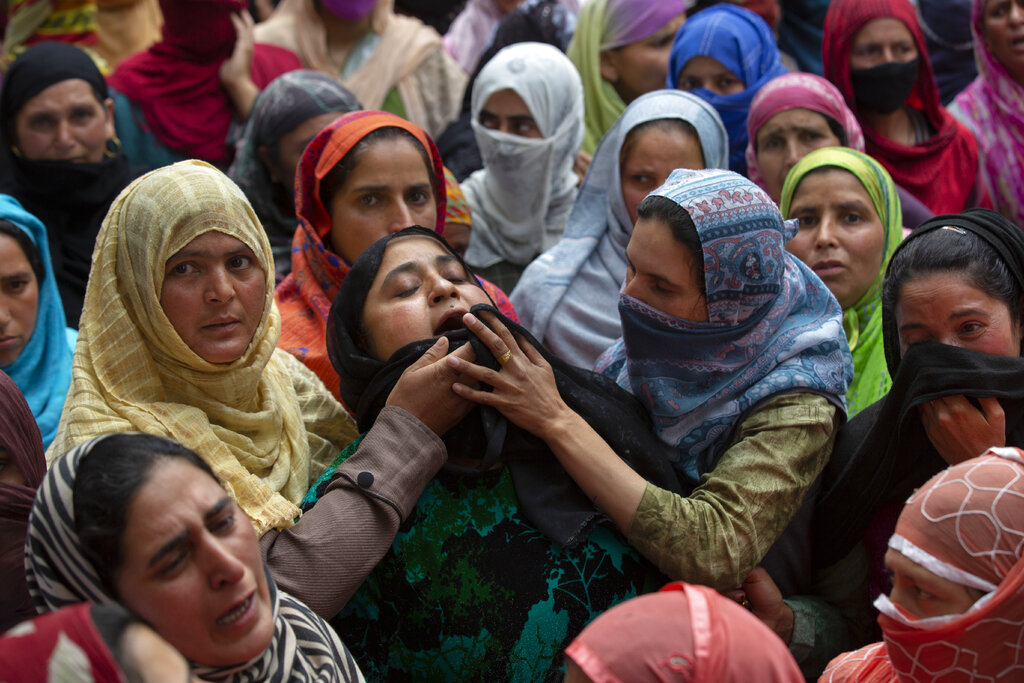 ---
|
Srinagar
|
Published 14.05.20, 09:34 PM
---
A police officer has accused the CRPF of killing his 23-year-old nephew in cold blood on Wednesday and then mouthing the "lie" that he had jumped checkpoints despite warnings.
Assistant sub-inspector Ghulam Hassan Shah said he was accompanying nephew Peer Mehrajuddin, 25, in a car when the young man was shot and killed on Srinagar's outskirts.
The CRPF had said the youth was shot at after he ignored warnings to stop his car at two checkpoints, raising suspicion of a sabotage bid because an army convoy was passing nearby.
"This is all a lie, a lie. We never made any attempt to escape," Shah told The Telegraph.
Ironically, Mehrajuddin was shot while driving Shah from his home in Beerwah to Srinagar's police control room to join his shift. Mehrajuddin's elder brother too is in the police.
The killing has led to violent protests at some places. The district administration has ordered a probe into the killing.
Shah's account paints a picture of callousness about human life on the part of the CRPF.
The ASI said a CRPF jawan had "opened a burst of fire" at his nephew without provocation, and then the force refused to help shift him to hospital, causing a 25-minute delay that resulted in considerable blood loss. Mehrajuddin was declared dead on arrival at hospital.
CRPF spokesperson Pankaj Singh stood by his statement, issued on Wednesday, that the youth had jumped two checkpoints and the force suspected a sabotage attempt.
"The DC (deputy commissioner of Budgam) has ordered an inquiry and we are also inquiring," he said.
"I had come out with a statement after verifying all the facts. It took me three hours to verify it."
On Wednesday, the spokesperson had said an army convoy was passing along a nearby road, and that Mehrajuddin's car had ignored warning shots fired by a CRPF jawan.
Shah said the army convoy had already left when he and Mehrajuddin reached the checkpoint. He said a police head constable had waved them on after he showed his police identity card.
The CRPF man who shot Mehrajuddin, he said, was standing a few metres away and apparently did not see the head constable giving them the go-ahead.
"The CRPF man stepped in front of us. We stopped the car. He was 15 to 20 steps away from us. I tried to get off and show my ID card but before I could, he opened a burst of fire at my nephew, injuring him in the shoulder," he said.
"I told the CRPF man, 'You have killed him'. He was not making any arrangements to take him to hospital. I was crying. Later a passing doctor took us to hospital in his car."
Shah said he was trying to stop the bleeding and could not have shifted Mehrajuddin to hospital by himself. He said the other vehicles that had stopped at the checkpoint sped away when they heard gunshots.
The ASI denied that he and Mehrajuddin had jumped another checkpoint before the firing.
Shah said his nephew worked at a computer centre in Kanihama village.
The family of a 14-year-old hearing-and-speech-impaired boy had earlier accused the security forces of killing him on May 4. The forces claimed he had died in crossfire between them and militants.