Farmers' misery, Ram Rajya mismatch
When farmers get respect and their rightful due, it will be the real Ram rajya, says a farmer at the Dharma Sabha rally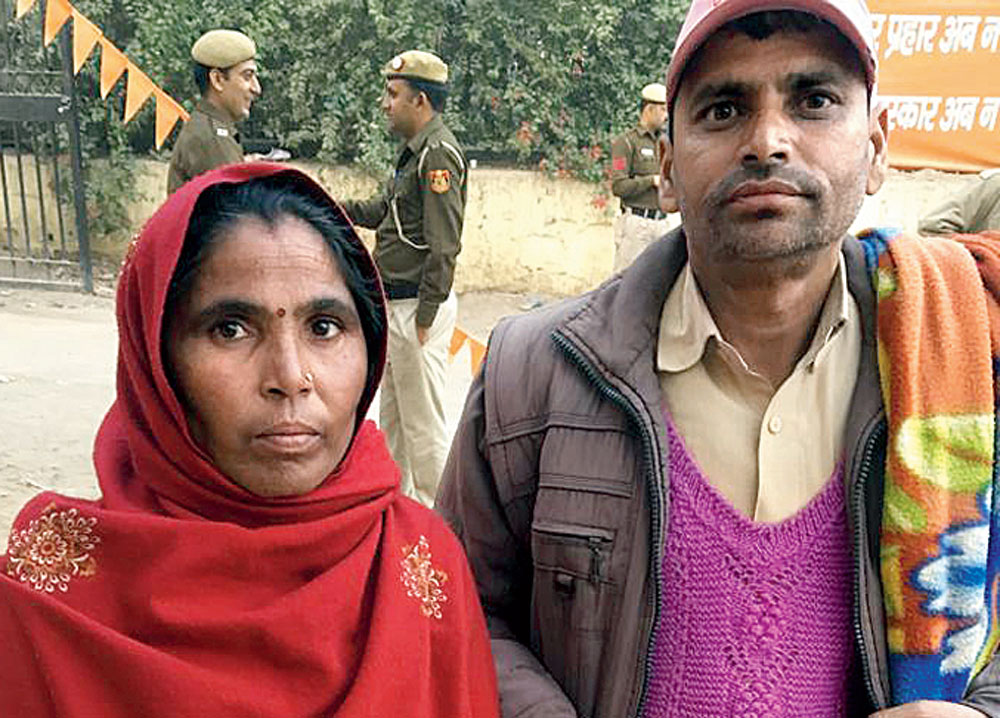 Ram Gopal with his wife
Telegraph picture
---
New Delhi
|
Published 09.12.18, 10:10 PM
|
---
On the stage, RSS leader Suresh "Bhaiyyaji" Joshi had equated "Ram rajya" with the proposed Ram temple in Ayodhya.
But as the VHP-organised Dharma Sabha wound up after three hours of fiery pro-temple speeches at the Ramlila Maidan here, one of those who had heard out the sadhus and VHP-RSS leaders offered a different definition.
"When the farmers get respect and their rightful due, it will be the real Ram rajya," Ram Gopal, a 50-year-old farmer who stood at the ground's entrance with his wife, told The Telegraph.
If that's what he believed, why had he come here from his home in Rampur district, Uttar Pradesh?
"I came on a bus organised by the local BJP. My main purpose is to consult a doctor in Delhi, and their bus saved me the Rs 200 fare. Otherwise, I could not have come," he said, a tattered bag in hand and Rs 110 in pocket --- his entire budget for the overnight stay in the capital.
The kidney patient said he and his wife would spend the night at the LNJP Hospital waiting room before seeing a doctor on Monday.
Gopal scanned the Maidan, now emptied of the estimated one lakh-strong crowd, ferried by bus from Delhi and adjoining UP districts. Did the leaders who organised the couple's bus journey know about his problems? No, they didn't ask.
Poverty had forced the father of four sons and two daughters to postpone his eldest daughter's marriage, which was to be held on December 15.
Gopal survives by growing sugarcane, paddy and wheat on a rented plot. Last week, he sold 36 quintals of sugarcane at Rs 100 a quintal to a sugar mill --- at less than four per cent of the minimum support price (MSP) fixed by the Centre: Rs 2,750 a quintal.
He spent Rs 25 per quintal for transport and Rs 25 per quintal for cleaning the sugarcane before sale. That left him with Rs 1,800 --- "of which I have to pay Rs 1,000 as rent to the landlord".
Gopal believes that the farmers' suffering would be reduced if they receive the MSP. "But Yogiji (chief minister Yogi Adityanath) is not paying attention to the farmers' misery."
Gopal had in August met Union minority affairs minister Mukhtar Abbas Naqvi, who is from Rampur, to seek help for his treatment in Delhi. Naqvi handed him a letter addressed to the AIIMS director.
"At the AIIMS, they wrote me some medicines and asked me to come again. I had no money to come again. My condition is so bad that I needed to come. I have managed it thanks to the bus arranged by the BJP."
Ajay Sharma, a farmer from Auraiya in UP and a BJP supporter who had come to support the Ram temple demand, was listening in.
"No government, including this one, ever tried to address the farm distress," the man in his mid-30s said. "After listening to Gopalji, I release it is a bigger issue than the Ram temple."
"(The government) should listen to people and fulfil the demand for a temple in Ayodhya," Bhaiyyaji Joshi had said. "The country wants Ram rajya."